Dodgers call up prized Cuban slugger Yasiel Puig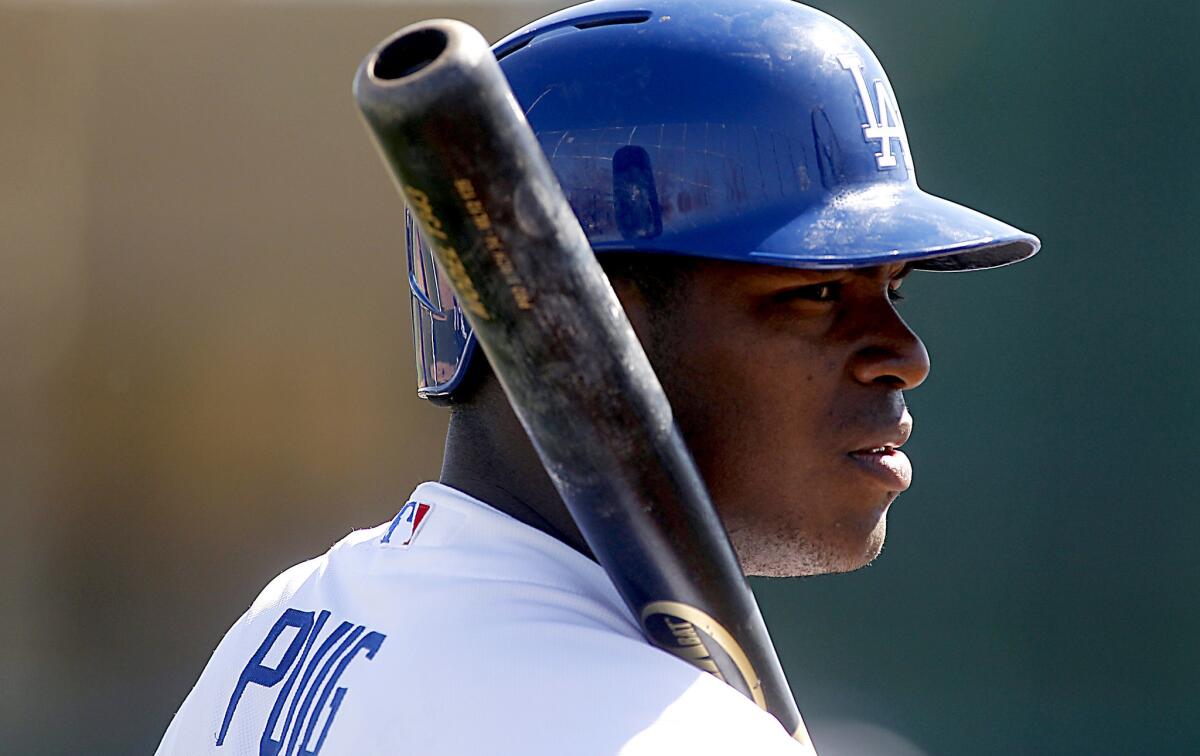 And away we go …
The Dodgers wasted no time in trying to flush away the distaste of Sunday's 7-2 loss to the Rockies, announcing immediately after the game that prized outfield prospect Yasiel Puig had been called up from double-A Chattanooga.
Whether this is the beginning of the Puig Era or simply a brief two-week introduction to what he can do at the major league level, at this point it doesn't matter a great deal to the Dodgers.
They have been playing without outfielder Matt Kemp (disabled list with a strained hamstring), and the last two days without Carl Crawford (sore hamstring).
They are not in need of just an outfielder, but an offensive spark.
There has been great curiosity in Puig since the Dodgers signed the Cuban refugee last summer for $42 million. The curiosity level started going off the charts when Puig roared through spring training with a .517 batting average and a .828 slugging percentage.
The Dodgers were concerned about his maturity level, an unease that was hardly soothed when he was arrested on reckless driving charges in April.
His performance at Chattanooga started well, stalled and then took off again. The 23-year-old Puig was leading the Lookouts with a .313 batting average, eight home runs, 37 runs batted in and 12 doubles in 147 at-bats.
He had primarily played right field, but the Dodgers moved him to center Friday when Kemp went on the DL. He's a five-tool player, however, and is expected to start in center for the Dodgers on Monday against San Diego.
Right-hander Matt Magill (nine walks, four homers) had barely wiped the sweat from his brow Sunday, when they optioned him back down to create a spot for Puig.
Puig, 6 feet 3 and 245 pounds, was already on their 40-man roster.
Now the interest level in the Dodgers' game Monday just spiked.
Get our Dodgers Dugout newsletter for insights, news and much more.
You may occasionally receive promotional content from the Los Angeles Times.