Dodgers will have to watch Hyun-Jin Ryu carefully down stretch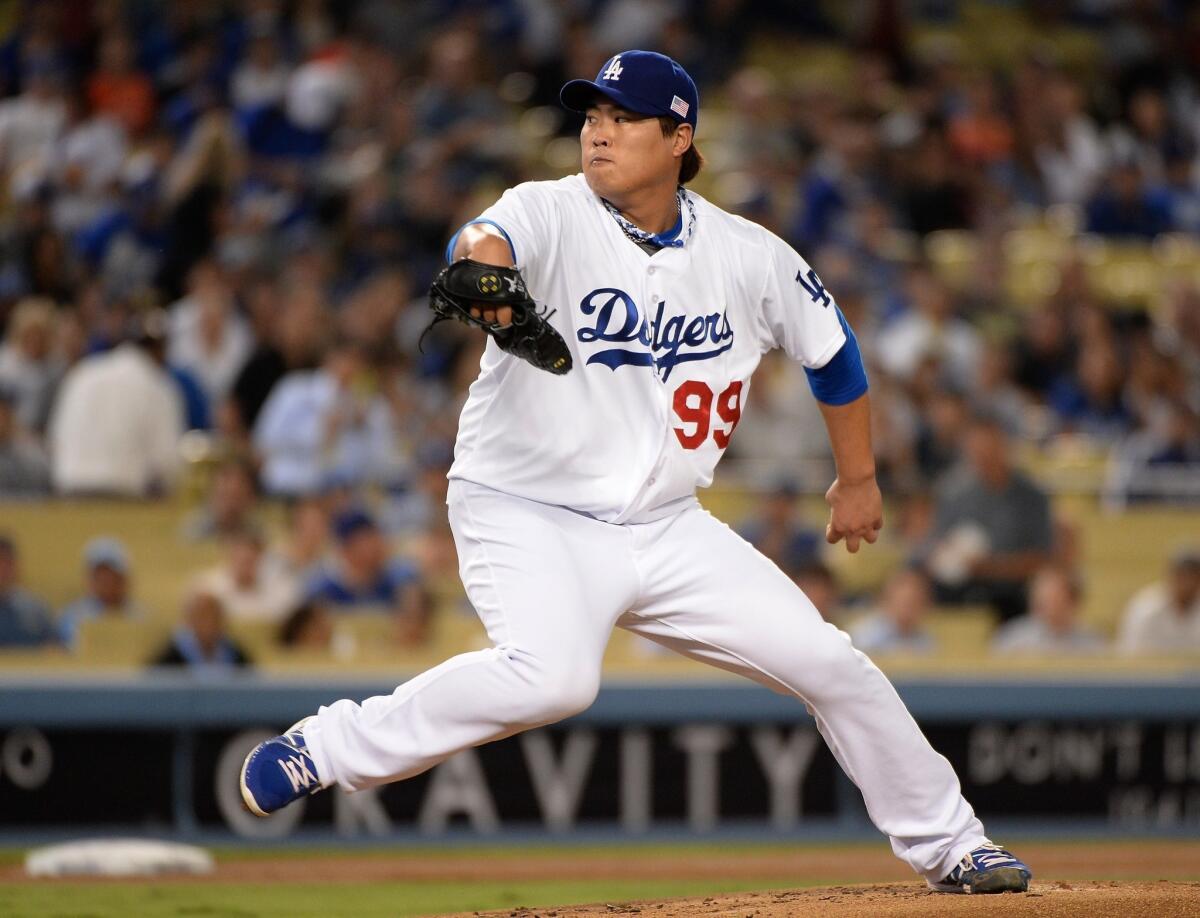 OK.
That's not a good review. It's a so-so one. Not too good, not too bad.
Hyun-Jin Ryu made his first start in 12 days Wednesday after skipping a turn with a stiff back, and when asked to review his performance, Manager Don Mattingly said:
"OK."
That should scare the living daylights out of the Reds, Cardinals and Braves.
"Really kind of what Hyun-Jin does," Mattingly said. "Obviously he gave up a couple early. For the first time pitching in [12] days, I thought he was pretty sharp."
Pretty sharp. Yep, a regular five-star review.
Ryu lasted six innings Wednesday, allowing three runs on 10 hits. If that's pretty sharp, I have a pretty thick head of hair.
Now you don't want to draw too much out of a guy making his first start in 12 days, but Ryu has been in a slight decline. In his last 10 starts, he has a 3.52 ERA. In the 10 starts previous to that, he posted a 2.25 ERA.
Hardly panic material, but something worthy of attention. Particularly with the playoffs looming and the Dodgers' No.3 starter now uncertain. With the way Ricky Nolasco has thrown since joining the Dodgers (8-1, 2.07 ERA), it's hard to imagine Ryu getting the No. 3 nod.
But his back came out of Wednesday's start without trouble, so there is that.
"The back wasn't a problem today," Ryu said through an interpreter. "If there is one good takeaway from today's game, it's that the injury is gone."
The rookie left-hander figures to get only three more starts in the regular season, so there won't be a surplus of time to evaluate where he's at. Some have suspected that Ryu was wearing down because in South Korea pitchers only start once every seven days, as opposed to five here.
But Ryu has thrown only 173 innings this season, and he threw more than that five times in South Korea -- twice going over the 200-inning mark.
Catcher A.J. Ellis said he also thought Ryu did well for pitching the first time since Aug. 30.
"I think he's fine," Ellis said. "When it's been a big game and a chance for him to put on a show out there, he's risen to the occasion."
True, but it's one thing to come through with Psy in the crowd and another to perform when nearly 50,000 at Turner Field are chanting and doing the tomahawk chop.
Ryu said he feels good physically and doesn't need any breaks the rest of the way.
"My body doesn't feel too beat up or anything like that," he said. "I just think it's better for pitchers to stay on rotation and keep our routine flowing."
What they don't want to keep flowing is an "OK" performance. Not when you have championship aspirations.
"He throws the ball around the plate, he's going to give up some hits," Mattingly said. "But he's a guy who knows what he's doing. He pitches out of trouble. This guy can pitch."
Get our Dodgers Dugout newsletter for insights, news and much more.
You may occasionally receive promotional content from the Los Angeles Times.