Dodgers defeat Diamondbacks, 5-2
Christian Walker led off the top of the ninth with a single off of Craig Kimbrel. Josh Rojas was hit by a pitch. Corbin Carroll was hit by a pitch, loading the bases. In a bizarre play, Sergio Alcantara hit a liner to second that Gavin Lux short-hopped. Carroll was forced at second and Trea Turner threw to third to get Rojas, who had held up thinking the ball was caught. Walker scored on the play. Daulton Varsho popped to first.
Final score: Dodgers 5, Diamondbacks 2
We go to the ninth, 5-1 Dodgers
The Dodgers almost extended their lead in the bottom of the eighth. After Freddie Freeman struck out, Will Smith and Max Muncy walked. Joey Gallo struck out, but Gavin Lux singled to right. Smith was thrown out attempting to score. He was called safe at first, but the call was overturned on appeal.
Clayton Kershaw went six innings for the Dodgers, giving up one run and six hits while walking none and striking out 10. Evan Phillips pitched a scoreless seventh and Tommy Kahnle a scoreless eighth. Craig Kimbrel will pitch the ninth,
Score after eight: Dodgers 5, Diamondbacks 1
It's 5-1 Dodgers after five innings
Arizona finally gets on the board in the top of the fifth. Carson Kelly doubled and stayed at second when Jordan Luplow grounded to short. Daulton Varsho singled to left, Kelly to third. Geraldo Perdomo grounded to third, forcing Varsho, with Perdomo barely beating the throw to first. Kelly scored. Stone Garrett struck out.
In the bottom of the fifth, Trea Turner flied to center. Freddie Freeman walked. Will Smith struck out swinging and Freeman was out trying to steal. Strike 'em out, throw 'em out.
Score after five: Dodgers 5, Diamondbacks 1
Dodgers extend lead thanks to Chris Taylor's home run
The Dodgers scored again in the bottom of the fourth. Will Smith flied to center. Max Muncy doubled. Joey Gallo singled just past the shift, with Muncy scoring and Gallo taking second on center fielder Daulton Varsho's error. Gavin Lux singled to right, with Gallo stopping at third. The right fielder threw home and Lux took second on the throw. Chris Taylor homered to left. At first it was called a ground-rule double because it appeared a fan interfered with the ball on the field, but a replay showed the fan missed the ball, it hit off the top of the fence and hit him in the stomach, bouncing back onto the field. Cody Bellinger fouled to the catcher. Mookie Betts grounded to third.
Clayton Kershaw has eight strikeouts through four scoreless innings.
Score after four: Dodgers 5, Diamondbacks 0
Joey Gallo's homer gives Dodgers a 1-0 lead
After a quiet first inning, the Dodgers took the lead in the bottom of the second when, with two out, Joey Gallo launched a ball 437 feet and into the right-field bleachers. Gavin Lux then hit a ball that bounced about 90 feet in the air, landed between home plate and the mound, and just died. It didn't roll or anything. Base hit for Lux. Chris Taylor flied to center to end the inning.
Clayton Kershaw has given up two hits and struck out three through two innings.
Score after two: Dodgers 1, Diamondbacks 0
Blake Treinen, Brusdar Graterol move closer to returns
Blake Treinen's fastball touched 97 mph while facing batters in a simulated game at Dodger Stadium Monday afternoon, and manager Dave Roberts said the veteran reliever is on track to be activated Thursday.
Brusdar Graterol's fastball touched 99 mph during a similar workout before Monday night's opener of a five-game series against the Arizona Diamondbacks, and Roberts said the reliever should be in a position to be activated "shortly after" Treinen.
Treinen was a key reliever during the team's 2020 World Series run and was the bullpen's best high-leverage arm in 2021, when the right-hander went 6-5 with a 1.99 ERA in 72 games, striking out 85 and walking 25 in 72 1/3 innings.
But Treinen missed more than four months from mid-April to early September because of a shoulder injury this season, and he returned to the injured list because of a setback after pitching in two games earlier this month.
Graterol missed five weeks from mid-July to late-August because of right-shoulder inflammation. He pitched in four games from Aug. 22-28 before returning to the injured list because of an elbow injury.
Right-hander Tony Gonsolin threw about 30 pitches in a two-inning simulated game in the bullpen on Monday, a session in which his velocity "ticked up," according to Roberts. Gonsolin is not expected to be ready start games in the playoffs, but he should be ready to pitch out of the bullpen.
Roberts said right-hander Michael Grove will start the first game and left-hander Tyler Anderson the second game of Tuesday's doubleheader. Right-hander Ryan Pepiot will be added to the roster as the extra player.
MONDAY NIGHT'S LINEUPS
DIAMONDBACKS: DH Stone Garrett, 2B Ketel Marte, LF Jake McCarthy, 1B Christian Walker, 3B Emmanuel Rivera, C Carson Kelly, RF Jordan Luplow, CF Daulton Varsho, SS Geraldo Perdomo, RHP Merrill Kelly.
DODGERS: RF Mookie Betts, SS Trea Turner, 1B Freddie Freeman, C Will Smith, 3B Max Muncy, LF Joey Gallo, 2B Gavin Lux, DH Chris Taylor, CF Cody Bellinger, LHP Clayton Kershaw.
ICYMI: Dodgers sweep Giants and show no sign of slowing down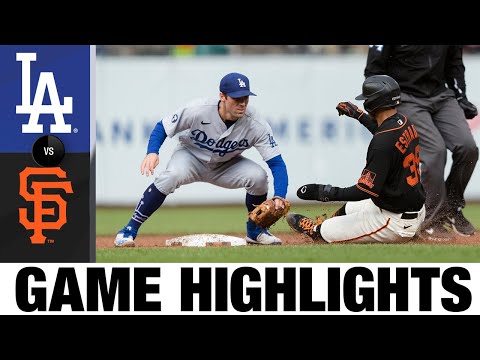 SAN FRANCISCO — The Dodgers have seemed aghast at, if not offended by, the thought.
Haven't they worried at all — now that they've clinched the division, all but locked up baseball's best record, and done it with a couple weeks still remaining in the regular season — about complacency setting in between now and the start of the playoffs?
No, they've emphatically claimed. Not in the slightest.
"That question doesn't even register with me," first baseman Freddie Freeman said last week, in the midst of his team's division-clinching clubhouse celebration.
"I mean, if you don't want to win the game, you shouldn't be playing," pitcher Andrew Heaney echoed Sunday.