Final: Dodgers lose 5-3 as Craig Kimbrel gives up walk-off home run
Craig Kimbrel was an out away from his 23rd save and 10th consecutive scoreless outing.
Instead, he gave up a walk-off three-run home run to Sergio Alcántara.
The Dodgers are 98-44.
Final: Dbacks 5, Dodgers 3
Dodgers take the lead on run-scoring wild pitch by Reyes Moronta
Former Dodger reliever Reyes Moronta couldn't keep the game tied against his former team.
After Moronta entered the game to begin the top of the 10th, automatic baserunner Austin Barnes moved from second to third on Hanser Alberto's infield single, a tapper back to the mound that Moronta fielded cleanly but threw to a base no one was covering (the throw was stopped by second baseman Ketel Marte, but he was several feet behind the bag).
Then, with Chris Taylor at the plate, Moronta threw a wild pitch, allowing Barnes to score without a throw.
The Dodgers later had runners at first and second, but couldn't add on anything else.
Craig Kimbrel is now entering the game for the save.
Mid 10th: Dodgers lead 3-2
Game goes to extras after Dbacks runner gets thrown out trying to steal home
With two outs in the ninth inning, Dbacks baserunner Jake McCarthy went for it all, trying to steal home on catcher Austin Barnes' throw back to the mound between pitches.
He didn't make it, and the Dbacks challenge for a potential block of home plate against Barnes wasn't successful, either, sending the game to extra innings.
End 9th: Tied 2-2
Tommy Kahnle returns from injured list with scoreless inning to keep game tied
In his first outing since returning from the injured list following a four-month absence with forearm inflammation, Tommy Kahnle looked sharp in his return to the mound in the seventh inning.
The right-hander retired the side in order on 12 pitches. He threw mostly changeups against three left-handed hitters, but also hit 97 mph with his fastball.
He followed starter Michael Grove (who gave up two runs in five innings) and reliever Chris Martin (who pitched a scoreless sixth inning) to keep the game tied.
End 7th: Tied 2-2
Dodgers tie it up on back-to-back home runs from Will Smith, Trayce Thompson in the fourth
It took two swings to get the Dodgers back in the game.
In a 2-and-1 count against Dbacks starter Zach Davies to lead off the fourth, Will Smith crushed a sinker over the yellow line in center field at an estimated 463 feet — the longest home run by a Dodgers player this year.
In the next at-bat, Trayce Thompson also left the yard, lifting his 10th home run of the season out to left center.
Mid 4th: Tied 2-2
Dodgers trail early on a couple home runs off Michael Grove
Michael Grove hasn't been able to keep the ball in the yard, early on.
In the bottom of the first, he gave up a solo home run to Daulton Varsho. Then, in the bottom of the second, he gave up another solo blast to Corbin Carroll.
End 2nd: Dbacks lead 2-0
Dodgers rest Freddie Freeman, Mookie Betts and Trea Turner a day after clinching
PHOENIX — Dave Roberts had long been planning to give Freddie Freeman a day off after the Dodgers clinched the NL West.
On Wednesday, the manager decided to rest Mookie Betts and Trea Turner, too.
A night after locking up the NL West for good, the Dodgers lineup looked far different. Chris Taylor was leading off. Max Muncy was batting second. Trayce Thompson was the cleanup man.
Betts has gotten more regular time off this season. Turner had only missed one other game all year. And Freeman had played 141 in a row before getting a long-awaited day off — even after he tried to talk Roberts out of it over text on Tuesday night.
"I had a half-dozen texts from him petitioning," Roberts said with a smirk. "The manager won out yesterday."
Freeman said he plans to play everyday the rest of the way, and joked he didn't know what to do with himself on Wednesday.
In his absence, here is how the Dodgers lineup did look, with rookie Michael Grove also making a start on the mound:
Gonsolin update
Roberts said Tony Gonsolin (forearm) had an "encouraging" bullpen session on Wednesday, but that the pitcher's status for the rest of the season is still unclear.
Roberts insisted he is "hopeful" Gonsolin will come back in some capacity to contribute during the playoffs, but added that it could be in a variety of roles, depending on how much longer the right-hander's recovery process takes.
"My messaging to Tony was let's come out with a net positive each day," Roberts said. "If we can continue to do that once we get closer we'll know what we have. For me to speculate what it looks like now is just not fair."
Roberts was asked directly if Gonsolin could come out of the bullpen.
"Everything's on the table," he said. "That's kind of what I was alluding to. Everything is on the table – as it should be. But it's all contingent on how he's feeling."
Short hops
Yency Almonte (elbow) came out of a simulated game on Wednesday feeling well. Roberts said the reliever's next step could include another sim game, or a minor-league rehab assignment ... Brusdar Graterol (elbow), David Price (wrist) and Blake Treinen (shoulder) all also threw bullpen sessions on Wednesday, with Roberts saying each continue to progress.
The Dodgers are in the playoffs again. So who will they play?
There was little doubt the Dodgers would make the playoffs this season. They were the betting favorites to win the World Series before the season and proved quickly they were the class of the National League West.
But who will they play now that they've won the division for the ninth time in 10 years? That remains very much in doubt.
Their first opponent almost certainly will come from a group of five teams: The Atlanta Braves, New York Mets, Philadelphia Phillies, San Diego Padres and Milwaukee Brewers.
Winning a division might be routine for Dodgers, but it should still be treasured
Among the salty pearls of wisdom bequeathed to us by the late, great Tommy Lasorda: "This [bleeping] job is not that [bleeping] easy."
We would do well to remember Lasorda's words today. The Dodgers have won the National League West, again, and Los Angeles greets the news with a shrug. The Dodgers have been so relentlessly successful that the 162-game grind has been popularly reduced to something akin to six months of preseason play.
Your team might start its season in April. Our team starts its season in October.
"I think people who aren't involved in it every day think it's a rite of passage," Dodgers manager Dave Roberts said. "There's a lot of work on all fronts to have this type of consistency. But, like with anything, when you're consistent, it gets redundant and people expect it."
ICYMI: Dodgers clinch NL West for ninth time in 10 seasons with win over Diamondbacks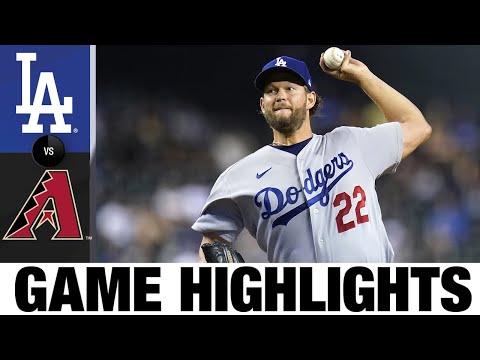 PHOENIX — Last year they chased the San Francisco Giants in vain until the final day of the season, falling one win short of a division title and victim to an arduous postseason path as a lower-seeded wild-card team.
It haunted them all winter. It was one of their main motivators this spring. And all season it has been the goal most front-of-mind for the team with baseball's best record.
The Dodgers wanted to reclaim the NL West. Badly.
"That was first on our list," manager Dave Roberts said. "To get the division back in Los Angeles."
On Tuesday night, with more than three weeks remaining in the regular season, they officially did.