Dodgers clinch NL West for ninth time in 10 seasons with win over Diamondbacks
PHOENIX —
Last year they chased the San Francisco Giants in vain until the final day of the season, falling one win short of a division title and victim to an arduous postseason path as a lower-seeded wild-card team.
It haunted them all winter. It was one of their main motivators this spring. And all season it has been the goal most front-of-mind for the team with baseball's best record.
The Dodgers wanted to reclaim the NL West. Badly.
"That was first on our list," manager Dave Roberts said. "To get the division back in Los Angeles."
On Tuesday night, with more than three weeks remaining in the regular season, they officially did.
With a 4-0 win over the Arizona Diamondbacks at Chase Field, the Dodgers clinched the division title in dominant fashion, locking it up with 21 games to go, one night after officially becoming the first team in baseball to secure a playoff spot.
The Dodgers have captured the NL West title for the ninth time in 10 seasons, a feat that seems easy when it's anything but.
Unlike last year, there was no drama in this race.
No scoreboard watching or pivotal division matchups down the stretch.
Instead, the 20th division title in Dodgers franchise history, and their ninth in the last 10 years, had been on ice for weeks, ever since the team turned what had been a first-place tie with the San Diego Padres on June 22 into an overwhelming, 19½-game lead by Aug. 24.
"I don't think anybody expected this," outfielder Mookie Betts said. "But with our team, we're capable of it."
Since then, a first-place finish felt inevitable, with the bigger question being how soon the Dodgers would clinch.
On Tuesday, they did it in their 141st game, the fastest a Dodgers team has done it in a full season.
"As we saw last year, it makes life way easier," President of Baseball Operations Andrew Friedman said of winning the division. "It puts us in better position to accomplish our ultimate goal."
Tuesday's win was keyed by the Dodgers' longest-tenured player and two of their newest faces.
Clayton Kershaw dazzled over seven scoreless innings, giving up just two hits and one walk while striking out five in his fourth start in a division-clinching game.
The left-hander has shut out the opponent in three of those games, with a 0.30 earned-run average in such situations. Tuesday marked the 11th time he's been part of a division-winning team.
"Thank you guys for being so good," Kershaw told the team in the clubhouse after the game, commencing a champagne and beer shower. "It's really fun to be on this team."
At the plate, the Dodgers opened the scoring on a second-inning, two-run homer from Joey Gallo, the team's biggest trade-deadline acquisition.
In the third inning, they added another run on a solo blast from Freddie Freeman, the marquee $162-million offseason signing who has helped spearhead the team's league-leading offense with a best-in-baseball .329 batting average.
"Obviously, we had expectations," Freeman said. "But you take the expectations and you run with them. That's exactly what this team did."
Freeman's home run, his 20th of the season, traveled over the pool in right-center field — the same one the Dodgers celebrated in 2013, the last time they clinched a division title at Chase Field.
On Tuesday afternoon, Roberts made it clear he didn't want to see a pool-party encore.
"That's in the past," Roberts said. "I just don't think that's who this team is."
Indeed, after a Max Muncy solo homer in the seventh seemingly put the contest out of reach, the Dodgers' postgame celebration was much more customary.
They didn't mob the mound, opting instead for a simple high-five line and team picture on the mound in front of a raucous contingent of traveling fans.
They drenched the visiting clubhouse — Hanser Alberto was the far-and-away leader in ounces of champagne sprayed — while reflecting on their NL West championship.
"It's definitely not easy," third baseman Justin Turner said.
Added Roberts: "One-hundred-forty-one games and we've clinched the division, it's something we should enjoy and be proud of."
Clayton Kershaw helped the Dodgers clinch the NL West title with a win over the Arizona Diamondbacks at Chase Field on Tuesday.
The last time the Dodgers had a scene like this was in 2019 (their 2020 celebration was subdued and didn't include alcohol because of pandemic rules), back before they had Freeman or Betts or Trea Turner; before they'd won their first World Series title in more than three decades.
Yet their objectives then were the same as now.
Take care of winning the division, then shift their gaze to a much loftier prize in October.
"This is just Step 1," Betts said. "Now we switch our focus to Step 2."
Short hops
Right-handed reliever Tommy Kahnle was activated from the injured list, returning to the team after missing almost four months because of right forearm inflammation that cut short his early May return from Tommy John surgery.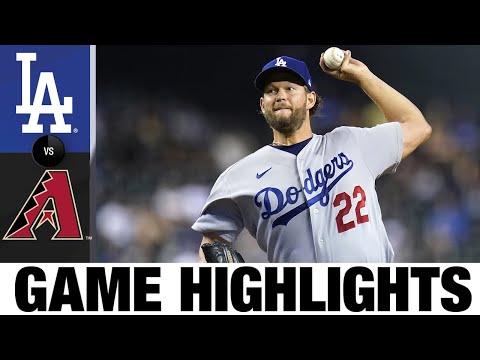 Get our Dodgers Dugout newsletter for insights, news and much more.
You may occasionally receive promotional content from the Los Angeles Times.