Dodgers even series against White Sox with 4-1 win
The Dodgers have forced a rubber match in this week's series, bouncing back from Tuesday's loss with a 4-1 win Wednesday behind Tony Gonsolin's strong start and home runs from Will Smith, Cody Bellinger and Trea Turner.
After Gonsolin exited, finishing his six-inning, one-run start with the NL ERA lead at 1.58, the Dodgers got scoreless innings of relief from Yency Almonte, Brusdar Graterol and Daniel Hudson — the latter getting the save with Craig Kimbrel on paternity leave.
Smith, Bellinger and Turner all hit their seventh home runs of the season, marking the Dodgers' 10 game this season with at least three long balls as a team.
The Dodgers are now 36-20.
Final: Dodgers 4, White Sox 1
Tony Gonsolin retakes NL ERA lead with six inning start
Tony Gonsolin is once again the National League's ERA leader, lowering that mark to 1.58 with a six-inning, one-run start tonight.
Gonsolin gave up just three hits, walked one batter and hit another. He had five strikeouts, including two against the White Sox's Nos. 4 and 5 batters in the sixth inning — when he faced the middle of the White Sox lineup for a third time and retired them in order.
Yency Almonte pitched a clean seventh inning in relief, helping the Dodgers protect a lead their offense has been unable to extend since the two early home runs from Will Smith and Cody Bellinger.
End 7th: Dodgers lead 3-1
White Sox get on the board, but Dodgers still lead after Tony Gonsolin escapes jam
For a brief moment in the fifth inning, last year's version of Tony Gonsolin started to reappear.
The right-hander gave up a couple hard hit balls — a leadoff home run and double — then labored through a long at-bat that ended with a walk.
His pitch count was starting to rise. His command looked a little out of whack. And the bullpen began to stir as the pitching coach Mark Prior came to the mound.
But then, this year's new and improved version of Gonsolin returned.
He got a fielder's choice grounder for a key first out. He buried a splitter that Leury Garcia whiffed for strike three. Then he escaped the jam, inducing a flyout from Luis Robert to end the inning.
With that inning, Gonsolin has once again met the innings threshold (56 innings pitched in the Dodgers' 56 games) to be a qualified pitcher.
End 5th: Dodgers lead 3-1
Cody Bellinger homers as Dodgers extend lead
An inning after Will Smith hit his seventh home run of the year, tying Edwin Ríos for second-most on the team, Cody Bellinger joined them.
Leading off the second inning, Bellinger sent a solo blast to right, extending the Dodgers early lead.
End 2nd: Dodgers lead 3-0
Dodgers take lead on Will Smith's first inning homer
The Dodgers offense has been struggling the past two weeks, in large part, because of a lack of production from everyone after their top three hitters.
On Wednesday, it was their No. 4 hitter who got the scoring started.
After Trea Turner kept the first inning alive with a two-out bloop single, Will Smith whacked the very next pitch from White Sox starter Johnny Cueto deep to the left-field stands, a two-run blast that marked Smith's seventh home run of the season.
Tony Gonsolin, meanwhile, got off to a quick start, retiring the White Sox in order in the bottom of the opening inning.
End 1st: Dodgers lead 2-0
Max Muncy could be done with rehab stint; Clayton Kershaw scheduled for Sunday start
The Dodgers could be getting two veterans back very soon.
Clayton Kershaw is expected to start Sunday's game in San Francisco against the Giants, manager Dave Roberts said, after the left-hander threw a 40-plus pitch bullpen session Wednesday.
Sunday will be Kershaw's first start since May 7. He's missed the last month because of SI joint inflammation in his lower back.
Max Muncy could be back even sooner, according to Roberts, who said there is a "good possibility" the infielder will rejoin the Dodgers on Wednesday after a week-long rehab stint with triple A Oklahoma City.
While Muncy only went 2 for 14 with six strikeouts during four rehab games, he did hit a walk-off home run Tuesday night and walked three times.
Muncy went on the injured list two weeks ago after a flare up in his left elbow, the same one in which he suffered a torn UCL at the end of last season.
"The arm feels good, the body feels good," Roberts said. "We were going to let him drive it, so when he felt good enough to return to play then that was it. We feel good about it."
Roberts was asked if it would have been better for Muncy, who is batting just .150 in 41 major league games this season, to continue his rehab stint until he got more consistent results.
"The main thing is we wanted him to feel good mechanically, feel good physically and discount the results," Roberts said, adding the team has gotten positive reports from assistant hitting coach Aaron Bates, who accompanied Muncy to Oklahoma City.
"Certainly [the results] matter – they don't matter as much there – but talking to Aaron and talking to Max, they both feel confident. If you layer on getting a few more hits, [that] certainly would be better. But I'm going to trust those two guys feel good about where he's at and he's ready to come back."
Early season surprise Tony Gonsolin takes mound as Dodgers try to get back on track
Few would have expected this entering the season.
But with the Dodgers entering Wednesday in a week long slide, losers of six of their last eight and in danger of suffering a series loss against the Chicago White Sox, there might not be anymore else beside Tony Gonsolin they'd rather have take the mound.
It's a reflection of how good Gonsolin has been to start the season, with the right-hander owning a 6-0 record and 1.59 ERA. He's pitched at least six innings in each of his last four starts, including a shutout performance against the New York Mets last Thursday. After that start, he briefly held the NL lead for ERA.
Read more about Gonsolin's strong start — and the atypical path that brought him to the big leagues — here.
At the plate, the Dodgers didn't make any changes from Tuesday's lineup, including keeping Eddy Alvarez in the order for a third-straight game.
They will be facing White Sox starter Johnny Cueto, who is 0-2 with a 2.92 ERA this season. Cueto, a former San Francisco Giants right-hander, is 9-9 in his career against the Dodgers with a 3.76 ERA.
Here's the Dodgers full lineup for Wednesday:
Ex-teammate AJ Pollock provides bit of payback in Dodgers' loss to White Sox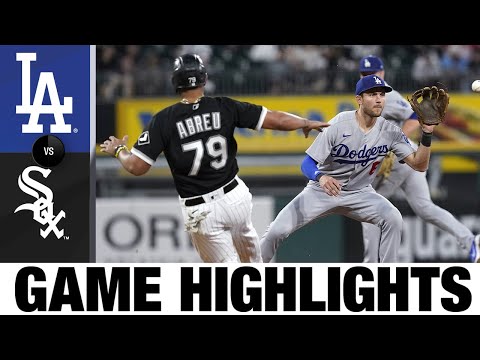 CHICAGO — On the field, the Dodgers and AJ Pollock had a cordial reunion Tuesday afternoon.
Ahead of his first game against the team since being traded to the Chicago White Sox at the end of spring training, Pollock lingered around the cage as the Dodgers took batting practice at Guaranteed Rate Field.
He chatted and laughed with former teammates and coaches. He spoke to Dave Roberts for several minutes, the manager keeping an arm draped around his former outfielder most of the time.
"AJ helped us win a championship," Roberts said. "He's very well liked in the clubhouse and organization. To trade him was tough for everyone."
Behind the scenes, however, the Dodgers identified Pollock as a potential weakness in the White Sox lineup.
During his first season in Chicago, the 34-year-old has been inconsistent. He entered with a .216 batting average, three home runs and a .586 on-base-plus-slugging percentage. And while he wasn't in the starting lineup, the Dodgers saw him as a potentially favorable matchup if he came to the plate against their bullpen.