James Outman makes mesmerizing MLB debut in Dodgers' win over Rockies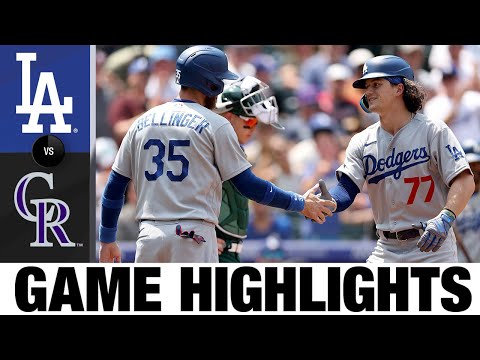 DENVER — The Dodgers still have a couple of days to try to win the Juan Soto sweepstakes.
In the meantime, however, they are already benefitting from the addition of another left-handed hitting right fielder.
In a mesmerizing major league debut Sunday, rookie James Outman had three hits and three RBIs, including a home run in his very first at-bat, to help the Dodger beat the Colorado Rockies 7-3 at Coors Field.
The victory gave the Dodgers (68-33) a series win in Denver this weekend, and an MLB-best 21-5 mark in July — matching the most wins the club has ever had in the month and the fourth-highest July winning percentage (.808) by any major league team since 1900.
On Sunday, Outman left his own mark on team history.
Final: Dodgers complete series win with 7-3 defeat of Rockies
The Dodgers took three of four games from the Colorado Rockies this weekend, completing the series win with a 7-3 victory on Sunday at Coors Field.
James Outman was the brightest star, going three for four with a home run and three RBIs in his MLB debut.
Tony Gonsolin gave up three runs in the third inning, but nothing else in a five-inning start to improve to 12-1 on the season.
And the Dodgers clinched MLB's best record in July with a 21-5 mark, matching a franchise record for most wins in the month.
The team is now 68-33 on the season.
Final: Dodgers 7, Rockies 3
James Outman continues stellar debut as Dodgers keep pulling away
James Outman has looked right at home in his MLB debut.
After hitting a two-run home run in his first at-bat, and scoring another run after leading off the seventh inning with a single, the rookie outfielder picked up his third hit and RBI of the day with a double in the eighth.
He's the first Dodger to have three hits in his MLB debut since Mike Piazza in 1992.
Mid 8th: Dodgers lead 7-3
Dodgers add to lead; Tony Gonsolin exits after five innings
After the three-run third inning, Tony Gonsolin settled down to finish his day.
He retired the side in order in both the fourth and fifth innings, before making way after 92 pitches to begin the sixth.
Gonsolin had six strikeouts while giving up three runs, five hits, a walk and hitting a batter. His season ERA is now 2.41.
The Dodgers, meanwhile, added to their lead after Jake Lamb doubled and scored on two productive outs — a Gavin Lux grounder and Max Muncy sacrifice fly.
Mid 6th: Dodgers lead 5-3
Dodgers retake lead on Cody Bellinger's double
The Rockies defense has been shaky all weekend.
In the top of the fourth, it might have reached new lows.
After a one-out walk by Jake Lamb, second baseman Brendan Rodgers bobbled a potential double-play grounder from Gavin Lux, having settle for only the out at first.
Following another walk from Max Muncy, Cody Bellinger hit a double to right that bobbled by Randal Grichuk, allowing Muncy to score all the way from first and put the Dodgers back in front.
Mid 4th: Dodgers lead 4-3
Rockies surge in front with three runs in third inning
Tony Gonsolin quickly ran into trouble in the third.
His first pitch of the inning was a down-the-middle fastball that Brian Serven put in the seat for a solo home run.
Then, a hit batter, a walk and an infield single on a slow roller that died on the chalk in front of third base loaded the bases.
In the next at-bat, Randal Grichuk also got a center-cut fastball on the first pitch that he lined to right field, driving in two runs to give the Rockies the lead.
After not giving up three earned runs in any of his first 16 starts this season, today now marks the third-straight outing in which he's giving up at least three runs in a single inning.
End 3rd: Rockies lead 3-2
Dodgers take lead as James Outman homers in first MLB at-bat
James Outman marked his big league debut with a bang.
In his first MLB at-bat, he hit a two-run home run to right field, giving the Dodgers the lead in the top of the third inning.
Outman is the first Dodgers position player to make his big league debut this year, and becomes the first Dodger to homer in his first MLB plate appearance since Keibert Ruiz in 2020.
Mid 3rd: Dodgers lead 2-0
Justin Turner likely won't play again until Thursday
Justin Turner still isn't going on the IL, but his return to the Dodgers lineup still isn't imminent either.
Manager Dave Roberts said Turner likely won't play again until at least Thursday, as the team continues to be cautious with his midsection discomfort.
Roberts said Turner had an MRI that came back clean, and that the third baseman's injury isn't getting worse.
"There's still some sensation," Roberts said. "Where he's at, we don't need to push it."
Roberts argued there was no cost to keeping Turner on the active roster as opposed to putting him on the IL.
He said the team should still have enough bench depth to get by, even with Turner unavailable. He noted there would be "roster implications" to trying to replace Turner, as well, which would possibly include a 40-man roster move.
Triple A shortstop Jacob Amaya is the only currently healthy position player on the 40-man roster above high-A.
"It's our best option," Roberts said of continuing to carry Turner.
Chris Taylor nearing rehab assignment
Chris Taylor (foot fracture) is still on schedule to head out on a rehab assignment this coming week, though Roberts said he wasn't sure which affiliate Taylor will be going to yet.
Roberts said Taylor's rehab stint will last at least seven days, and that he will only play the outfield (Roberts had previously hinted Taylor might see some action on the infield).
Newly acquired reliever Chris Martin activated after trade
A day after he was acquired in a trade from the Chicago Cubs, right-handed reliever Chris Martin was added to the Dodgers active roster for their series finale against the Colorado Rockies.
In a corresponding move, Jake Reed was optioned to triple A Oklahoma City.
Sunday's lineup for the Dodgers features six left-handed hitters against Rockies right-hander Germán Márquez (6-8, 5.25 ERA), including James Outman in right field. It will be his MLB debut.
Mookie Betts will start at second base for the second time this year.
Tony Gonsolin (11-1, 2.26 ERA) will be on the mound and trying to bounce back from his two worst starts of the year, after giving up a combined nine runs in his past 11 innings.
Here's the Dodgers full lineup:
ICYMI: Clayton Kershaw's start comes to a screeching halt in Dodgers' loss to Rockies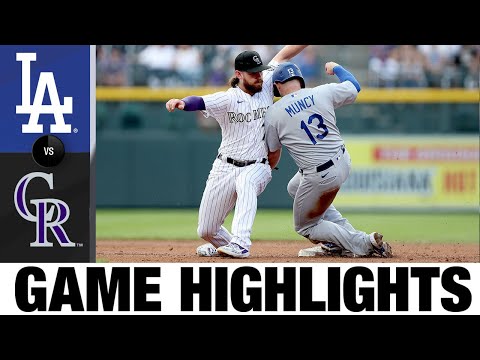 DENVER — For five innings on Saturday night, Clayton Kershaw navigated both a last-place opponent, the high-altitude elements and a quickly elevated pitch count.
Despite giving up two unearned runs in the first inning, he had kept the Colorado Rockies quiet over the next four as the Dodgers took a lead at Coors Field.
In the bottom of the sixth, however, it look just seven pitches for his outing to come to a screeching end.
The Rockies hit back-to-back singles against his curveball. They pulled in front with a two-run triple and an RBI single on consecutive first-pitch sliders.