Dodgers silence the Juan Soto-Padres hype with resounding series sweep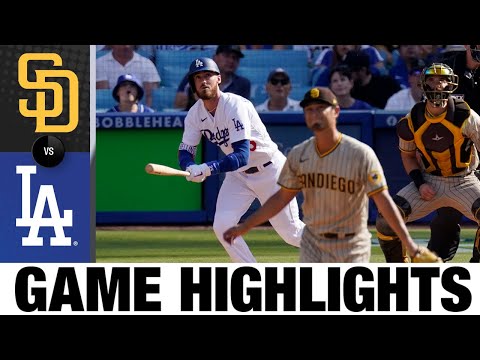 Slam Diego.
As in being body slammed as usual by the Dodgers.
Scam Diego.
As in posing another empty challenge in the National League West.
Sham Diego.
As in, once again, failing to live up to the hype.
Entering the weekend, the Padres were the biggest story in baseball, following a massive trade deadline centered on their blockbuster acquisition of Juan Soto.
By the end of it, however, the Dodgers had made their own resounding statement, silencing the Padres again in a thorough three-game sweep punctuated at Dodger Stadium by Sunday's 4-0 win.
Final: Dodgers complete sweep of Padres with 4-0 win
The Dodgers continued their dominance over the Padres, winning 4-0 on Sunday to complete a three-game weekend sweep and extend their division lead to 15 1/2 games.
Cody Bellinger hit two home runs. Freddie Freeman had two RBI singles. And Tyler Anderson pitched seven scoreless innings.
The Dodgers are now 75-33.
Final: Dodgers 4, Padres 0
Dodgers extend lead after Tyler Anderson's seven scoreless innings
Tyler Anderson completed one of his best outings of the year, spinning seven scoreless innings in which he gave up only two hits, one walk and struck out three.
Then, the Dodgers padded their lead, scoring twice in the bottom of the seventh on another Cody Bellinger home run and another Freddie Freeman RBI single.
End 7th: Dodgers lead 4-0
Dodgers open scoring on Cody Bellinger home run, Freddie Freeman single
Yu Darvish had retired eight in a row his first time through the Dodgers order.
Then he threw a sinker down the middle that Cody Bellinger didn't miss.
The Dodger center fielder opened the scoring with one swing in the bottom of the third, driving his 14th home run of the campaign to left center.
The Dodgers' weren't done in the inning, either, as Mookie Betts doubled and scored on a Freddie Freeman single to give the Dodgers a two-run lead.
End 3rd: Dodgers lead 2-0
Yency Almonte placed on injured list
The Dodgers placed Yency Almonte on the injured list Sunday with right elbow soreness, but don't believe the reliever is facing a long-term absence.
"He felt he could have pitched last night, but I think kind of the way we do things, if there's a little bit of smoke we just feel that we might as well kind of use it as a blow for him," manager Dave Roberts said.
Almonte said he felt something in his elbow after his last outing in San Francisco, but that it wasn't anything too concerning.
He is scheduled to have an MRI on Monday to ensure there's no bigger issue.
In a corresponding move, the Dodgers recalled Andre Jackson.
The right-hander had success in three big league outings last year but has struggle in triple A this season, with a 5.20 ERA in 16 starts.
He will be available out of the bullpen for the Dodgers the next two games. If he isn't used in those, Roberts said Jackson could be candidate to start on Wednesday in place of Clayton Kershaw.
Treinen, Graterol nearing rehab stints
Roberts said Blake Treinen and Brusdar Graterol will face batters again Tuesday in the latest step in their recoveries from shoulder injuries. If that goes well, they'll both head out on a rehab assignment next, likely to Oklahoma City, according to Roberts.
Cleared to begin hitting progression, Kevin Pillar hopeful season isn't over after all
Kevin Pillar's season might not be over after all.
Despite suffering a left shoulder fracture in June that was initially believed to have ended his season, Pillar received a surprise prognosis during a doctor's check.
His shoulder had healed far faster than originally expected.
He was cleared to resume baseball activities and begin a hitting progression.
And he was told that "it wasn't unrealistic" for him to be playing minor-league games by Labor Day.
"Definitely exciting news," Pillar said. "I would definitely call it best case scenario."
A veteran outfielder who signed a minor-league contract with the Dodgers this spring and was called up to the majors in late May, Pillar appeared in just four games before hurting his shoulder — and injury that at first was given a six to nine month timetable to return.
Pillar also held out hope it wouldn't be season-ending — "in my sick mind," he joked, "I thought it was possible" — but it wasn't until his doctor visit last Monday that the thought of returning suddenly seemed even remotely realistic.
"It's something I had continued to keep in my mind everyday I was rehabbing, that I was preparing myself to play baseball this year," he said. "So now that I know it's possible, I'm even more motivated, even more excited."
Pillar, who will swing a bat for the first time on Monday in Arizona, was keeping his expectations in check.
He said he "understands, with a team like this, that I'm not a necessity" and knows that even if he gets back to game action, it might not be at the major league level.
But at the very least, he said he wants to give the Dodgers another option come the end of the season.
"It's not being so focused on trying to get back here," Pillar said. "It's trying to get myself healthy, prove that I'm healthy, get some games under belt and put myself in position where ... I'm available."
ICYMI: Dodgers preview their anticipated October prowess in comeback vs. Padres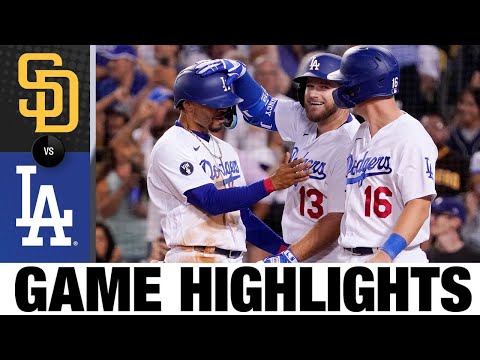 The first time through the top of the Dodgers' order on Saturday night, San Diego Padres starter Mike Clevinger made only one bad pitch, hanging a slider that Will Smith hit for a home run.
The second time, Clevinger survived one tenuous inning, limiting the Dodgers to one run again despite facing a two-on, one-out jam in the third.
By the time the Dodgers' order turned over for a third time, the Padres had given Clevinger a one-run lead.
And though two more men had reached base in the fifth, the crafty right-hander was a strike away from getting out of the inning unscathed.