Dodgers preview their anticipated October prowess in comeback vs. Padres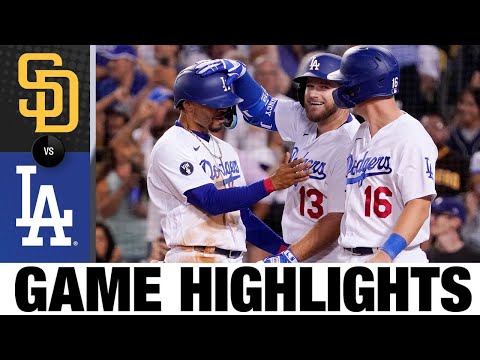 The first time through the top of the Dodgers' order on Saturday night, San Diego Padres starter Mike Clevinger made only one bad pitch, hanging a slider that Will Smith hit for a home run.
The second time, Clevinger survived one tenuous inning, limiting the Dodgers to one run again despite facing a two-on, one-out jam in the third.
By the time the Dodgers' order turned over for a third time, the Padres had given Clevinger a one-run lead.
And though two more men had reached base in the fifth, the crafty right-hander was a strike away from getting out of the inning unscathed.
Final: Dodgers clinch another series win over Padres with 8-3 win
The Dodgers continue to have the Padres' number.
With an 8-3 win Saturday, they clinched a third-straight series against their division rivals this year, and can go for a sweep tomorrow evening on national TV.
Mookie Betts had three hits. Will Smith had three RBIs. And Max Muncy had the big three-run homer.
The Dodgers are now 74-33.
Final: Dodgers 8, Padres 3
Dodgers extend lead after sloppy Padres defense
The top of the Dodgers lineup struck again in the seventh inning — this time with the help of some sloppy Padres defense.
After Mookie Betts led off with his third hit of the night, the Padres booted a Trea Turner grounder, allowing Betts to reach third and Turner to slide into second.
After that, Freddie Freeman and Will Smith hit back to back sacrifice flies.
The Dodgers bullpen, meanwhile, has gotten four outs from Alex Vesia and a scoreless eighth inning from Evan Phillips.
Mid 8th: Dodgers lead 7-3
Max Muncy puts the Dodgers back in front with three-run homer
Mike Clevinger survived the first two turns through the top of the Dodgers lineup, giving up just one run both times.
The third time, however, he couldn't limit the damage.
After a Mookie Betts single and Will Smith hit by pitch, Max Muncy took Clevinger deep with two outs in the fifth, belting a hanging slider into the Padres' right field bullpen to put the Dodgers back in front.
It was another good moment during a recent upswing from Muncy, who is now batting .256 with two home runs, seven RBIs and a .820 OPS in his past 11 games.
End 5th: Dodgers lead 5-3
Padres surge in front with three runs in the fourth
The Dodgers doubled their lead in the third inning, when Will Smith collected his second RBI of the night with a two-out single.
But then, the Padres responded with three runs in the fourth inning to take their first lead of the series.
The rally started with a Juan Soto single and Gavin Lux error.
Then, Brandon Drury hit an RBI double down the line in left, Jake Cronenworth tied it up a run-scoring groundout and Wil Myers lined a go-ahead RBI single to right.
Mid 4th: Padres lead 3-2
Dodgers strike first on Will Smith home run
Will Smith is quickly becoming one of the Dodgers' hottest hitters of late, extending his recent hitting streak to nine games with a solo home run.
It was Smith's 16th home run of the year, and his 14th hit in his last 35 at-bats overall.
Andrew Heaney, meanwhile, is through three scoreless innings, having retired nine in a row since a leadoff double.
Mid 3rd: Dodgers lead 1-0
Clayton Kershaw gets epidural shot; timetable to returns remains unclear
Clayton Kershaw didn't meet with reporters Saturday, but Dodgers manager Dave Roberts shed more light on the back injury that landed the left-hander on the injured list Friday.
Roberts said Kershaw remained sore and that he'd gotten an epidural shot to try and relieve the pain in his back, which flared up during a start Thursday.
He reiterated the team's belief that Kershaw's absence is "going to be shorter than longer term."
But he said there is still no timetable for when the veteran will pick up a baseball, or eventually be ready to rejoin the team.
"I think symptomatically where he came out of that game in San Francisco, he's had similar sensations," Roberts said. "So I think that's something, you know, fortunately, unfortunately, he's had a lot of history with that. So kind of what has transpired in the past."
Roberts added Kershaw's recovery process will be dependent upon "when he feels good."
Roberts didn't expound the results of an MRI Kershaw had Friday, other than to repeat his answer from the night before that the scan showed "nothing different" from when Kershaw had an MRI for another back injury earlier this year.
Unlike that injury, which was diagnosed as right SI joint inflammation and cost Kershaw more than a month, Roberts said this issue is concentrated on the pitcher's left side.
"Assuming that he can pick up a baseball sooner," Roberts said of when Kershaw could be back, "it's just more of how his body is moving [because] the arm should still be fine."
In other injury news Saturday, injured reliever Blake Treinen and Brusdar Graterol both faced hitters at Dodger Stadium during a session of live batting practice in the afternoon.
Roberts said both pitchers — who are battling shoulder injuries — came out feeling well.
Graterol is expected back in about 10 days. Treinen could return to action at the start of September.
Dodgers honor Vin Scully with a perfect and powerful Blue Heaven homage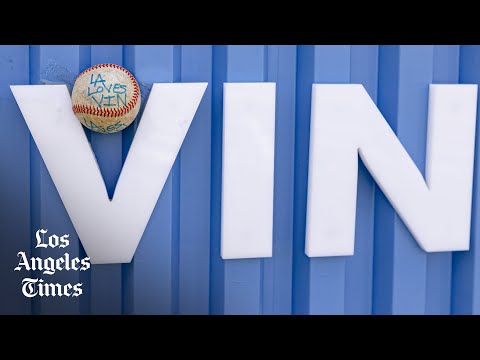 It was deafening. It was discordant. It was perfect.
With Vin Scully's trademark greeting, Los Angeles said farewell.
With the five words that formed Vin Scully's signature, Los Angeles etched his memory into the Dodger Stadium skies.
"So now, 50,000 Dodgers fans, get on your feet," exhorted Dodgers manager Dave Roberts from the middle of the infield early Friday evening. "On the count of three, yell as loud as you can so Mr. Vin can hear us from Blue Heaven!"
One… two… three.
And then it erupted, from the depths of their sorrow, from the top of their lungs, a cheer straight from the heart of the most powerful connection in this city's history.
"It's Time For Dodger Baseball!!!"
ICYMI: Dodgers turn their Juan Soto loss into a win over new-look Padres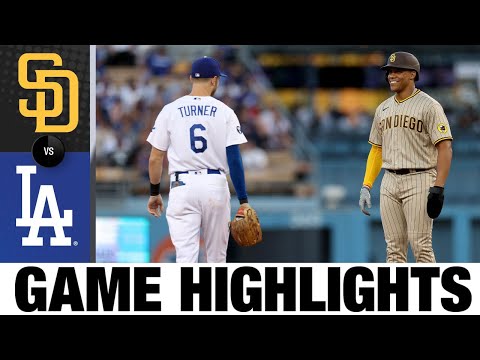 Dave Roberts insisted it wouldn't be a litmus test.
After the drubbing his team inflicted Friday, maybe he should have.
On a night that began with an emotional on-field ceremony commemorating the late Vin Scully, and that was supposed to showcase a supposedly revamped San Diego Padres roster following Tuesday's trade deadline, the Dodgers instead cruised to an 8-1 win, extending their recent dominance over the rivalry while picking up their sixth consecutive win.
"Obviously, the anticipation outside of the ballplayers is there," Roberts said. "But the messaging has been consistent on our part, just focusing on ourselves and playing good baseball."