Mookie Betts sets pace for homer-happy Dodgers in blowout victory over Padres
Mookie Betts flung his pointer finger toward first base coach Clayton McCullough.
Then, for the 33rd time this season, he began a slow trot around the bases.
On a warm Saturday night in which the ball was carrying at Dodger Stadium, no one struck a bigger blow than Betts, who broke the game open and set a career high for home runs with a three-run blast in the fourth inning of the Dodgers' eventual 12-1 win over the San Diego Padres.
The Dodgers were already ahead 3-0 when Betts came to the plate in the fourth, thanks to a two-run homer from Trea Turner in the first and a Will Smith RBI double in the third.
Final: Dodgers even series with 12-1 win over Padres
The Dodgers snapped their season-long three-game losing streak with a demolition of the Padres, winning 12-1 and outhitting their division rivals 13-2.
The Dodgers hit four home runs, including Mookie Betts' 33rd of the season to set a new career high.
Julio Urías gave up just one run in six innings, lowering his ERA to an NL-best 2.29.
And the Dodgers are now 91-41 on the season.
Final: Dodgers 12, Padres 1
Blake Treinen pitches clean inning in return from injury
Blake Treinen completed his "miracle" return from a partial should capsule tear, tossing a clean seventh inning on just five pitches.
The right-hander hadn't pitched in a big league game since mid-April because of his ailment he told reporters before the game he was close to requiring what would have been season-ending surgery.
However, Treinen's injury scarred over surprisingly quick, allowing him to rehab and get back in time for the final month.
His return on Saturday couldn't have gone much better, as he hit 97 and 98 mph on the radar gun while retiring the side in order.
End 7th: Dodgers lead 12-1
Julio Urías exits after more Dodgers home runs breaks game open
On a warm night in which the Dodgers have been launching the ball out of the yard, Julio Urías did well preventing the Padres from doing the same.
In six strong innings, the left-hander gave up just one run on a Manny Machado solo blast. He gave up only one other hit, worked around three walks and excelled despite only two strikeouts.
His 2.29 ERA is now best among NL qualifiers.
The Dodgers, meanwhile, extended their lead on Justin Turner's two-run homer in the fifth, Freddie Freeman's RBI single in the sixth and Will Smith's three run blast a batter later.
End 6th: Dodgers lead 12-1
Mookie Betts sets career high in home runs as Dodgers extend lead
The Dodgers extended their lead in the third inning, when Freddie Freeman singled on a ground ball that ricocheted off second base and then raced home on a Will Smith double.
It was Mookie Betts, though, who truly broke the game open in the fourth.
After Austin Barnes kept the inning alive with a line drive that tipped off the glove of shortstop Ha-Seong Kim, Betts came to the plate and cranked his 33rd home run of the season, a three-run blast that set a new career high for the former MVP.
Julio Urías, meanwhile, is through five scoreless innings on just 59 pitches.
Mid 5th: Dodgers lead 6-0
Trea Turner opens scoring with two-run homer
A day after his first day off of the season, Trea Turner marked his return to the lineup with a bang.
The shortstop launched his 19th home run of the season, golfing a two-run blast to left field two batters into the bottom of the first.
Mookie Betts had led off with a triple to right field that was badly misplayed by Juan Soto, who let a line drive get past him and into the corner.
It looked briefly like Betts might have been able to go for an inside the park home run, but was given the stop sign by third base coach Dino Ebel.
He instead jogged home on Turner's home run moments later.
End 1st: Dodgers lead 2-0
Once worried his season was over, Blake Treinen calls return to Dodgers a 'miracle'
For months, Blake Treinen had been coy about the shoulder injury that had kept him out since mid-April.
But sitting in the home dugout of Dodger Stadium on Saturday afternoon, one day after returning to the Dodgers' active roster, the reliever finally revealed the full extent of his ailment — and how close he came to being knocked out for the season.
"The fact that I'm throwing this year," he said, "is such a miracle."
During a meeting with reporters, Treinen said publicly for the first time that he suffered a partially torn capsule in the front side of his throwing shoulder.
It was a serious injury, one he recalled team physician Dr. Neal ElAttrache initially saying probably would end his season and require surgery.
Gavin Lux to be about a week; Tony Gonsolin and Brusdar Graterol get clean MRIs
Gavin Lux wasn't in the Dodgers lineup Saturday, and might not be again for close to a week.
Manager Dave Roberts said the infielder got a cortisone shot to address a lower neck/back pain and will be out for 4-6 days, though the team isn't planning to put him on the injured list.
Lux missed four games two weeks ago with the issue before returning for the final five games of the team's road trip last week.
However, the pain returned after the team got home on Thursday night, leading to this latest absence.
Without Lux, the Dodgers played Mookie Betts at second base Saturday and gave rookie Miguel Vargas his first big-league start in the field in left.
Here is their full lineup, with left-handers Julio Urías (14-7, 2.32 ERA) and Sean Manaea (7-7, 4.90 ERA) on the mound:
Short hops
Roberts said Friday MRIs on Tony Gonsolin (forearm) and Brusdar Graterol (elbow) came back clean. Gonsolin resumed playing catch Saturday, while Graterol said he expects to at some point in the next few days ... Yency Almonte (elbow) threw a bullpen session Saturday. Roberts said the right-hander will need one more bullpen session before potentially facing live hitting ... Ryan Pepiot will start for the Dodgers on Sunday, with Andrew Heaney being pushed to Monday.
ICYMI: Dustin May struggles as Dodgers' losing streak grows: 'Just bad all around'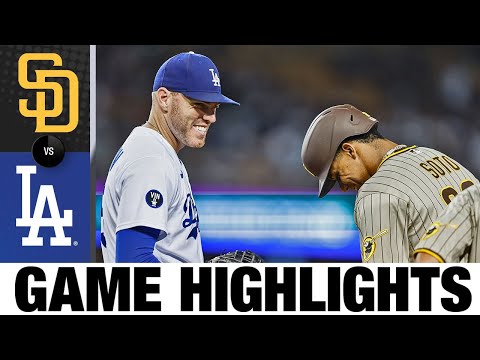 The path of a pitcher returning from Tommy John surgery is rarely straight and pointing north. It usually zigs and zags, lunges forward and lurches back, with encouraging stretches of dominance offset by shaky moments of self-doubt.
Which is why Dodgers right-hander Dustin May's rocky start against the San Diego Padres on Friday night should be neither surprising nor a major cause for concern.
May's stuff — primarily a four-seam fastball that topped out at 100.3 mph, a lively 97-mph sinker and a knee-buckling 86-mph curve — looked every bit as electric as it did in his first two strong starts back from his 2021 elbow ligament-replacement procedure.
But May lacked command, walking five and hitting two batters in five-plus innings, and he grooved a pair of sinkers that Manny Machado and Brandon Drury hit for two-run home runs in the third inning of an eventual 7-1 Padres victory before a crowd of 45,164 in Dodger Stadium.