Dustin May struggles as Dodgers' losing streak grows: 'Just bad all around'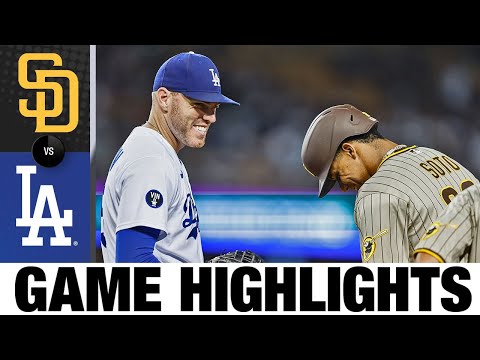 The path of a pitcher returning from Tommy John surgery is rarely straight and pointing north. It usually zigs and zags, lunges forward and lurches back, with encouraging stretches of dominance offset by shaky moments of self-doubt.
Which is why Dodgers right-hander Dustin May's rocky start against the San Diego Padres on Friday night should be neither surprising nor a major cause for concern.
May's stuff — primarily a four-seam fastball that topped out at 100.3 mph, a lively 97-mph sinker and a knee-buckling 86-mph curve — looked every bit as electric as it did in his first two strong starts back from his 2021 elbow ligament-replacement procedure.
But May lacked command, walking five and hitting two batters in five-plus innings, and he grooved a pair of sinkers that Manny Machado and Brandon Drury hit for two-run home runs in the third inning of an eventual 7-1 Padres victory before a crowd of 45,164 in Dodger Stadium.
Dodgers can't muster much against Yu Darvish and Padres in 7-1 loss
Dustin May allowed a pair of two-run home runs and Padres starter Yu Darvish allowed two hits and struck out nine over seven shutout innings against his former club in the Dodgers' 7-1 loss Friday night at Dodger Stadium.
May allowed just four hits, but walked six and was charged with six earned runs. Manny Machado and Brandon Drury each hit two-run home runs off him. Dodgers reliever Heath Hembree gave up a three-run home run to Jurickson Profar in the sixth inning.
Joey Gallo drove in the Dodgers' only run in the ninth on a single into the right-field corner, plating Justin Turner after he reached base on his second double of the game.
Hanser Alberto pitched the ninth for the Dodgers and benefited from a nice sliding catch by Trayce Thompson before getting out of a bases-loaded jam.
The Dodgers (90-41) will try to bounce back against the Padres (74-59) on Saturday at 6:10 p.m. PDT.
⚾ Final score: Padres 7, Dodgers 1
Benches warned after Yu Darvish hits Will Smith with a pitch
It appears the Dodgers and Padres are delving into some baseball showmanship in the wake of Dustin May hitting Brandon Drury in the head with a pitch.
Both benches were warned in the sixth inning when Yu Darvish hit Dodgers catcher Will Smith with a pitch. Smith became the fourth player hit by a pitch in the game and it came an inning after Drury took a pitch off his batting helmet faceguard in a scary-looking incident. Drury stayed in the game, but it appears the Padres weren't too happy with what they saw.
There was also a brief interruption in the fifth when someone threw what appeared to be an inflatable prescription bottle on the field. Fernando Tatis Jr. trolling aside, the Padres have been in complete control, with Darvish allowing two hits and striking out eight on 89 pitches so far.
⚾ End of the sixth: Padres 7, Dodgers 0
Padres take 7-0 lead over Dodgers on Jurickson Profar home run
San Diego's Jurickson Profar hit a three-run home run off Dodgers reliever Heath Hembree to give the Padres a 7-0 lead in the sixth inning.
Profar's 13th home run of the season, a no-doubter into the right-field pavilion, drove in Brandon Drury and Trent Grisham.
Dodgers starting pitcher Dustin May, who was pulled after hitting Drury with a pitch and walking Grisham, was charged with two of the runs, giving him six earned runs for the contest.
Dustin May pulled in the sixth inning with Dodgers trailing 4-0
Dustin May's third outing since returning from Tommy John surgery wasn't quite as impressive as his first two starts.
After hitting Brandon Drury in the head with a pitch and walking Trent Grisham to open the sixth, May was relieved by Heath Hembree.
Drury escaped serious injury when May's 84-mph curveball hit the faceguard on the side of the helmet as he turned his head. After a quick once-over by the team trainer, Drury stayed in the game. May then walked Trent Grisham to cap his night.
May allowed four hits — including a pair of two-run home runs — struck out five and walked five on 87 pitches over five innings.
Manny Machado and Brandon Drury power Padres to 4-0 lead
Manny Machado and Brandon Drury each hit two-run home runs off Dodgers starter Dustin May to give the San Diego Padres a 4-0 lead in the top of the third inning.
Machado's 25th home run of the season drove in Juan Soto, who worked a walk against May. The home run was the first hit May allowed. Three at-bats later, Drury sent his 25th homer of the season into the left-field pavilion. Jake Cronenworth scored on the blast after May hit him with a pitch.
It marked the first time in the last seven meetings against the Dodgers that the Padres scored first.
May, making his third start coming off Tommy John surgery, recorded all three outs in the inning by strikeout. The Dodgers' batters didn't do him any favors in the bottom of the frame, going down in order against Yu Darvish.
⚾ End of the third: Padres 4, Dodgers 0
Return of Blake Treinen should bolster Dodgers bullpen
The Dodgers welcomed what they hope is a key cog in another World Series run when veteran reliever Blake Treinen, out since mid-April because of a shoulder injury, was activated for Friday night's game against the San Diego Padres.
To clear a roster spot for Treinen, right-hander Jake Reed was designated for assignment.
The team will have the final five weeks of the regular season to determine whether Treinen is capable of regaining the primary setup role he held in 2020 and 2021 or possibly replacing wobbly closer Craig Kimbrel, or if he'll be more of a complimentary piece to Kimbrel, Evan Phillips, Chris Martin and Alex Vesia.
"Having [Brusdar] Graterol on the [injured list] changes the dynamic a little bit, but having Phillips, Martin, Vesia and [Caleb] Ferguson throwing the ball the way they have certainly adds to the options," manager Dave Roberts said. "The next few weeks, seeing how Blake is throwing the ball is going to help that dynamic."
Treinen went 3-3 with a 3.86 ERA in 27 games in the pandemic-shortened 2020 season, which ended with the Dodgers beating Tampa Bay in the World Series. He was even more dominant in 2021, going 6-5 with a 1.99 ERA in 72 games, striking out 85 and walking 25 in 72 1/3 innings.
The right-hander made seven rehabilitation appearances for triple-A Oklahoma City in August, giving up three earned runs and eight hits in six innings (4.50 ERA), striking out nine and walking one. But his sinking fastball and four-seam fastball were clocked between 92-95 mph, down from their usual 97.5 mph in 2021.
"It was down a tick or too, yeah," Roberts said. "I don't know if that was adrenaline-related. In talking to Blake, the training staff, he feels strong and feels great. My hope is that he pitches tonight, and we'll know more."
Roberts said Treinen, who did not pitch in back-to-back games for Oklahoma City, will be used "in leverage, whatever that means," but that he will only enter games to begin innings and will not go multiple innings to start.
Could Treinen eventually pitch in the ninth inning?
"It's a possibility," Roberts said, "but there's not a debate right now as to who the closer is."
Short hops
Roberts didn't have detailed results of the MRI test on Tony Gonsolin's right elbow on Friday, but the manager said it "went as good as we could have hoped." Gonsolin, who is 16-1 with a 2.10 ERA in in 23 starts this season, went on the injured list because of a forearm strain last weekend, but Roberts said the right-hander resumed playing catch on Friday and could return in about two weeks. … Gavin Lux, who was slated to start at shortstop Friday night, was scratched a few hours before the game because of a sore neck and replaced by Hanser Alberto. Roberts said Lux will sit out Saturday night's game, "and we'll see where we're at on Sunday." ... Roberts said top prospect Miguel Vargas, one of the team's September callups, will start in left field Saturday night.
Shortstop Trea Turner finally takes a seat after starting 131 straight games
A crowbar was not required to pry Dodgers shortstop Trea Turner out of the lineup for Friday night's game against the San Diego Padres in Chavez Ravine. Manager Dave Roberts did not have to plead with Turner or twist his arm.
After Turner started every one of his team's first 130 games in the field, after two late-night flights, one across the country, on the last road trip, and after going hitless in 13 at-bats in three games against the New York Mets, it was simply time.
"I fought him off for [130] games, but for sure, I knew it was gonna happen eventually," Turner said. "And you know, he's probably right in a sense that it's a good time. I feel good, so I want to play, but it probably makes sense to take a quick breather and get back out there [Saturday]."
Before Friday, Turner was one of four big-leaguers to have started every game in the field this season, joining Dodgers first baseman Freddie Freeman, who started in his 131st straight game Friday night, and Atlanta shortstop Dansby Swanson and first baseman Matt Olson, who have started all 133 games.
But as the Dodgers boarded their flight home from New York after Thursday's loss to the Mets, Roberts informed Turner, who is batting .306 with an .830 on-base-plus-slugging percentage, 18 homers and 86 RBIs, that he would not start the series opener against the Padres.
"He said, 'How about an off-day tomorrow?'" Turner said. "I said, 'Are you benching me?' "
Turner was not being benched.
"I just felt that on this past road trip there were a couple of extra-inning games, a late get into New York and a late get home last night, this morning, and you've still got a lot of games before we get to an off day," Roberts said.
"The plan for him and for us was to not play 162 anyway, so before he gets to be red-lined, let's just take a day, reset, enjoy watching a game and go from there. He calls it a benching. It's certainly not a benching. I just felt that it was best for him and for all of us."

ICYMI: Clayton Kershaw returns amid more troubling developments for Dodgers pitching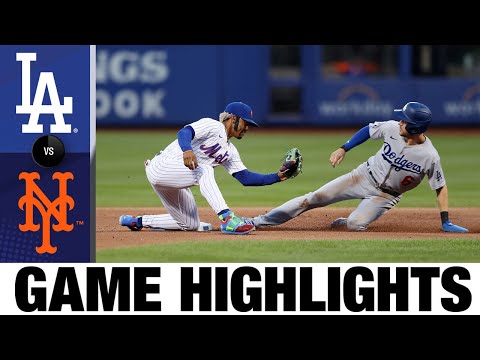 NEW YORK — When the Dodgers stayed quiet at the trade deadline, they did so with the expectation their banged-up pitching staff would get healthy over the final two months of the season.
On the first day of September, however, they still have about as many questions as answers when it comes to health on the mound.
On Thursday, they repeated a familiar sequence, getting both good and bad news on several key arms.
The good: Clayton Kershaw shined in his return from a back injury, pitching five strong innings before the Dodgers coughed up a lead and lost to the New York Mets 5-3 at Citi Field.