Final: Dodgers lose 6-1 as Dustin May, lineup struggle
On a night they got a rare bad start, the Dodgers offense also recorded their second-fewest hits of the season with three in a 6-1 loss to the Diamondbacks.
Right-hander Dustin May had already given up five runs in a four-inning start by the time Mookie Betts produced the team's first knock, a solo home run in the bottom of the fourth.
By the time they got the next two, on back-to-back singles from Trea Turner and Freddie Freeman in the bottom of the ninth, the defeat was already sealed.
The Dodgers are now 103-46 on the season.
Final: Dbacks 6, Dodgers 1
Dodgers deficit grows as Tommy Kahnle gives up first run since returning from IL
Tommy Kahnle's stat line since returning from the injured list this month is no longer unblemished.
In the seventh inning tonight, the right-hander hit the leadoff man with a pitch, threw a wild pitch, then watched his first run allowed since coming back from a forearm injury score on a sacrifice fly to left (despite a good throw from Miguel Vargas).
The Dodgers' bats have continued to be quiet, as well, with the team still stuck on just one hit tonight.
End 7th: Dbacks lead 6-1
Dustin May done after four shaky innings
Dustin May did not the chance to bounce back from his three-run fourth inning.
Instead, the right-hander got an early hook, exiting after a 79-pitch outing that was one of his worst since coming back from Tommy John surgery.
May was charged with five earned runs, seven hits, two walks and a hit batter. He struck out four, found the zone with 53 of his 79 tosses and induced 12 whiffs.
However, he also allowed seven men to reach base from two-strike counts.
His ERA on the season is now 4.50.
End 5th: Dbacks lead 5-1
Dbacks break it open in the fourth on Corbin Carroll's bases-clearing double
After Dustin May was punished for a two-out walk in the third inning — Jake McCarthy took the free base, stole second and then scored on a Christian Walker RBI single — the Dbacks hung a three-spot against the Dodgers right-hander in the fourth.
Carson Kelly led the inning off by lining a double to center. With one out, Geraldo Perdomo lofted a single to left.
May got Daulton Varsho in an 0-and-2 count in the next at-bat, but then hit his back foot with a curveball to load the bases.
The very next pitch was a low cutter to Corbin Carroll. The Dbacks rookie smoked it to center for a three-run double.
The Dodgers offense finally provided some insurance in the next half-inning, getting their first run, hit and baserunner off Madison Bumgarner on Mookie Betts' 35th home run of the season.
Other than that, though, the Dbacks veteran has been cruising.
End 4th: Dbacks lead 5-1
Dbacks score first after leadoff walk in first
A start after walking just one batter (and throwing five no-hit innings) against the San Francisco Giants, Dustin May was quickly punished for a leadoff free pass in the first inning tonight.
After losing Dbacks leadoff hitter Daulton Varsho in a full-count, May couldn't strand him. Varsho stole second and then scored on a broken bat single by Christian Walker.
End 1st: Dbacks lead 1-0
Blake Treinen suffers setback, but Brusdar Graterol on the verge of returning
Blake Treinen won't be activated on Thursday, after all.
Despite Dave Roberts saying repeatedly in recent days that Treinen would return from his latest shoulder injury on Thursday — which would have boosted confidence in the reliever's ability to contribute in the postseason — the manager had to backtrack Wednesday.
He said Treinen is still "not bouncing back the way any of us would have hoped" and that his status for October remains a bit of an "if."
Brusdar Graterol will be activated instead, with his elbow injury having progressed to the point of being able to return.
In the meantime, the Dodgers will try to clinch their rare five-game series against the Arizona Diamondbacks tonight.
Dustin May (2-2, 3.46 ERA) will take the mound for the Dodgers, while familiar foe Madison Bumgarner (6-15, 5.01 ERA) will go for Arizona.
Here is the Dodgers' lineup:
Maury Wills stole Dodger fans' hearts. Changed the game. Not enough for Hall of Fame
He stole bases. He stole championships. He stole a city's heart.
Yet, for all his accumulated riches, Maury Wills often lamented the one shiny object that was forever out of his reach.
He couldn't steal his way into Cooperstown. The inventor of the modern stolen base unbelievably couldn't sprint and slide into baseball's Hall of Fame.
The baseball writers rejected him for 15 consecutive years. The veteran's committee turned him down for 10 more years.
It hurt and haunted him until his death Monday at age 89.
"Why won't they let me in the Hall of Fame?" he asked me once during a quiet moment at Dodger Stadium. "What more did I have to do?"
Flat Dodgers fumble their way to a doubleheader split with the Diamondbacks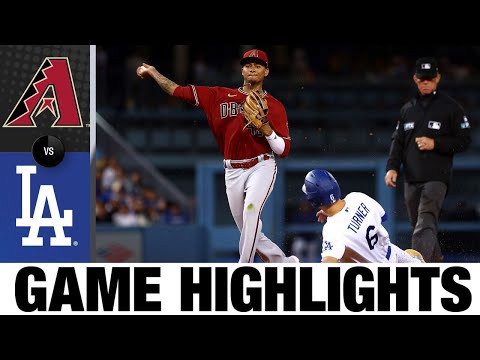 The Dodgers lurched through a doubleheader Tuesday of two oddly similar games with starkly different outcomes.
The opener took three-plus hours beginning at noon, and the Dodgers eventually progressed from flat to focused, exploding for five runs in the eighth inning to edge the Arizona Diamondbacks 6-5 at Dodger Stadium.
Another three-plus hours passed before the second game began, and again the Dodgers fell behind early, surrendering their third unearned run of the day in the second inning and two more in the sixth, giving them a season-high four errors in the game — and six in the doubleheader.
Max Muncy hit a two-run home run in the sixth but Ketel Marte answered with a solo shot in the seventh, keeping the Diamondbacks ahead by two runs. Muncy came up in eighth and scorched a line drive with two out and a runner on, but right fielder Jordan Luplow flagged it down. The Diamondbacks tacked on a run in the ninth to win 5-2.