Craig Kimbrel's near meltdown begs the question: Should Dodgers trade for a closer?
DENVER — Time and again, Dave Roberts has insisted his Dodgers team doesn't have any major needs heading into Tuesday's trade deadline.
On Friday night at Coors Field, however, they were reminded of one of the biggest issues they have to address.
Though the Dodgers beat the Colorado Rockies for a second straight night, prevailing 5-4 behind early two-run home runs from Will Smith and Trayce Thompson plus a strong seven-inning start from left-hander Julio Urías, the game finished much closer than it should have been.
Tasked to protect a three-run lead at the end, closer Craig Kimbrel almost blew another save by giving up two runs in the ninth.
Final: Craig Kimbrel almost blows it, but the Dodgers hang on for 5-4 win
Craig Kimbrel almost blew up it in the ninth, giving up two runs and allowing the potential tying and winning runs to reach base.
But the Dodgers closer held on to give the Dodgers a 5-4 win, a victory that was keyed by early home runs from Will Smith and Trayce Thompson and a strong seven-inning, two-run start from Julio Urías, who lowered his ERA to 2.71.
Since losing back-to-back games here at Coors Field last month, the Dodgers have won 22 of their past 26 games.
They are 67-32 on the season
Final: Dodgers 5, Rockies 4
Julio Urías rolling as Dodgers extend lead
Julio Urías hasn't historically been good in his career at Coors Field.
But since giving up a pair of runs in the second, he has bounced back with three straight scoreless frames, completing five innings on just 59 pitches.
The Dodgers, meanwhile, added to their lead in the third inning on a Gavin Lux sacrifice fly. However, they left the bases loaded later in that frame, then again in the fourth.
End 5th: Dodgers lead 5-2
Dodgers jump to early lead on Will Smith, Trayce Thompson home runs
After struggling at the plate during their previous two trips to Coors Field this year, the Dodgers are having no issues so far this weekend.
After winning 13-0 last night, they've jumped out to an early four-run lead today thanks to two-run blasts from Will Smith in the first inning and Trayce Thompson in the second.
It was Smith's 15th home run of the season, tied with Freddie Freeman and Trea Turner for second-most on the team.
For Thompson, it gave him four home runs and 17 RBIs in just 30 games since joining the team last month.
The Rockies did get a couple runs back in the bottom of the second. José Iglesias hit a double, Randal Grichuk hit an RBI triple and Ryan McMahon added a sacrifice fly.
End 2nd: Dodgers lead 4-2
Injury updates on Blake Trienen, Chris Taylor, Danny Duffy and more
Dave Roberts shared several injury updates on Friday:
Reliever Blake Treinen (shoulder) faced live hitting Friday in Los Angeles for the first time since getting hurt in April, and felt good afterward. Treinen is expected to face hitters again this week in San Francisco. "We'll go from there," said Roberts, who has previously said the team is hoping to get Treinen back in late August.
One of the hitters Treinen faced on Friday: Chris Taylor (foot fracture), who could begin a rehab assignment as soon as this weekend, though Roberts said when and where the outfielder will go is still to be determined.
Pitcher Danny Duffy (flexor tendon) has also begun facing live hitters in Arizona and could be a couple weeks away from a rehab assignment. Duffy, a deadline acquisition last year who has yet to appear in a game with the Dodgers because of the injury, is averaging 92-93 mph with his fastball.
Reliever Brusdar Graterol (shoulder inflammation) still isn't facing live hitters, but will begin to "be a little bit more aggressive" in his recovery when he rejoins the team in San Francisco this week.
There was no new update on Tommy Kahnle (forearm), other than that he is currently rehabbing in Arizona.
Justin Turner sidelined again; Gavin Lux moving up order while Max Muncy bumps down
DENVER — Before his team embarked on its road trip to Denver this week, Dodgers manager Dave Roberts said Justin Turner wouldn't play the first two games against the Rockies.
On Friday afternoon, he said the veteran third baseman won't be in the lineup for the final two games of the four-game set either.
That means Turner will have played just once in a 10-game stretch by the end of the weekend, as the team continues to be cautious with the discomfort he began feeling last Thursday in his rib/abdominal area.
"Just talking to him and the trainers, I think we're out of the woods with his stomach, his side, his ab muscle, tissue situation," Roberts said. "But I think where we're at, we don't want to take any chances on any backsliding. I don't see him playing any games here in Denver. We'll reevaluate when we get to San Francisco."
Roberts said the altitude in Denver factored into the decision, and added that an injured-list stint for Turner is still not a consideration.
Lux moving up, Muncy bumped down
During the first half of the season, the Dodgers were wary of moving Gavin Lux out of the nine-hole in the batting order.
Lately, however, the second baseman has forced his way up the lineup.
Lux will bat sixth Friday, marking the seventh time in nine games since the All-Star break he has batted higher up the order.
Roberts said it could become a permanent move for Lux, who entered Friday fourth in National League with a .307 batting average and fourth on the team with a .817 on-base-plus-slugging percentage.
"He is forcing his way," Roberts said. "Having Gavin more in the mix to potentially get that extra at-bat, to potentially drive runs in — I'm just seeing the consistency. To his credit, he's earning that by consistent performance."
On the flip side, Max Muncy was dropped to the No. 7 slot for the second straight game as he continues to slump through a disappointing season.
Muncy is last in the majors among qualified hitters with a .158 average. He is six for his last 54 at the plate. His defense has scuffled in recent days, too.
Yet, Roberts said he still views Muncy as an everyday player right now, explaining that the team is still betting on his track record and hopeful he can turn things around down the stretch.
"I think that track record should matter," Roberts said. "Certainly recency should matter as well. It's just how you value, or how much value, you put into both. But for me, for the organization, I think the track record, the consistency of performance and defense shows that he deserves that longer leash."
Roberts did concede that Muncy's "runway" for bouncing back is getting shorter.
But, with a 12-game division lead entering Friday, there are few other left-handed hitting or third base alternatives waiting in the wings (especially with Turner hurt) and what Roberts said is promising behind-the-scenes work from Muncy — "I do think that stuff under the hood has shown better for me," Roberts insisted — the Dodgers seem content to stick it out with the two-time All-Star for now.
"He's helped us win a lot of baseball games, even with the glove," Roberts said. "So still, when he's in the lineup, that opposing pitcher knows that Max Muncy is in the batter's box. it every time he's in the box. I still feel like he's gonna get a hit. So that's kind of where we're at."
Here's the Dodgers full lineup Friday:
ICYMI: Dodgers blow out Rockies, and get good news on pitchers Dustin May and Blake Treinen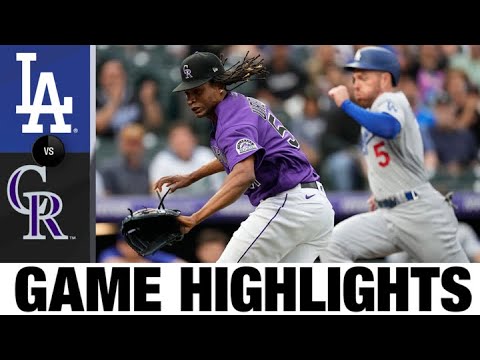 DENVER — The Dodgers opened an eight-game trip Thursday with a 13-0 blowout of the Colorado Rockies at Coors Field.
And it might not have even been the team's most important development of the day.
Behind seven scoreless innings from Tyler Anderson and the offense's second-highest scoring outburst of the season, the Dodgers improved to 66-32 and extended their lead in the National League West to 12 games over the idle San Diego Padres.
"Tonight was just an all-around good day to be a Dodger," manager Dave Roberts said.
Including for a couple of injured pitchers now on the mend.
While the Dodgers dominated the Rockies (45-55), right-hander Dustin May completed his second rehabilitation start with triple-A Oklahoma City in his return from Tommy John surgery. And Thursday's outing went much better than the first.