Dodgers defeat the Giants, 6-3
Max Muncy homered twice, the Dodgers got seven solid innings from Tyler Anderson and Craig Kimbrel got the save with a 1-2-3 ninth in a 6-3 victory over the Giants on Tuesday at Dodger Stadium. Wednesday's game starts at 1 p.m.
Giants pull closer on Brandon Crawford's homer
Evan Longoria led off the top of the sixth with a single. Thairo Estrada grounded to second, forcing Longoria. Brandon Crawford homered just inside the right-field foul pole. Anderson escaped the rest of the inning unscathed.
In the bottom of the sixth, Max Muncy led off with a home run. Justin Turner then singled, but the side was then retired.
Score after six: Dodgers 6, Giants 3
Dodgers increase lead to 5-1 on Max Muncy's homer
The Dodgers increased their lead in the bottom of the third. Trea Turner led off with a single and then stole second. Freddie Freeman struck out. Will Smith flied to right. Max Muncy homered to right. Justin Turner popped to short.
Score after three: Dodgers 5, Giants 1
Dodgers take 3-1 lead on Joey Gallo's home run
The Dodgers take the lead in the bottom of the second. Max Muncy led off with a double to right. Justin Turner walked. Then, on a 3-1 pitch, Joey Gallo launched a ball into the right-field bleachers for a three-run home run. Chris Taylor and Cody Bellinger struck out and Mookie Betts flied to center.
Score after two: Dodgers 3, Giants 1
Giants take early lead on Lew Brinson's home run
The Giants strike quickly Tuesday, continuing their power surge from Monday as Lew Brinson leads off the game with a home run off of Tyler Anderson, but Anderson retired the next three in order.
The Dodgers got a two-out double from Freddie Freeman in the bottom of the first, but he was stranded when Will Smith hit a fly out to deep left.
Score after one: Giants 1, Dodgers 0
Tony Gonsolin not progressing as well as hoped
As the clock ticks towards October, the Dodgers' rotation is at long last falling into place. Clayton Kershaw is back. Dustin May is trying to find his stride. Julio Urías and Tyler Anderson are holding down the fort.
But they're still waiting for the final piece in Tony Gonsolin, out since Aug. 29 with a right forearm strain. And manager Dave Roberts didn't sound particularly optimistic about the All-Star's recovery before Tuesday's game against the Giants.
"Honestly, it's not going as quickly as I think any of us would like, but we're moving forward every day," Roberts said.
Initially, the news – a major blow to a staff already trying to work back from a myriad of ailments – was presented as a precaution to a non-serious injury, and Gonsolin was expected to be back for October. That outlook hasn't changed, Roberts said, but the manager said that progression was important considering the postseason awaited just around the corner.
"Everything does have to go right," he said.
Gonsolin has been the Dodgers' best starter for much of the season, a candidate to start the All-Star game who currently is 16-1 with a 2.10 ERA in 128.1 innings. It's by far the heaviest workload of his career, but Roberts said there weren't any indications that the strain was caused by excessive usage.
The injury is just residual soreness, per Roberts – no sharp pain. But in a week, if Gonsolin doesn't progress, via playing catch and stretching, the manager said he might have a different view on the pitcher's postseason readiness.
Time, unfortunately for the Dodgers, stops for no Gonsolin.
Julio Urías discusses pitching for Team Mexico in the World Baseball Classic
Tonight's starting lineups
ICYMI: Andrew Heaney criticizes himself after Giants pound their way past Dodgers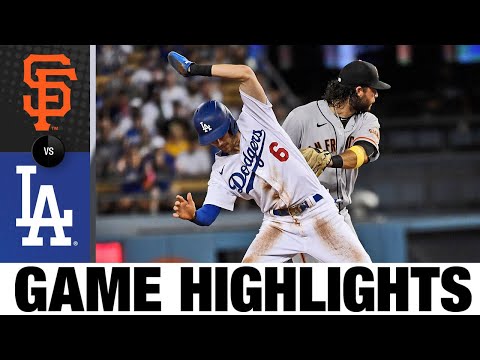 Andrew Heaney first looked at the high arching drive in disgust, then toward the Dodgers dugout in disbelief.
For the fourth time Monday night, the Dodgers left-hander had given up a home run, his recent struggles with the long ball becoming an all-out calamity in a 7-4 loss to the San Francisco Giants.
And when he asked about his struggles postgame, it didn't take him long to explain why.
"I was throwing s--- right down the middle," he said.