Dodgers beat Giants to move to verge of another 100-win season
SAN FRANCISCO —
The Dodgers' final three games won't count for much in the standings. That doesn't mean the series is void of statistical or emotional significance.
In an 6-2 win over the San Francisco Giants on Friday, the Dodgers got a little closer to a milestone victory. By improving to 99-61, they are on the verge of becoming only the seventh team with three consecutive 100-win campaigns.
First baseman Freddie Freeman also moved closer to making history, hitting his 59th double and 29th home run in pursuit of baseball's first 60-double, 30-homer season.
And in a contentious sequence during the sixth and seventh innings, tempers flared between the longtime rivals.
J.D. Martinez becomes the fourth Dodgers player to eclipse 100 RBIs this season — a franchise first — in a 14-5 blowout loss to the Colorado Rockies.
The Giants, who were being managed by base coach Kai Correa because manager Gabe Kapler was fired before the game, successfully challenged a groundout in the sixth to the Dodgers' chagrin, getting the out negated after a review showed Dodgers shortstop Miguel Rojas had his heels in the outfield grass at the time of the pitch, a violation of MLB's new infield shift rules.
Rojas acknowledged his heel probably was in the grass on the play, and said he would be more mindful about his positioning moving forward.
"I'm glad it happened that way so going forward, going into what really matters, winning games in the postseason, I don't commit that mistake again," he said.
However, the fact the Giants challenged in the first place annoyed Rojas and his teammates.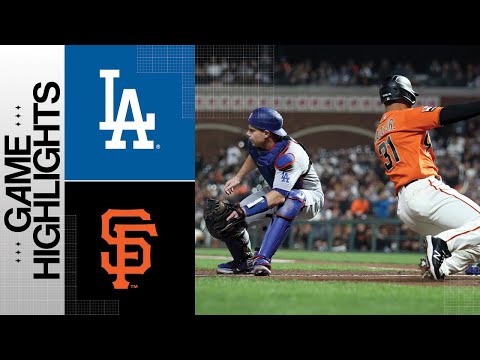 "I've been playing like that the whole year," Rojas said. "It's kind of a desperate move to go challenge those plays. I don't think it's right. Because we're all playing the same game. Their shortstop is doing kind of the same thing. Kind of a smart move there. But what can we do?"
Asked if the rest of the team felt similarly, Freeman offered a telling "no comment."
Pitcher Lance Lynn appeared most angered. The violation against Rojas not only negated the play, but led to an automatic ball in an at-bat that instead ended in a walk.
While Lynn escaped the inning unscathed — completing a six-inning, two-run start in his final appearance of the regular season — he appeared to gesture toward the Giants dugout while walking off the mound between innings.
Moments later, emotions continued to rise.
When Rojas came to the plate in the next half-inning, he was hit by a pitch from reliever Sean Hjelle on his left hand and forced to exit the game.
The hit batter didn't seem intentional. And the injury to Rojas doesn't appear serious, either. (According to Roberts, postgame X-rays on Rojas' hand were negative, and while the shortstop is scheduled for further imagining Saturday, Roberts said the team believes it "dodged a bullet.")
Still, the sequence triggered some angry glares from the Dodgers dugout — most of all from Lynn, who stationed himself near the foot of the stairs — across the diamond.
There were several other notable storylines.
By legging out his 59th double with typical hustle, racing to second on a weakly hit grounder to right-center field, Freeman needs just one more to have the first 60-double season since 1936.
The Dodgers are looking to increase their intensity ahead of the National League playoffs. They hope letting fans watch a scrimmage will help.
"I'm not really worried about that," said Freeman, who was more pleased with a three-hit game (he finished only a triple short of the cycle) that snapped his recent mini-slump at the plate. "If I start feeling good at the plate and start having good swings, that will potentially result in those. But if you start thinking about individual things, you're playing for the wrong reason.
Freeman's hit also set up J.D. Martinez for a statistically significant three-run blast later in the inning to give the Dodgers 900 runs this season, a first in the franchise's Los Angeles history, and pushed Martinez past the 1,000-RBI mark for his career.
"J.D., man he's on one right now," Roberts said of Martinez, who has 103 of those RBIs this season, including 17 in his last 11 games. "He just comes to work every day ready to help us win and he obviously makes us a lot better. What a season he's put together."
Managers make history, too
Another special moment came before the first pitch.
With the Dodgers' Dave Roberts and Correa leading their teams, the contest became the first among the four major U.S. sports leagues in which both teams' managers were of Asian descent. Roberts and Correa are of Japanese heritage.
To honor the occasion, Roberts and Correa greeted each other at home plate for the pregame lineup exchange and posed with the umpiring crew for a picture.
"Obviously he's heavy hearted right now [because] he and Gabe have a good relationship," Roberts said. "But for me as an Asian American, to be able to exchange lineup cards with Kai, I'm proud of him and what he's done and what he's doing. I've got a lot of respect for him."
Get our Dodgers Dugout newsletter for insights, news and much more.
You may occasionally receive promotional content from the Los Angeles Times.