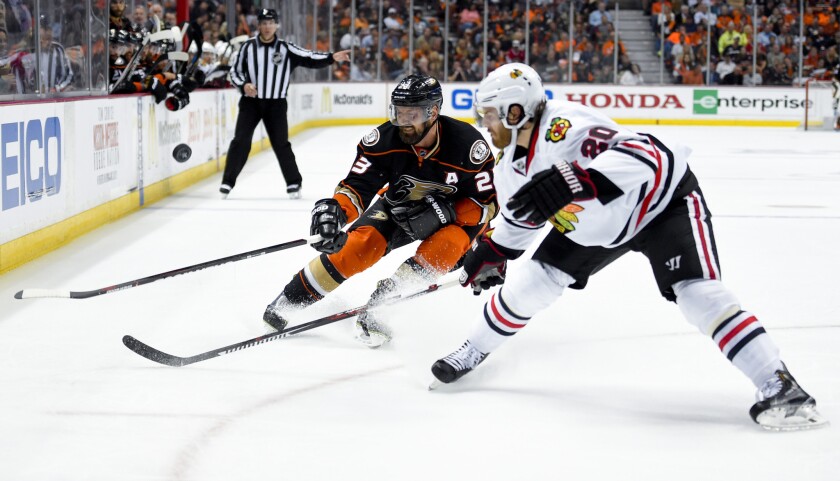 REPORTING FROM CHICAGO —
Defenseman Francois Beauchemin, the veteran of 673 regular-season NHL games and member of the Ducks' Stanley Cup championship team in 2007, reached high to describe his brothers on the blue line.
"I've never been on a team that deep on D," he said of the Ducks' stable, six-man defense corps.
The ability to travel deep into the postseason with three set pairs has to do with skill and good fortune in avoiding fluke injuries in a long and grueling run. In 2012, the Kings rolled through the playoffs and won the Cup using six defensemen.
What the Ducks have been doing is reminiscent of that effort. They have relied on Beauchemin, youngster Hampus Lindholm, Clayton Stoner, Sami Vatanen, Cam Fowler and Simon Despres, who had the winning goal in Game 3.
Stoner signed with the Ducks as a free agent after spending parts of five seasons in Minnesota.
"It's different from the last couple years for me," he said. "I feel a different feeling in the group, that little bit of extra confidence, not cockiness, but a little bit of swagger and self-confidence that you need to win in this league."
The Ducks hold a 2-1 series lead against Chicago in the Western Conference finals — Game 4 is in Chicago on Saturday night — and have used an effective mix of youth and age, stability and aggression on the blue line.
"You look at last night. There wasn't any matchups," said the 34-year-old Beauchemin on Thursday. "We were rolling six D and whoever was out there, we know we have the trust they're going to do the job."
The pair of Fowler and Despres received plenty of attention Friday at United Center, in part because of Despres' game-winning goal and Fowler's poised performance.
Success has a way of bringing notice in other ways too. The man responsible for bringing Despres to Anaheim at the trade deadline, Ducks executive Bob Murray, was named one of three finalists for NHL general manager of the year.
Murray, who won the award last season, has been a finalist the last three years. The other finalists are Glen Sather of the New York Rangers and Steve Yzerman of the Tampa Bay Lightning.
Hours before the announcement, Beauchemin was talking about the impact of Despres. Murray traded defenseman Ben Lovejoy to the Pittsburgh Penguins for Despres, one of several moves he made to revamp the defense at the trade deadline.
"He was the steal for the deadline, that's for sure, the last few years," Beauchemin said. "I don't know if there's a guy that was traded at the deadline who made such a big impact on the team as he did. That was just a great move by Murph."
Said Ducks assistant coach Trent Yawney: "When we acquired him and with all due respect to Ben Lovejoy, it was like, holy man, how the hell did we ever get a guy that's eight years younger? I thought, 'This is going to be exciting.'"
Yawney has been receiving well-deserved kudos for his handling of the defense and there has been reported interest in his services by the San Jose Sharks, who are in the midst of a head-coach search. Yawney was the Blackhawks' head coach for 103 regular-season games, starting in 2005.
"I know I'm much better than I was 10 years ago," he said. "If it happens great, if it doesn't, I'm not going to lose any sleep over it."
Stoner was lavish in his praise for Yawney.
"Trent is great for us," he said. "He shows confidence for all six of us. He plays us all fairly equal minutes, has confidence in us playing against any line. I think over the course of the 82 games, that's really developed a good six-man unit that plays hard and really has faith in each other. We've got young guys and old guys, so it's a diverse group. But we play together, back each other up when we can."
Follow Lisa Dillman on Twitter @reallisa
---