Column: Veterans will need to buy into a new system for Ducks to have success this season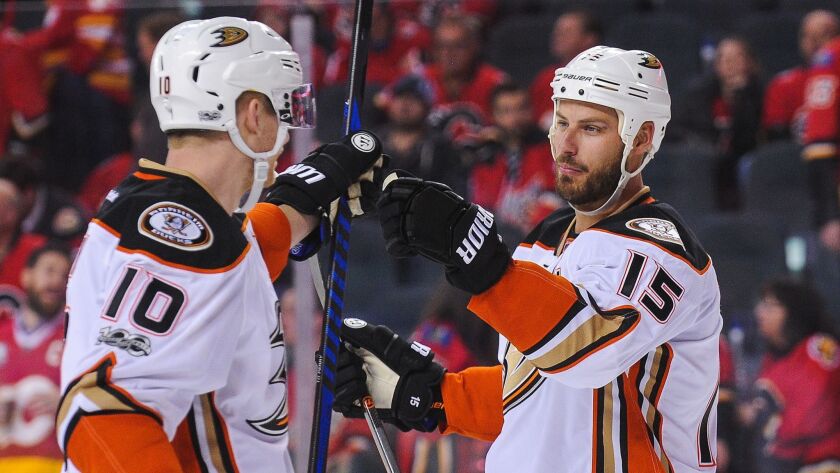 Whatever system the Ducks play — and they're making a major philosophical shift from heavy hockey to a high-tempo game with quick puck movement — it will work only if players embrace it wholeheartedly as a group. If anything good can come from the ruins of their first-round playoff flameout against the San Jose Sharks last season, it's that they recognized the need for change and the value of unity, and that one without the other won't get them anywhere.
"We fell flat and it was a combination of things," Ducks captain Ryan Getzlaf said of the team's swift exit after a strong finish to the regular season. "I don't want to dive into it too much. We want to start this year fresh. We want to get going. To dwell on it means that you're thinking about it still and I don't want to do that. But you learn from it; you learn from those mistakes and move on."
What Getzlaf learned goes beyond Xs and O's and buzzwords. "The chemistry is the most important thing, and you can build throughout a season," he said. "I didn't think we bought in properly going into the playoffs, the way we needed to in order to compete against a team of that caliber. It's on everybody. We're all together. It's a matter of trusting the system, trusting each other, trusting the coaches and building that.
"There's no secret formula to winning hockey games. If you have a system and you execute it better than the other team you're going to win. So whether the system is right or wrong, if you're executing together and playing that system you should have a good chance to win some hockey games, let alone a series."
Persuading Getzlaf, Corey Perry and other key players to accept the new system is vital. Especially Getzlaf, still commanding respect as a premier playmaking center at 33. He played only 56 games last season, primarily because he needed facial surgery after being struck by a puck in late October, but he averaged 1.09 points a game (11 goals and 50 assists) and led the Ducks forwards with an average ice time of 21 minutes 26 seconds a game. He ranked fifth in the NHL in average time on ice among forwards and was the oldest player in the top five.
"If your captain doesn't believe in what you're doing or doesn't buy into what you're doing, you're going to have a bigger issue than you first anticipated," coach Randy Carlyle said. "There's always going to be growing pains with certain things when you change but I think the one mandate that has been put forth right from the end of last season, [is] that there's no surprises. We've talked about this with Ryan Getzlaf. We've talked about it with all of our players and he, from all indications to us, was 100% onside."
Getzlaf expects the changes to suit his game. "There's a few instances where, when I get the puck, it's got to be those two quick strides right away and then make the play from there," he said. "That's one adjustment that I've been trying to make over the last couple of years and I have to continue to get better at. Guys skating off the puck is great for me. That's what I need. That's how we can effectively use each other, if we're skating off the puck a little bit more."
Although Getzlaf and Perry haven't been skating on the same line in training camp it's still impossible to think of one without thinking of the other because of their successful history together and their status as the last members of the Ducks' 2007 Stanley Cup championship roster still with the team. Unlike Getzlaf, Perry has trended distinctly downward the last few seasons and often looked slow and uninvolved last season while scoring 17 goals and 49 points in 71 games. That was a low point for a player who was among the NHL's most hated because of his aggressiveness around the net and who carries a salary cap hit of $8.625 million (and a no-move clause) through 2020-21.
Can he bounce back? After years of stockpiling young defensemen, the Ducks have collected enough skill and speed up front to shake things up and for Carlyle to consider an all-kids fourth line instead of a trio of grinders. Perry will have to think quickly and move the puck quickly to earn time on what Carlyle envisions as four balanced lines.
Perry, also 33, said he probably tried to return too early from a knee injury he suffered last December but said he trained well this summer. He expects his new role to be identical to his old role. "Being the same player I always have been," he said. "Nothing changes for me. I just go out and do the things I do."
He will have to do them faster, and more effectively. For him and for the Ducks, there's no going back to their old habits. "This is what has to be instinct. I think that's the key," Carlyle said. "We've addressed this, we've taken a long, hard look at what we think it's going to take to be successful and we're going to try and hold our feet to the fire as much as possible in doing that."
Follow Helene Elliott on Twitter @helenenothelen
---
Get the latest on L.A.'s teams in the daily Sports Report newsletter.
You may occasionally receive promotional content from the Los Angeles Times.