Column: Supply of smiles and fist bumps is unlimited for visitors to Ducks team store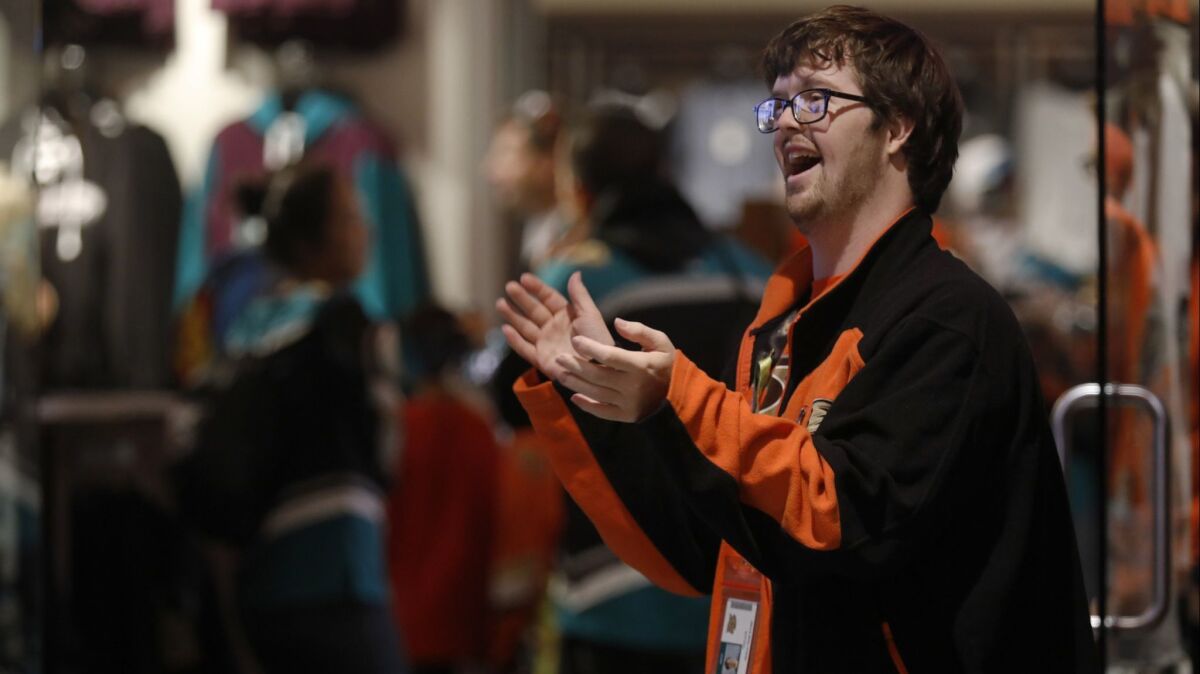 On his busiest days, when the Angels' and Ducks' seasons overlap and Trevor Hendershot works double shifts greeting customers at both teams' stores, his knuckles become raw and his hands grow sore from fist-bumping and high-fiving hundreds of people.
"And his voice gets hoarse because he cheers a lot," said his proud father, Bob. "He goes through two national anthems."
Trevor, 28, has the blissful smile of someone who never learned to hate, even though he was bullied in high school. He radiates joy, even though the Angels and Ducks lately have provided little reason to celebrate. He has Down syndrome but also has an unlimited ability to touch the hearts of people he meets while working at the team stores of the Angels, Ducks, Rams and USC.
"The thing about him is he's so upbeat and positive, so you just get inspired by that," Ducks fan Martha Treadway of Garden Grove said after making her regular detour to see him at Honda Center on Sunday. "Everybody loves him. He's just great. We make a point to come over to him and say hello."
His parents were told the best job he could expect would be folding towels in a hotel laundromat, hidden from guests. His speech is difficult to understand but with the help of a job coach he thanks customers for visiting the store and yells for his teams. His mother Melissa, a kindergarten teacher, feared he'd never be able to read.
"That made me sad," she said.
Trevor reads atlases, knows the toughest geography clues on "Jeopardy," and has a photographic memory for college teams' nicknames.
He loves Mike Trout, Josh Manson and Ryan Getzlaf, and enjoys being around people. People love him back. He began working for the Angels in 2012 and for the Ducks a year later.
"We started him as greeter, right here at the front door, and ever since then fans have looked for him. Every game, they come back and take pictures with him and ask for him," said Jill S. Bauer, the Ducks' director of merchandising. "He's an attraction of the store, I would say. But he really works. We value him and we value the work that he does."
In this season of Thanksgiving, the Hendershots have more reasons to be grateful than they could have imagined when the first of their three sons was born.
"It was such a shock to have a baby with Down syndrome. We never had an experience with Down syndrome before in our lives and I just remember I was so angry with God. 'Why me? I don't deserve a son like this,' " Bob said. "It's been 28 years since that day and you know, I was right. I didn't deserve a son like Trevor. But for complete opposite reasons."
He's an attraction of the store, I would say. But he really works. We value him and we value the work that he does.
— Jill S. Bauer, the Ducks' director of merchandising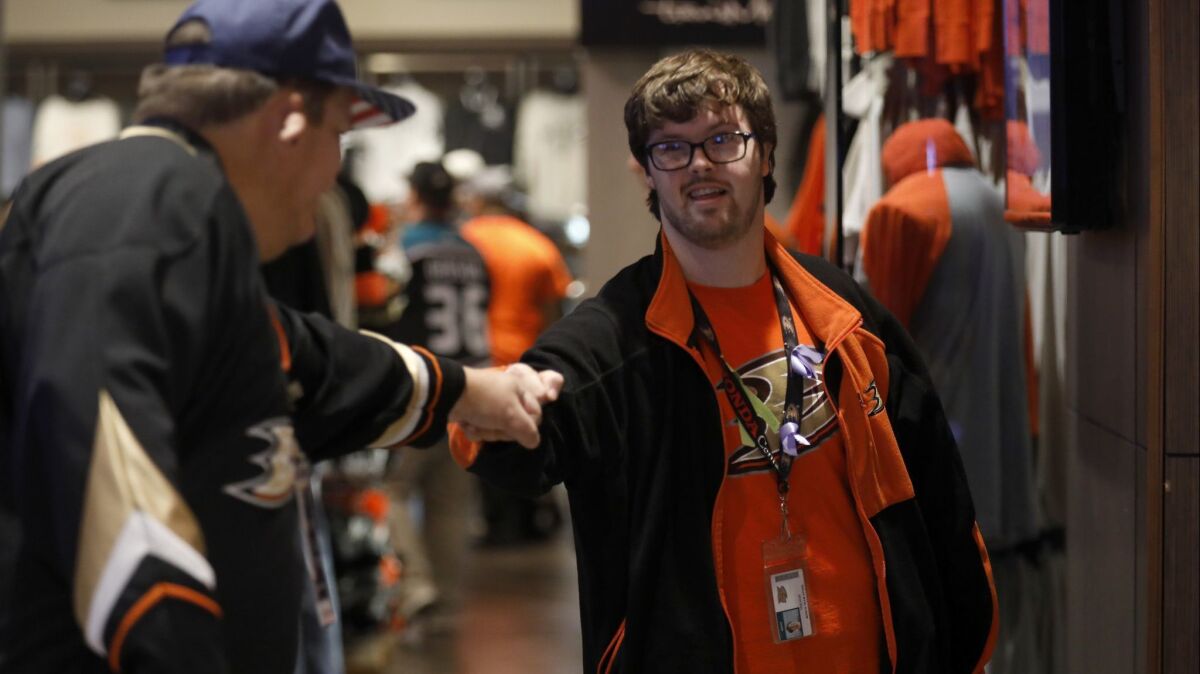 The weekend after Trevor was born, while Melissa and Bob were adjusting to their unexpected circumstances, relatives and members of their church helped guide them toward the future.
"They told us what a gift and a blessing we had in Trevor and that set the tone for how we handled raising Trevor, just knowing that it was going to be a different journey but it was going to be a special journey and there was a reason behind that. We just needed to follow the Lord," Melissa said.
"He's very supported and loved at our church and a lot of individuals over the years have said, 'I just want to walk in Trevor's shoes. If I could do life I would do it the way Trevor does because he sees the good in people and he sees the good in life.' He doesn't treat anyone different than anyone else. He just sees people as all special."
Not everyone has been kind. He attended special-education classes at Northwood High in Irvine and often shared a classroom with "regular" kids. As a freshman he was called retarded, stupid and worthless. His parents reported it to school administrators but Trevor couldn't express himself clearly and a vice principal was reluctant to punish the accused bullies. Melissa had told Trevor to write down the names he'd been called; she and Bob brought Trevor to a meeting with school officials and had him read the insults aloud. His pure honesty stunned them. Afterward, he was honored by the school's cheerleaders and a supportive banner. As a senior he was voted the school's homecoming king.
"We got him a tuxedo," Bob said, "and he said, 'I kiss the bride?' "
Children sometimes stare at him but most fans smile or return his fist bumps. He knows many regulars by name and he's generous with hugs.
"I have to come and see him every time I'm in here, and I'm a season-ticket holder," said Patti Bray of Huntington Beach. "And when I go over to the Angels, where I'm not a season-ticket holder, I stop and say hi to him as well. He's enthusiastic, he's very encouraging. I think that he's just a delight."
Bob Hendershot worked in sales for three decades but now runs a nonprofit called Angels for Higher, whose aim is to place other young men and women with Down syndrome in jobs like Trevor's. The noise and crowds won't suit everyone. Those able to tolerate the clamor can expand their horizons; those who see them get a lesson in kindness, like the Hendershots get every day from Trevor's affectionate nature and sweet smile.
"It was the journey we were given and it has been special," Melissa said. "If you take that perspective, we are blessed with the journey that we've been given that's not like everybody else's. We've become part of a community of people that you would never have probably joined. You wouldn't have chosen it but we've found amazing people and so much compassion, care. You just see life so differently and you embrace what you do have, not what you don't have."
Follow Helene Elliott on Twitter @helenenothelen
---
Get the latest on L.A.'s teams in the daily Sports Report newsletter.
You may occasionally receive promotional content from the Los Angeles Times.