Column: Ducks still in search of their identity after 4-1 loss to Hurricanes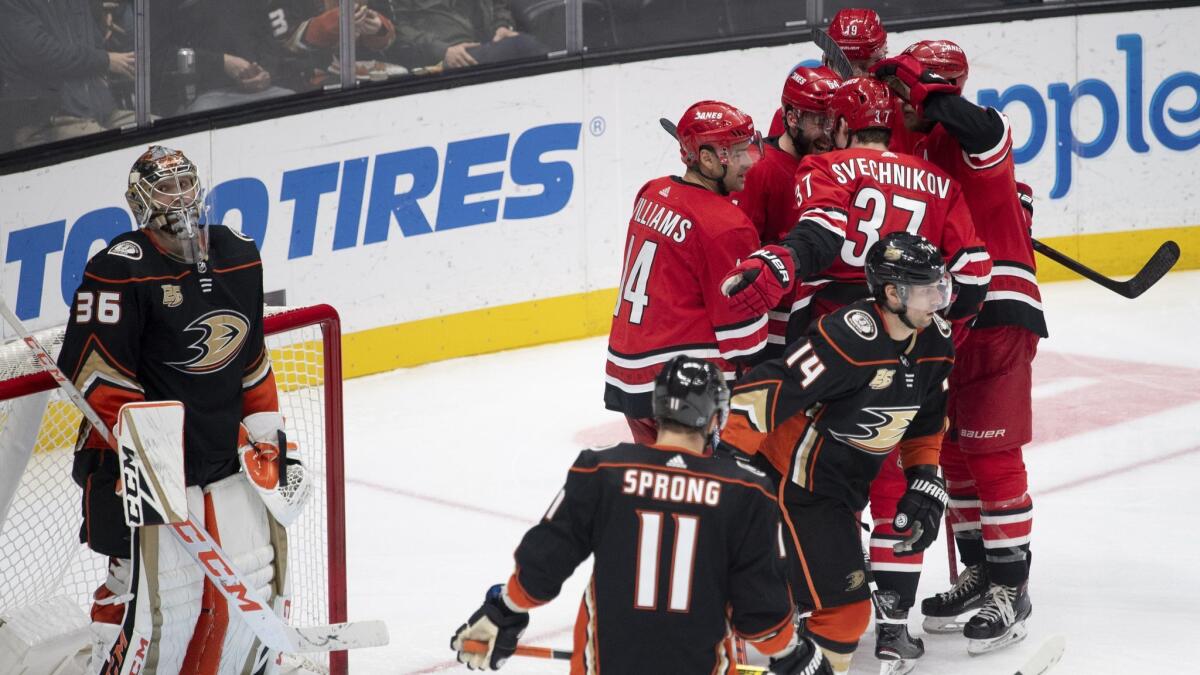 The Ducks are more than 30 games into the season and still haven't developed an identity, at least in the mind of coach Randy Carlyle. He has a vision of what he wants their trademark style to be. "Blue-collar hockey. Good defensively. Effective on our breakouts. Win the special teams battle. Create a strong forecheck. Don't play trade-chance hockey. Very simple," he said.
That's easier said than done. And they didn't come close to getting it done Friday.
As has happened too often this season, the Ducks subjected goaltender John Gibson to too many shots (35) and were too soft defensively. Unable to score at even strength or on five power plays — including a two-man advantage for a minute and 16 seconds in the third period — the Ducks meekly let the Carolina Hurricanes leave Honda Center with a 4-1 victory.
For the Ducks, who had won their previous five games and seven of their previous eight, the loss was proof they haven't established that blue-collar identity, and that they remain a team in need of a tweak to boost their offense. They're one of the NHL's lowest-scoring teams, a fault they've masked by relying heavily on Gibson and on backup Ryan Miller. The goalies have been outstanding but can't bear the burden alone.
"You're not going to win every game, but there's different ways to lose, that's for sure," winger Jakob Silfverberg said, "and tonight was not the effort that we want."
They're capable of becoming the hard-working team Carlyle envisions. They've been that team at times. But until they do that on a consistent basis, until they help their goaltenders by minimizing opponents' shots and get the puck out of their own zone with quick and crisp passing, they will be somewhere in the middle of the pack, a likely playoff team but not a team likely to go far.
They felt themselves fading Friday night, even though Silfverberg's shorthanded goal gave them a 1-0 lead at 11:47 of the first period. "I don't think that first 20 was that good. I think we felt we had another gear we had to put in if we wanted to come out with two points," he said. "But our last 40 was definitely not the way we want to play. We were playing slow and sloppy with the puck and not connecting on passes, too much kind of throwing the puck into areas and hoping it's going to hit one of our guys."
Silfverberg gave the Ducks the lead when he broke in alone for a shot that hit the post next to Petr Mrazek and caromed back out toward the blue line. Defenseman Jake Dotchin kept the puck in the zone and blasted a shot that deflected off Silfverberg on the way to the net, resulting in Silfverberg's seventh goal this season and the 100th of his NHL career.
Carolina pulled even at 1:53 of the second period on a play that underwent two reviews after the on-ice officials ruled no goal had been scored when the puck and Carolina forward Clark Bishop slid into the net. The first review showed the puck had crossed the goal line before the net was dislodged, a good goal. The Ducks challenged for goaltender interference but were denied. According to an email from the NHL, "After reviewing all available replays and consulting with the Referee, the Situation Room determined that the actions of Anaheim's Hampus Lindholm caused Bishop to contact Gibson before the puck crossed the goal line." The goal was Bishop's first in the NHL.
The teams stayed on even footing until early in the third period, when the Hurricanes scored twice in 61 seconds. On the first of those goals, defenseman Brett Pesce finished off a give-and-go with Teuvo Teravainen by shooting a rolling puck from the right circle past Gibson at 1:56. Justin Williams, no longer the clutch scorer he was while playing for the Kings' two Stanley Cup championship teams, extended Carolina's lead to 3-1 at 2:57, when he whacked home a puck that was loose in the crease. Sebastian Aho scored into an empty net at 18:46 to finish the scoring.
The Ducks' season has been one of extremes. They started an impressive 5-1-1 but then went seven games without a win. Despite losing several key players, they were 7-1-2 in the 10 games they played before Friday night's loss, a surge that lifted them into first place in the Pacific Division for a few hours last Sunday and hinted they were poised to make a run. That came to a halt on Friday. Whether their loss will be a short pause or the beginning of another slump is up to them and the identity they want to adopt.
Follow Helene Elliott on Twitter @helenenothelen
Get the latest on L.A.'s teams in the daily Sports Report newsletter.
You may occasionally receive promotional content from the Los Angeles Times.