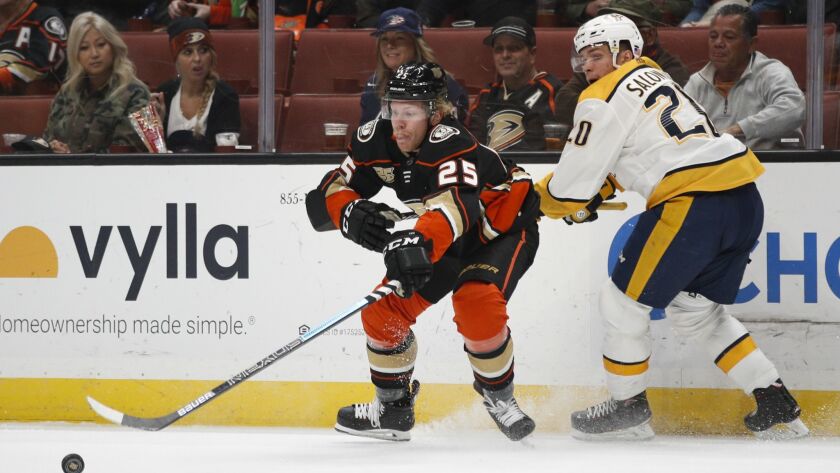 Ondrej Kase was sidelined for the first 18 games of the season, but now that he's back, he wasted no time showing just how valuable he is to this Ducks squad.
The 23-year-old dazzled with his speedy skating, a skill desperately needed in the Anaheim lineup, and his offensive playmaking is everything the offense-starved Ducks could have hoped for.
With Kase back in the fold, the Ducks came alive with their biggest victory of the campaign, a 2-1 triumph in a shootout Monday at Honda Center to hand the NHL-leading Nashville Predators their first road defeat of the season.
Rickard Rakell buried the game-winning goal in Round 4 of the shootout off Pekka Rinne, who was awarded the Vezina Trophy this summer for recognition as the league's best goalie last season.
"It was a big test for us … it just shows that we can play with any team in this league," said Rakell, who found Ryan Getzlaf on the give-and-go goal to open the scoring with 30 seconds left in the second period. "It seems like it's up to us."
That's the thing about this Randy Carlyle-led club. The Ducks are capable of performances like this one where they effectively swing the puck around in the offensive zone and limit the opposition's chances, no small feat against the league's second-rated offense.
The Ducks also killed off all seven Nashville power-play opportunities, including two minutes of four-on-three play in overtime. John Gibson was at his best in the extra period; his diving stop on Ryan Johansen's second chance saved the game.
His scoop of Ryan Ellis' point blast moments later was further proof that Gibson was up to the task. He's had no choice but to be at his best in most contests this season. "We knew we were up against one of the best teams in the league," Gibson noted.
Then there's the other side of the Ducks, the ones who are consistently hemmed in their own zone; the ones forced to chase the game all evening.
That version dropped nine of their last 11 outings entering the contest. So what changed against the stiffest of competition?
"I don't know, it feels like we know that we need everything we have when we play these guys," Rakell said. "We play to win the game. It's a better strategy for us."
It helped that Kase was back on the ice playing alongside Adam Henrique and Nick Ritchie. The Czech Republic native made his presence felt all game.
He registered four shots on goal in 14:32 of ice time and cobbled together several quality scoring chances, including one off the backhand in overtime.
"I was excited to be back, it was a long month," Kase said.
---