Ducks' Patrick Eaves is diagnosed with muscle-weakening disorder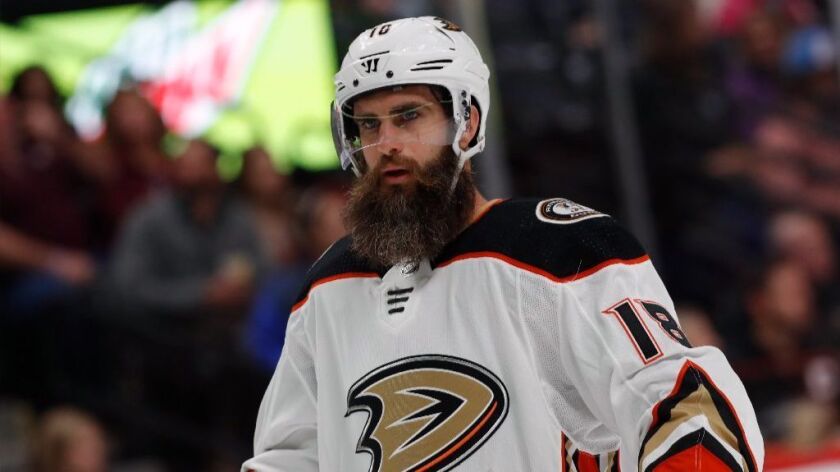 Patrick Eaves, one of the Ducks' top-line forwards, was diagnosed with what is suspected to be Guillain-Barre syndrome, the team announced Monday.
Eaves, 33, was dealing with what the Ducks termed a lower-body injury and sat out much of training camp and the entire preseason. He returned for two games, and scored a goal in his first game, before being sidelined again because of continuing weakness.
The team said Eaves is in stable condition at Hoag Hospital in Newport Beach. The disorder, in which the body's immune system attacks the peripheral nervous system and causes muscle weakness, afflicts about one in 100,000 people. It forced Eaves into the intensive care unit over the weekend.
"I want to thank Dr. Robert Watkins Sr. and Dr. Danny Benmoshe for their early diagnosis of my condition, along with the proactive Ducks medical team," Eaves said. "Thanks to them and the incredible nurses at Hoag Hospital, I'm on the road to recovery.
"I've received tremendous amount of support over the last few days, most importantly from my family, friends and teammates. I'm determined to fully overcome this and return to the ice as soon as possible."
Eaves is expected to fully recover but there is no timeline for his return.
According to the Mayo Clinic, recovery can last anywhere from six to 12 months, but can take as long as three years. About 80% of those afflicted can walk without assistance six months after diagnosis.
"Our sole focus at this time is on Patrick's general health and well-being. … What defines Patrick Eaves is his strength of character, and that will serve him well in his recovery. Our thoughts are with Patrick and his family at this time," said Bob Murray, Ducks executive vice president and general manager.
The bearded winger was shipped from the Dallas Stars to the Ducks at last season's trade deadline and helped the team reach the playoffs. Eaves scored 11 goals in 20 games with the Ducks, and his 32 goals were a career best, as were his 51 points.
After the Ducks were eliminated in the Western Conference final, the team signed Eaves to a three-year, $9.45-million deal.
Eaves was slated to line up on Ryan Getzlaf's left wing on the No. 1 line, and also play on the top power-play unit.
Up next
AT PHILADELPHIA
When: Tuesday, 4 p.m. PDT
On the air: TV: Prime Ticket; Radio: 830
Update: This is the Ducks' first rematch of the season. The Flyers won in overtime in Anaheim. … Defenseman Hampus Lindholm is expected to make his season debut for the Ducks after underdoing offseason surgery for a torn labrum. … Getzlaf, who has played only two games this season, is expected to return. … Cam Fowler, who was injured in the opening minutes of the Ducks' victory over the Montreal Canadiens on Friday, remains sidelined because of a lower-body injury.
sports@latimes.com
---
Get the latest on L.A.'s teams in the daily Sports Report newsletter.
You may occasionally receive promotional content from the Los Angeles Times.