Column: Former Anaheim Ducks teammates Teemu Selanne and Paul Kariya will be inducted into the Hockey Hall of Fame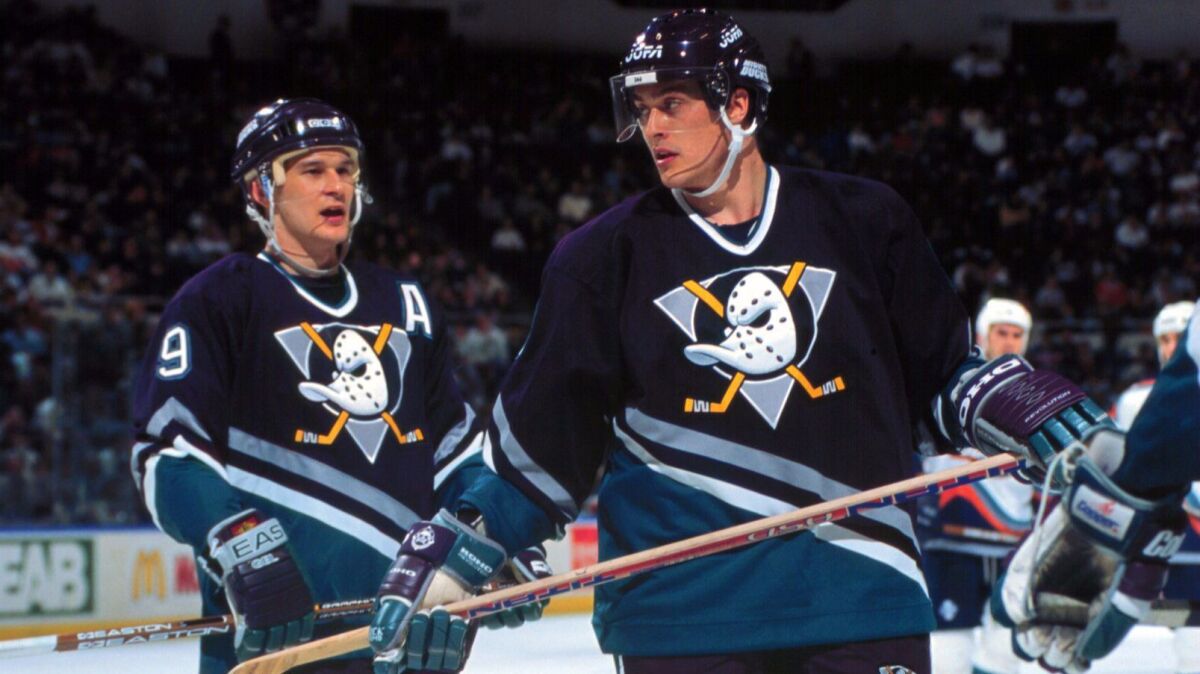 Oh, the stories.
They tumble out in animated bursts, Paul Kariya starting a sentence and Teemu Selanne completing it, affectionately bickering like a long-married couple. They agree on almost everything related to hockey but disagree on when they first met, before they became teammates on the Mighty Ducks and lifelong friends.
Selanne insists their first encounter occurred at an event in 1993 where he was honored as the NHL's rookie of the year and Kariya was recognized as the best player in college hockey. "I remember this little boy," Selanne said before Kariya interrupted. "He did not say anything to me, he did not talk to me, there was no communication, so I did not even consider that a meeting," Kariya said, triggering laughter from the avid listeners who lunched with them last week.
They are twins born a world apart, Selanne in Finland and Kariya in Vancouver, Canada, blessed with dazzling skill and a passion for hockey artistry. They seemed so different: Selanne was outgoing and sunny and Kariya was reserved and meticulous, but they played the same way, the right way, with speed and flair and selflessness. "We think a lot alike. Almost identical," Kariya said. "It's just how we go about the thinking process that's different."
It's a delightful bit of serendipity that both will be inducted into the Hockey Hall of Fame on Monday in Toronto. "I haven't ever, ever even thought about getting in the Hall of Fame. We never talked about it," Selanne said. Kariya, for once, agreed. "Do you know a player that would even say that?" Kariya said. "You never say that as a player."
Selanne, 47, was an easy choice in his first year of eligibility because of his 684 goals (seventh in NHL history) and 1,457 points (15th) in 1,451 games. He's the top scorer in Olympic hockey history and won four medals, the last a bronze at Sochi, Russia, in 2014. Kariya, 43, scored 402 goals and 989 points in 989 games in a career sadly overshadowed by repeated concussions resulting from blows to the head. He formally retired in 2011, long enough ago that he forgot the Hall's annual election announcement would be made last June 26.
Kariya was out surfing near his Orange County home and had turned his phone off. He came in to find a message from a Toronto area code and a message from Selanne. Assuming the call from Toronto was about Selanne's Hall election, Kariya played Selanne's voice mail first. "It was unintelligible," Kariya said. "I listened to it a couple times and I was like, 'What is he talking about?' "
Selanne had expected to hear from Hall chairman Lanny McDonald but was surprised when McDonald called again to request Kariya's phone number. Selanne was overjoyed when McDonald explained why. "So right away I hung up and called Paul. 'Paul, we are going in the Hall of Fame together,' " Selanne said.
And so they are, a fact Kariya confirmed by calling that Toronto number from his messages. Also to be inducted are power-play ace Dave Andreychuk, prolific forward Mark Recchi, Canadian women's standout Danielle Goyette and, in the builders' category, Boston Bruins owner Jeremy Jacobs and Canadian college coach Clare Drake.
It's a strong class that shines brighter because Kariya and Selanne will be enshrined together. "As a player I never thought of attaining individual goals and I would never, ever think that I deserve this honor," Kariya said.
Kariya was the first draft pick of the then-Mighty Ducks in 1993 and joined the team for the 1994-95 season. Selanne, who had made a splash with the Winnipeg Jets by scoring a still-record 76 goals and 132 points as a rookie in 1993, said they mused about some day playing together while they chatted at the 1996 All-Star game, which Kariya considers their first real meeting. Both were stunned a few weeks later when Mighty Ducks general manager Jack Ferreira pulled off a steal and acquired Selanne from the financially squeezed Jets for promising youngsters Oleg Tverdovsky and Chad Kilger. Ferreira, eager to give his team a new identity, had to sell the deal to his parsimonious bosses at Walt Disney Co., the franchise's owner.
"I just didn't pay attention to them. I kept saying, 'We've got to do this,' " Ferreira said. "And I just kept going ahead to the next step and finally we got approval from [Michael] Eisner to do it."
Selanne and Kariya clicked after they got past their inclination to over-pass to each other. "I think we said to each other the only thing what can ruin us is jealousy," Selanne said. "When you're doing well, you're helping me. When I'm doing well, I'm helping you."
They bickered over cars — Selanne threatened to burn Kariya's first thrifty wheels and horrified him by doing donuts in Kariya's car in the parking lot — and over when to turn the lights out when they were roommates, but neither tried to change the other. The changes occurred naturally.
"They were good for each other," said Ferreira, who was invited to attend Monday's ceremony with his wife at Kariya's expense. "Paul was so serious. Teemu got Paul to be a little more accepting of the responsibilities of being a pro, like signing autographs."
They made each other better players. "Teemu was probably the most underrated passer in the game," Kariya said. "He was much more celebrated as a scorer but he was as good or better a playmaker than he was a scorer. And I was probably naturally a playmaker and became more of a scorer and learned a lot from him."
As roommates, Selanne was the one who knew which channel aired "Baywatch" in every city. Kariya closed the drapes, ordered the wake-up call and made restaurant reservations. "I did not get anything from that relationship," Kariya said, smiling.
Not true. They had many laughs, including the time they were out late and forgot their hotel room keys. Because they had registered under false names to guard their privacy — Selanne was Theodore Flash and Kariya was Tony Montana from Scarface — they didn't have proper identification to get new keys. A club official had to be awakened to vouch for them. Kariya is still Tony Montana in Ferreira's cellphone directory.
"We have 100 more stories that you can't put in the paper," Selanne said.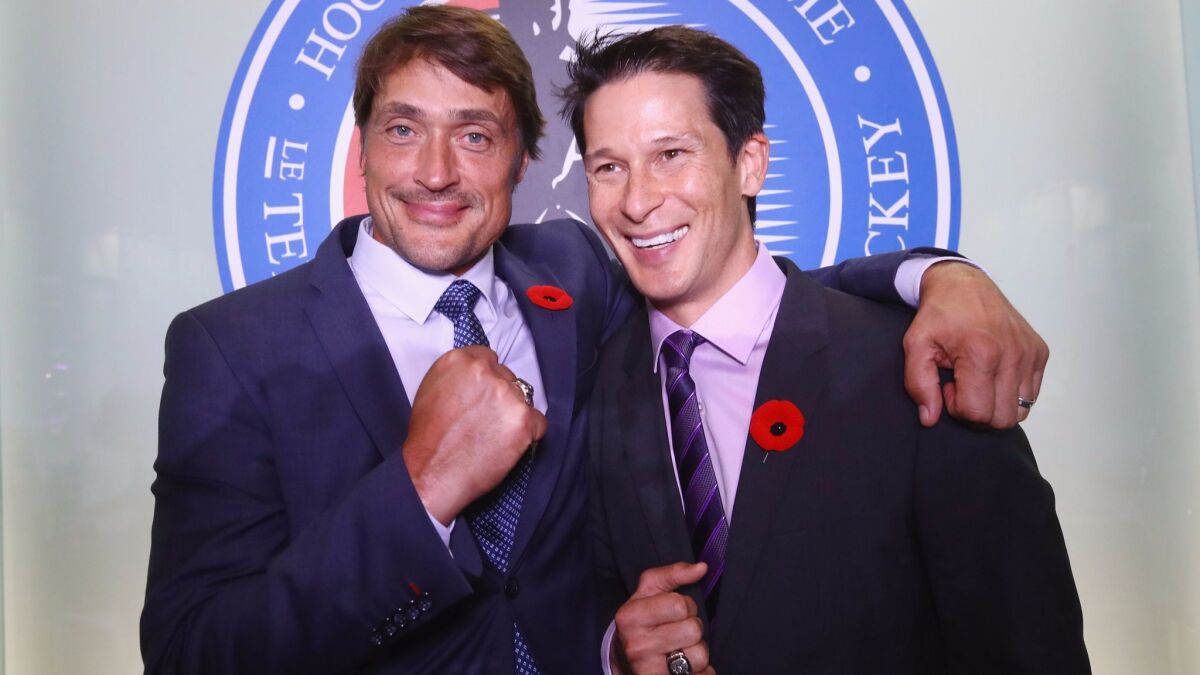 Selanne owns a steakhouse in Laguna Beach and often visits the Honda Center, where his No. 8 jersey was retired to the rafters. Kariya has kept his distance, though he has done some charity work for the Ducks. He reluctantly sat for many interviews before his induction.
"I'm happy for him because when he retired, I don't think there has been closure for you," Selanne said, looking across the table at Kariya. "You kind of disappeared and you took your own time, so this is something that you can close the deal."
Kariya maintains he's merely private, not reclusive. He suffered at least six concussions, including the vicious hit from Gary Suter that kept Kariya out of the 1998 Olympics and a thunderous open-ice hit by Scott Stevens in Game 6 of the 2003 Stanley Cup Final. Kariya returned to score a goal but has said he doesn't recall that and doesn't recall playing in the Ducks' Game 7 loss to New Jersey, his last before he became a free agent and went to Colorado. A sore-kneed Selanne joined him there in hopes they'd win the Cup together but their plan misfired; Selanne returned to the Ducks and won the Cup in 2007.
But they will share the moment on stage Monday. Selanne said last week he was working on his speech. Kariya had finished and was practicing his delivery. "You'd better thank me many times," Selanne said. "Once," Kariya shot back.
Thanks to them both, for the stories and the memories.
Follow Helene Elliott on Twitter @helenenothelen
---
Get the latest on L.A.'s teams in the daily Sports Report newsletter.
You may occasionally receive promotional content from the Los Angeles Times.