Kings select Jaret Anderson-Dolan with 41st pick in NHL draft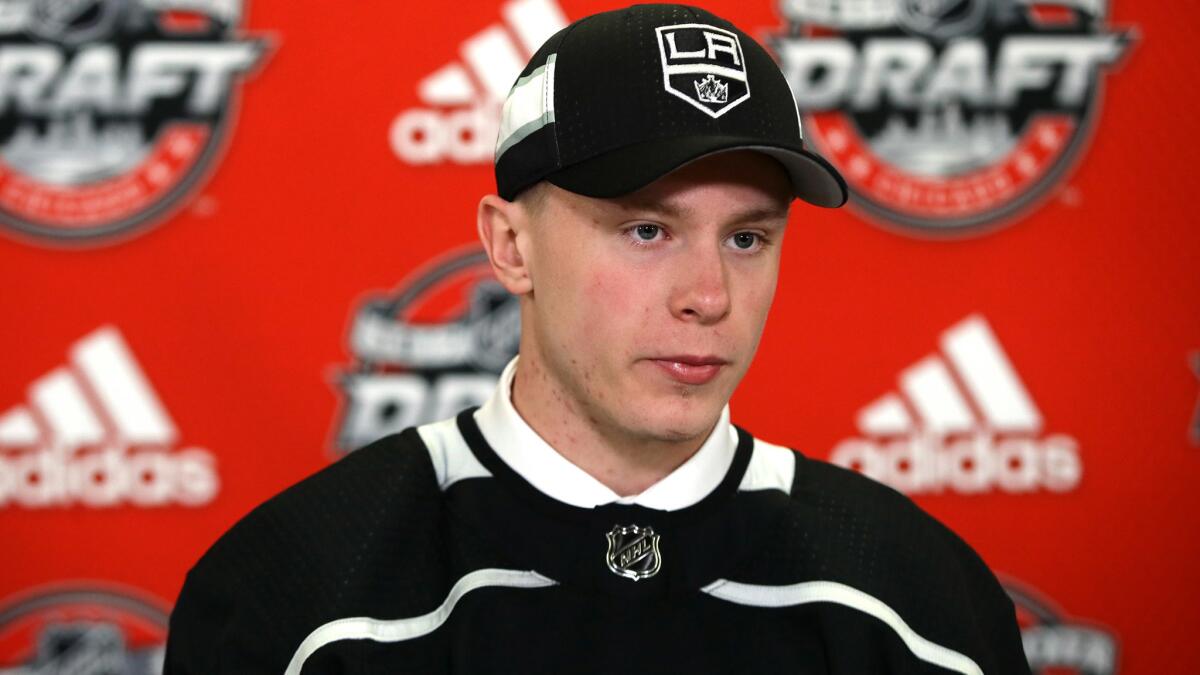 Like so many of the youngsters chosen in the annual NHL draft, Jaret Anderson-Dolan watched his parents skate and he took to the ice on a pair of double-runners before he was 2 years old. Like many of those kids, he developed a terrific shot by rifling the puck hundreds of times a day at the rink or in his Calgary backyard, to the detriment of the nearby houses.
Unlike those other kids, he and his older brother were raised by two moms, Fran and Nancy Anderson-Dolan. He told the Spokane (Wash.) Statesman-Review that when he was eligible for the Western Hockey League's bantam draft, some teams let him know they'd pass on him because of his two moms.
The Kings, who chose the 5-foot-11, 191-pound forward in the second round and 41st overall on Saturday, saw him as a swift, skilled and confident player whose work ethic pushed him toward a 39-goal, 76-point season with Spokane of the WHL last season, not someone to shun because of how he was brought up.
"If anybody had a problem with his family situation, they should go screw themselves and find another job. It's sad to say that that could be happening," Mark Yannetti, the Kings' director of amateur scouting, said Saturday by phone.
Yannetti and his scouts liked Anderson-Dolan even before the teenager's coach at Spokane, Don Nachbaur, joined the Kings as an assistant coach. Still, Nachbaur's predraft insights were helpful. "When you have the coach of the team on speed dial and he's telling you that it is an A-plus family and a support system that he had growing up, I don't care if it's two moms, I don't care if it's two dads. What I know is the reason he is the kid he is, is because of his upbringing," Yannetti said. "It's that nature versus nurture thing.
"We certainly weren't scared off by it. You see where we took him. For me it's nothing. It's a matter-of-fact thing. It's just a detail. It was nothing we ever discussed. He has two loving, wonderful parents that raised him to be a certain way, which is why he is the player he is today. … I hope we're at the point now where a nontraditional family is now considered a traditional family. I would hope we're there. Either way we got a kid we coveted and I'm happy that he was raised the way he was and I'm happy he's the player that he is."
The Kings, who chose center Gabriel Vilardi of Windsor of the Ontario Hockey League 11th in the first round on Friday, also added a goalie, three defensemen and another forward in Saturday's final rounds. "No one will know for anywhere from three to five years," Yannetti said of assessing the day's success.
The Kings on Saturday also announced they had signed forward Andy Andreoff to a two-year contract worth $677,500 per year.
The Ducks had no first-round pick — last the case in 1999 — because they had traded a conditional pick to Dallas for Patrick Eaves. They waited until No. 50 and selected left wing Maxime Comtois, who scored 22 goals and 51 points in 64 games for Victoriaville of the Quebec Major Junior Hockey League last season.
They chose a childhood friend of Comtois', center Antoine Morand of Acadie-Bathurst, at No. 60 before taking Harvard-bound forward Jack Badini, WHL right wing Kyle Olson, and Swedish junior league goalie Olle Eriksson Ek. "You go by your list, but the areas we still felt we needed to do something about were center and left wing in our organization," Ducks general manager Bob Murray said. "Except in the final one, we took a goalie that we didn't think would be there."
Follow Helene Elliott on Twitter @helenenothelen
Get the latest on L.A.'s teams in the daily Sports Report newsletter.
You may occasionally receive promotional content from the Los Angeles Times.