NHL's Gary Bettman upholds 20-game suspension against Capitals' Tom Wilson
NHL Commissioner Gary Bettman upheld the 20-game suspension levied against Washington Capital forward Tom Wilson by the league's Department of Player Safety, ruling after a seven-plus-hour hearing that the discipline was warranted by "clear and convincing evidence" Wilson had violated Rule 48, which pertains to hits to the head.
The NHL Players' Assn., acting on Wilson's behalf, had appealed the suspension, which was imposed for his hit to the head of St. Louis Blues forward Oskar Sundqvist in an exhibition game. Wilson, who will not be paid during his suspension, can next appeal to a neutral arbitrator.
Sundqvist, who suffered a concussion and facial lacerations on the play, was scheduled to make his season debut Thursday night.
The case put the NHLPA in the awkward position of defending one of its members — Wilson — for grievously injuring another of its members, Sundqvist. The NHLPA argued for an eight-game suspension for Wilson, a multiple offender.
The NHLPA's arguments, according to Bettman, included that Wilson didn't make Sundqvist's head the main point of contact and therefore did not violate Rule 48 and that the fact Sundqvist had a shoulder injury was evidence that the blow was mainly to Sundqvist's shoulder, not his head. Bettman said Sundqvist's head and shoulders "were spun violently," causing him to fall on his shoulder and suffer the injury.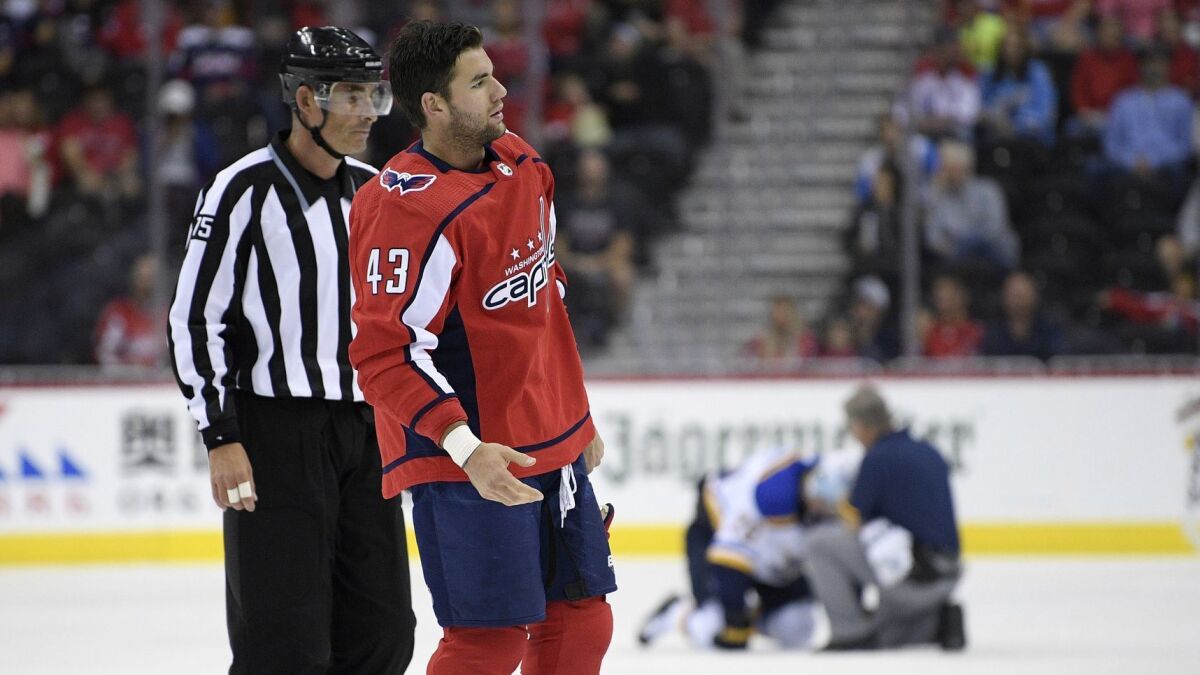 Bettman cited the testimony of Capitals general manager Brian McLellan, who said Wilson had "other options" besides hitting Sundqvist in the head on the play and rejected Wilson's claim he could not have done anything different on the play. Bettman also denied Wilson's argument that "the onus was at least in part" on Sundqvist to expect the hit and prepare for it.
"Here, because head contact was otherwise avoidable for Mr. Wilson, the Playing Rules did not require Mr. Sundqvist to take affirmative actions to avoid being checked in the head on the play," Bettman wrote. He also said that while Sundqvist was eligible to be checked, that is not the same "as eligibility to be checked in the head. Our Playing Rules clearly prohibit the latter."
---
Get the latest on L.A.'s teams in the daily Sports Report newsletter.
You may occasionally receive promotional content from the Los Angeles Times.