Column: Unsure of his NHL future a year ago, Capitals' Devante Smith-Pelly is on the verge of winning the Stanley Cup
Reporting from Las Vegas —
If Devante Smith-Pelly didn't make the Washington Capitals' roster last autumn, he doesn't know where his career would have headed.
Talented enough to have been drafted in the second round and 42nd overall by the Ducks in 2010, the sturdy winger had since been bouncing around from Anaheim to Montreal to New Jersey to the indignity of being set adrift last June 30 after the Devils bought out the remaining year on his contract.
Two of his longtime friends, Capitals forwards Brett Connolly and Tom Wilson, told him their team was looking for grit up front but it had to come at a reasonable price because of salary-cap constraints. Smith-Pelly could do that, bring grit and energy and be a tenacious forechecker. He agreed to a two-way deal, meaning he'd be paid the minimum $650,000 if he played in the NHL and $300,000 if he played in the minor leagues.
He had no intention of playing in the minors.
"I knew coming in that you only get so many chances to stick and I knew that this could be my last one," he said. "I took the buyout personally and listened to what the coaches had to say and what they wanted and just went out there and did it."
His regular-season performance of seven goals and 16 points in 75 games wasn't noteworthy. But Smith-Pelly became a scoring machine when the Stanley Cup playoffs began, contributing six goals (including two game-winners) and an assist to the Capitals' surprising march to within one victory of the franchise's first Cup championship. They can take that final step Thursday at T-Mobile Arena. "It's been a roller coaster year," said Smith-Pelly, who has been doing a lot to prolong their thrill ride.
Smith-Pelly, who will turn 26 on June 14, has scored a goal in each of the last two games, both wins for Washington. He's around the net and strong enough to fend off anyone who tries to move him, so he was in the right spot in Game 3 to score the insurance goal in a 3-1 decision and to score the third goal in a first-period flurry the Golden Knights couldn't overcome Monday in Game 4. A day that didn't begin well — he took a puck to the chin during the morning skate Monday and needed medical attention — ended with him contemplating his sudden good fortune.
When a player is scoring in bunches, the hockey term is that the puck is finding him. In Smith-Pelly's case, pucks are seeking him. "Sometimes that happens. Sometimes it just bounces your way," he said after Monday's game. "So, hopefully it can continue to bounce my way and our way as a team."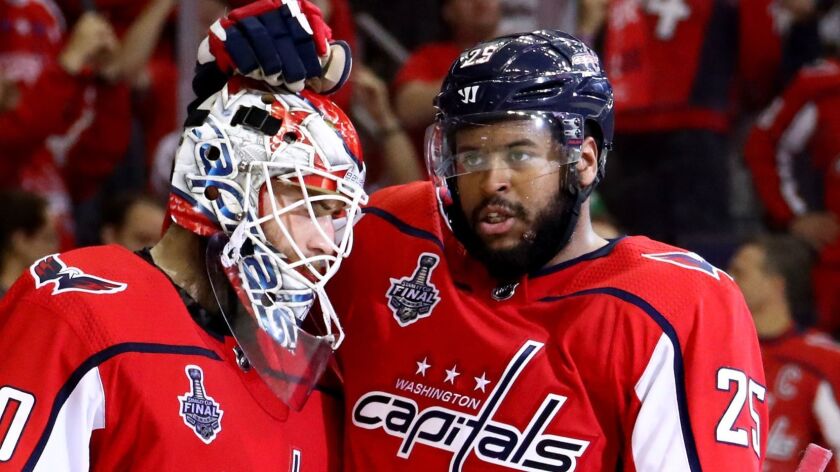 It's more than good luck — he's doing the right things in the right places. Coach Barry Trotz has been upfront with him all along and that has inspired him to make this more than just another stop on his hockey journey. "From the start he just told me what he expected of me and what he expected every night. That kind of communication kind of lacked in other places I was," said Smith-Pelly, who has been skating alongside Chandler Stephenson and Jay Beagle.
Trotz merely wanted Smith-Pelly to play to his strengths.
"He skates pretty well, he can be a physical aspect, he can kill penalties, he does a lot of those things. And in the past he's had some consistency issues," Trotz said. "Just be very consistent in back-to-back games over the course of 82 games. Then you have that trust factor with your coach, with your teammates, and you're probably going to have some production.
"He's learned that he's got my trust as a coach-player relationship. And he's done a really good job. You see what he's done in the playoffs. One of the reasons that we got him is he had some success in the playoffs. He came in on a two-way deal. He's had a real solid year and he's carried it into the playoffs."
Tuesday was a travel day for both teams. Speaking during a conference call with reporters, Golden Knights coach Gerard Gallant said he'd like to see a repeat of his team's forceful start Monday but with more goals. "We've got to be ready to play. We're going to play in our building. The pressure's off us," Gallant said. "We're going to work hard and have some fun. We'll see what happens."
The odds are not in Vegas' favor: Only the 1942 Toronto Maple Leafs rallied to win after facing a 3-1 deficit in the Final. If Vegas wins at home, a sixth game would be played Sunday at Washington. Trotz doesn't want his players to relax Thursday and think they have a cushion. He wants it over, and he will remind them to be focused. "It's just a shift-to-shift mentality. This group is pretty grounded," Trotz said.
Smith-Pelly was asked Monday if he could taste triumph. He smiled. "Close, but everyone in here knows the fourth game is obviously the toughest, to close a team out," he said. "Everyone knows until that buzzer goes you try not to think about it too much."
There will be time for him, soon, to appreciate that the lows he experienced last summer have driven him to hockey's greatest heights.
Follow Helene Elliott on Twitter @helenenothelen
---
Get the latest on L.A.'s teams in the daily Sports Report newsletter.
You may occasionally receive promotional content from the Los Angeles Times.