Sharks' Erik Karlsson suspended two games for hit to head of Kings forward Austin Wagner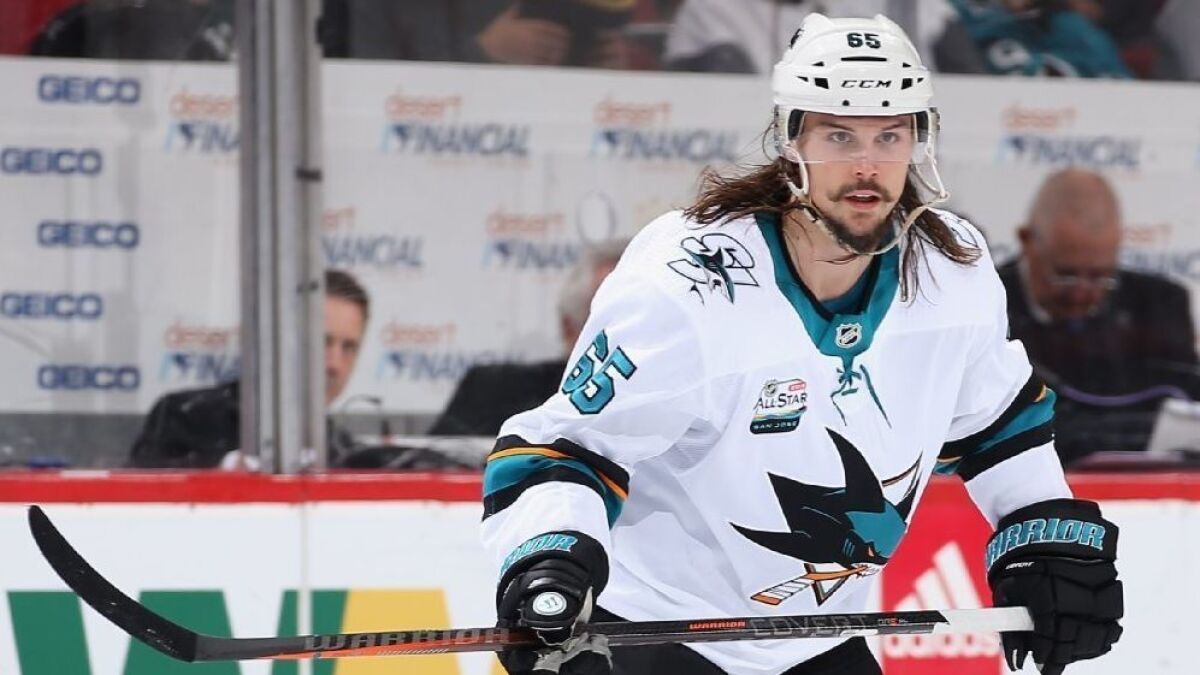 Reporting from Las Vegas —
The NHL on Sunday suspended Sharks defenseman Erik Karlsson for two games for delivering an illegal hit to the head of Kings forward Austin Wagner on Saturday at San Jose, a hit that forced Wagner out of the game during the second period. Karlsson will forfeit $69,892.48 of his salary to the Players' Emergency Assistance Fund.
The league's department of player safety, which held a hearing with Karlsson on Sunday morning, called the check "a high hit, making the head the main point of contact on a hit where such contact was avoidable."
It said it accepted Karlsson's contention that while "he was trying to deliver a full-body hit and does make some contact with Wagner's shoulder, the majority of the impact is delivered to Wagner's head." Karlsson, who has played 664 NHL games, had never been suspended and had been fined only once. Here's a link to the league's explanation of the decision.
Wagner, dazed by the hit, left the game early in the second period and did not return.
Wagner was held out of the lineup for the Kings' game on Sunday at Las Vegas. Coach Willie Desjardins said Wagner underwent tests and the diagnosis was "the standard upper body," the generic term that covers injuries teams don't want to disclose. "It was a tough hit. It was a hard hit for him."
Desjardins declined to say whether he agreed with the NHL's suspension of Karlsson. "I think it is important to protect the players and I think that's something they're trying to take out of the game. That's the league's call."
Wagner will be replaced by Nikita Scherbak.
---
Get the latest on L.A.'s teams in the daily Sports Report newsletter.
You may occasionally receive promotional content from the Los Angeles Times.