That smile was Bob Miller's first mistake.
Still a young man, still fairly new to the job of announcing hockey games for the Los Angeles Kings, he should have been more careful around team owner Jack Kent Cooke.
Cooke was notorious for badgering employees, threatening to fire anyone who let the phone on their desk ring more than three times before answering.
On this particular morning, he had summoned Miller and broadcast partner Dan Avey to discuss advertising. He wanted to triple the number of promo spots during games.
When Miller responded there wasn't enough time, Cooke proposed blending commercials into the play-by-play, using the Kings' biggest star and a popular automaker as an example.
"You will say 'There is Marcel Dionne scooting down the ice like a Datsun,'" he suggested. "What do you think of that?"
Miller couldn't help smiling as he gently rebuffed the idea, which started Cooke hollering so loudly that secretaries heard it down the hall.
"Do you know how many people want your job?" the owner screamed, holding his fingers together. "They are this close to getting it."
No one knew, at the time, that Miller would become part of a golden era in Southern California sports broadcasting. Four decades as the voice of hockey, a plaque in the Hall of Fame, a star on Hollywood Boulevard — all of it might never have been.
This weekend, as the 78-year-old Miller calls his final games, he recalls slipping out of Cooke's office that day and telling Avey: "We have to come up with something."
::
Vin Scully started things off by coming west with the Dodgers in 1958. Two years later, the Lakers hired Chick Hearn. Miller was the last of the triumvirate, arriving in 1973.
The impact of these Hall of Famers reverberated beyond sport — they became an inextricable part of life in Los Angeles, weaving their way into the culture.
For Miller, it was a role he was born to play.
The Chicago native grew up listening to announcers for the Bears, White Sox and Blackhawks. In Little League, he was the kid mumbling in center field, quietly describing the action to himself.
"I always thought it would be a pretty neat job to have," he says. "Of course, I wanted to be a major league ballplayer first."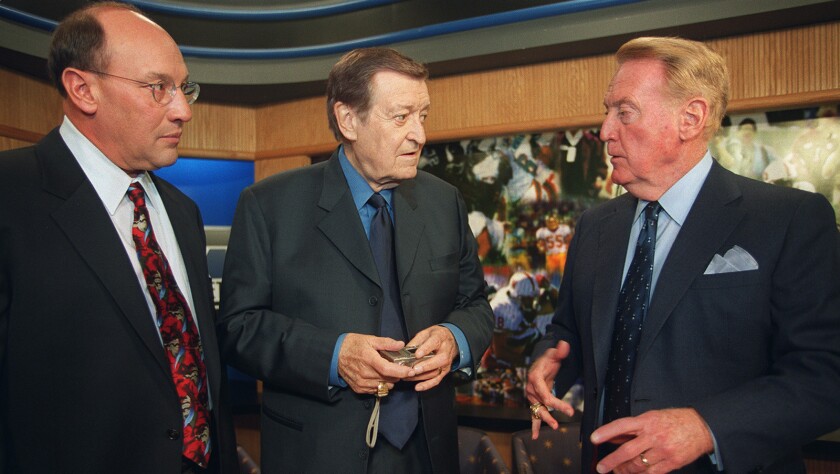 That dream died early in his career as a second baseman for the University of Iowa. Miller recalls smacking a line drive off the team's best pitcher in practice and hearing the coach grumble, "How could you let that guy get a hit off you?"
The school had a 5,000-watt radio station where students learned to work a mic and, after graduation, Miller became a newscaster in the nearby town of Oelwein. It was the first of several jobs that led him to bigger stations in Milwaukee and Madison, Wis.
Finding his way back to sports, he focused on football and basketball until his boss assigned him to cover University of Wisconsin hockey.
"The very first game, the moment they dropped the puck, it was the most-challenging play-by-play I'd ever done," Miller says.
The sport's breakneck pace — the linguistic dexterity required — appealed to him. Also, Miller knew most broadcasters specialized in football, basketball and baseball.
"Not many had experience with hockey," he says. "I thought it might be the best way to get a better job."
::
In the spring of 1972, the Kings needed a play-by-play man. Cooke was close to Hearn and asked him to find the right person.
Miller submitted a tape and soon heard good news: "You're going to be my choice," he remembers Hearn telling him. But Cooke overrode the decision, hiring veteran announcer Roy Storey instead.
"I was really a little upset," Miller says.
"Really a little" might be the angriest you will get from Miller, who leans more toward friendly talk and laughter. He continued working Wisconsin games for another season until word got around the following year that Storey might be gone.
The Lakers were playing in Chicago, so Miller staked out their hotel, waiting three hours for the team bus to arrive. As always, Hearn made a beeline for check-in to grab his room key. Miller fell in step, introducing himself as they strode toward the elevator.
"Our meeting lasted two minutes," he recalls. "At the end, Chick said 'I might have something for you.'"
Miller got two offers that summer of 1973. He chose the Kings over the Pittsburgh Penguins, signing for $22,000 a year. All he had to do was keep from getting fired.
Cooke's anger over the promos was soothed by Miller proposing that they refer to the scoreboard as the "Datsun scoreboard" and remind fans they were listening to the Datsun-Kings radio network.
There were other crisis moments.
Cooke often called the booth during games to complain that Miller wasn't doing enough to fill the arena. Miller says: "I got to be like Pavlov's dog. Any time a phone rang, anywhere in the Forum, I'd say, 'Don't forget season tickets are still available.'"
One time, Miller told a joke on-air, which elicited another scolding.
"Dear boy, do you know who my neighbor is?" Cooke began. "He's Jerry Lewis and he has 14 comedy writers. You have none. … Don't try to be funny."
Miller eventually grew tired of watching his words. He vowed to announce his own way — if that got him fired, so be it.
"I worked six years for Cooke," he says. "The only reason I survived, he was out of town four of those years."
::
The art of storytelling in sonorous Irish tenor made Scully exceptional. Hearn had those "Chick-isms" — the jiggling Jell-O, the Leaping Lenas and bunny hops in the pea patch.
Miller distinguished himself in a different way. He was an everyman, bald and bespectacled, devoted to his craft.
On flights between NHL cities, he scribbled names and numbers on air-sickness bags, committing the opposing team to memory. During telecasts, he mentioned only the checks and passes that felt significant, leaving spaces between "for the listeners to breathe."
"Bob never had shtick, never had catchphrases," says Jim Fox, the former Kings forward who became Miller's broadcast partner in 1990. "He was always just flat-out good."
Pete Weber, the Nashville Predators announcer who worked with Miller in the 1970s, puts it this way: "He wanted to call the goal before you heard the crowd roar."
As time passed, and Cooke gave way to new owners, Miller became a caretaker for Southern California hockey.
He endured losing records and constant shifting from one radio station to another.
"That was depressing, especially when we were trying to sell the sport in this market," he says. "It wasn't an easy sell."
The announcers he idolized as a boy had lasted decades with their teams. Miller persisted.
The tide finally shifted with the "Miracle on Manchester" in 1982, when the Kings stormed back from five goals behind to win a playoff game against the Edmonton Oilers.
Six years later, the team got another jump-start by trading for the greatest player ever, Wayne Gretzky. Miller had something to sell.
"You went to every game wondering what you might see that night," he says. "And you knew the building would be full."
Gretzky was the consummate ambassador, setting records and signing autographs. The only thing missing was a championship; the Kings lost to the Montreal Canadiens in the 1993 Stanley Cup Final.
"My greatest fear," Miller says, "was that I would retire and the Kings would win the Cup the next year."
::
All those faces. Grandparents and parents and children.
As the Kings' championship parade rolled toward Staples Center in the summer of 2012, Fox looked at the fans lining Figueroa Street.
"Generations of people came out to see us," he says. "And through all of them, there was one continuity — Bob."
Five owners, 19 coaches and countless players have passed through during Miller's 44-year tenure. The team has changed colors and moved across town.
"He's the cement that holds everything together," says Barry Melrose, who coached the team to the Final in the 1990s and now works as an ESPN analyst. "The good times and a lot of bad times."
After that first Cup, there was speculation Miller might leave on a high note. The same thing happened when the Kings won again in 2014. But it was a walk through his West Hills neighborhood last year that finally nudged him toward retirement.
For years, Miller had experienced periodic chest pains; doctors always told him not to worry. This time, tests found a blockage that required quadruple-bypass surgery.
His return to the booth last fall was cut short by the second of two post-operative strokes.
Standing in the backyard of his hillside home on a recent morning, looking out over the Valley, Miller says he feels good now. His voice sounds as resonant as ever, but any urges to continue working are trumped by one thought.
"We have single hotel rooms on the road," he says. "I think, to be alone at 3 in the morning and have something happen, are you going to be able to get help?"
For his final afternoon at Staples Center, the words "Thank You Bob" were printed on the ice behind each goal, every player wore a No. 44 jersey in warm-ups and the crowd chanted his name.
All this attention posed a quandary for a man who has always put hockey first. Though Miller has never sought the spotlight, he understood that fans wanted some closure — they wanted him to reminisce.
So, like many years ago, he came up with something.
Saturday's broadcast mixed nostalgia with game action, a few favorite memories leading up to a stirring call — both fists raised — as the Kings scored the winning goal in overtime.
Expect more of the same on Sunday when the team visits Anaheim for its regular-season finale against the Ducks.
"Let's win again," Miller told the fans. "That would be a great way to end it."
Follow @LAtimesWharton on Twitter
---