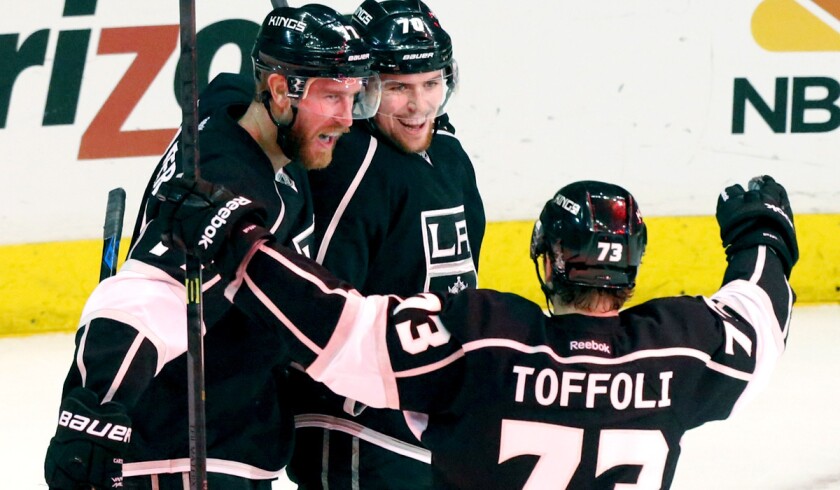 They caught him red-handed, watching a replay of his highlight-reel, short-handed goal against Edmonton last month on the big screen, and reacted accordingly.
Kings center Jeff Carter and left wing Tanner Pearson did what linemates do under the circumstances — immediately giving Tyler Toffoli the business, a mixture of teasing and policing.
"Carts and [Tanner] were chirping me because I was watching it during the game," Toffoli said, smiling widely.
That's only one example of the special chemistry, intangible qualities and, well, fun that the three forwards have shared since they were put together late last season. They helped spark the Kings to their second Stanley Cup title in three seasons, and the high-powered line provided nearly all of the Kings' offense the first three weeks of this season before hitting a drought on the recently completed trip.
Toffoli is the happy-go-lucky, even goofy right wing. Pearson is more cautious, delivering his insights in careful short sound bites. Carter might not be ready to be called an elder statesman to the two 22-year-olds, but he wears the older brother/mentor role nicely.
That is, if the older brother owned two Stanley Cup rings and an Olympic gold medal.
"Over the last half of last season, this year, we've started to build a pretty good bond," Carter said Friday after practice.
Carter started to flip through the calendar in his mind and chuckled.
"I don't consider myself an old guy, but I'm going to be 30 here in a month or two," he said, in disbelief. "I know I'm the older guy, but I try not to consider myself that. I try to keep it young and have some fun with them on the ice, keeping it light with them."
Age does have its privileges.
"I think Carts can say whatever he wants to us," Toffoli said, cheerfully. "We'll joke around with him and then he'll chirp me and Pearce. But it's here and there, not all over us."
The two Canadian kids, Pearson and Toffoli — both raised in Ontario — are quite different.
"I'm more, I wouldn't say lazy, but I'm more laid back," Toffoli said. "I feel like he likes to do stuff all the time. I'm more content to just lie in my bed and watch TV."
Kings defenseman Jake Muzzin remembered Pearson from when the winger was a stick boy for the junior team in Kitchener of the Ontario Hockey League. He said Toffoli has been the model of consistency since arriving in Los Angeles.
"He's come in and been laid-back from the get-go," Muzzin said "I was high-strung when I first got here, trying to not screw up. 'Toff' definitely has a laid-back personality and he's got a lot of natural ability on the ice.
"He's one of those guys who is just a natural goal scorer. Like Carts. Some guys, it looks like it comes easy. They know where to be. Other guys have to fight for every goal they get."
Toffoli and Pearson were hardly highly ranked prodigies. Kings front-office executive Mike Futa unearthed them in the draft, finding Toffoli in the second round (47th overall) in 2010 and Pearson in the first round (30th overall) in 2012, taken in his third year of draft eligibility.
Pearson worked diligently to develop his vaunted speed, saying he took power-skating lessons for several years to prepare for his junior career. It served him well once he was put on a line with Carter.
"He's definitely one of the fastest guys out there," Pearson said of Carter. "To keep up with him, you've got to be moving."
The line combined for 14 goals and 30 points when the Kings went a record 6-0 on their homestand last month, and Pearson was named the league's rookie of the month in October with nine points in 11 games. Although Carter and Pearson have been pointless in their last six games, Toffoli has two goals in that stretch.
Scoring drought aside, they've formed the most dynamic Kings' line in recent history, dubbed, "That 70s Line" because of their jersey numbers. Pearson (70), Carter (77) and Toffoli (73) have evoked references to the Kings' famous "Triple Crown Line," featuring Charlie Simmer, Marcel Dionne and Dave Taylor.
Simmer has maintained close ties to the Kings' organization and has kept close watch on Carter and the kids.
"You are seeing three, as a whole, being more productive than a single player, right?" he said in a telephone interview from Calgary. "I can relate to that very quickly with Marcel and Davey back when we had our line.
"Three different personalities. Three different ways to go about things. And when you put them together, they work. There's only one puck out there, so how do we get it and be more productive?"
The Triple Crown Line achieved near-instant chemistry when it was formed in 1979, put together by then-coach Bob Berry. Simmer spoke about their first game in Detroit.
"We scored six goals and I didn't get a point, so I was pretty upset," Simmer said, laughing. "Someone had to backcheck, right?"
Although the points have not been flowing lately for Pearson, Carter and Toffoli, Carter took a mature, longer-term view of the season and well beyond.
"It might be a good thing for us for everybody on our line just to see — it's not always that easy; it doesn't always come like that," Carter said. "You've really got to bear down. We got away from our game a little bit on the road. We haven't been doing the things we were doing at home to create opportunities.
"I think it's a good learning experience for our line and hopefully it will help us in the long run. That's where you build yourself as a player when you battle through those times."
SATURDAY NIGHT

KINGS VS. VANCOUVER
When: 7.
On the air: TV: FS West. Radio: 790.
Etc.: Kings right wing Justin Williams, who escaped suffering a serious eye injury in Dallas and missed one game, indicated he was ready to return. But defenseman Robyn Regehr left Friday's practice early with an undisclosed injury and is considered questionable, according to Kings General Manager Dean Lombardi. So it appears as though the Kings might have to play with five defensemen, rather than the usual six, because of salary-cap issues.
---