A different Kings team is entering rematch against Blackhawks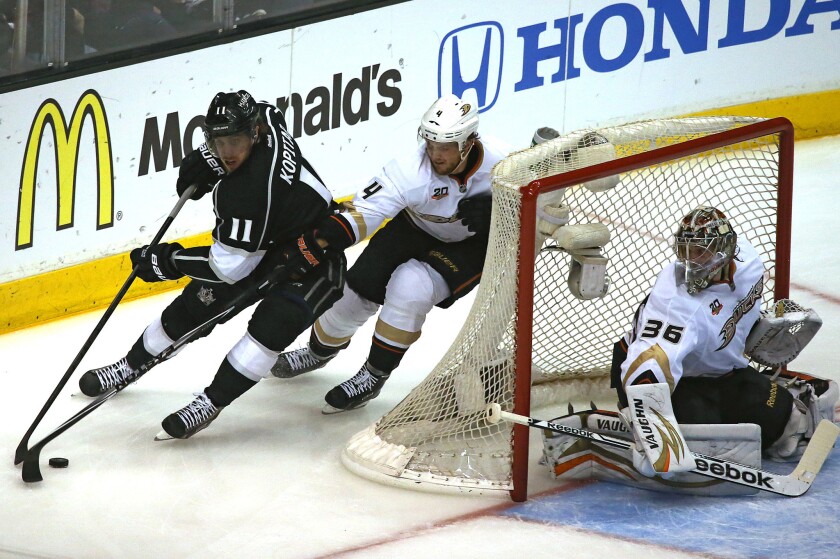 Anze Kopitar was asked about revenge.
This was not about that, not about getting even. Instead, the Kings center said this had to do with seizing the moment, about capitalizing on an opportunity.
The Kings reached the Western Conference finals for the third consecutive year, thanks to a comprehensive 6-2 victory in Game 7 over the Ducks on Friday night.
That means a speedy turnaround date, a rematch with the defending Stanley Cup champion, the Chicago Blackhawks. Game 1 is at United Center in Chicago on Sunday afternoon.
This is another marquee matchup, involving two major TV markets, a series between the last two Stanley Cup champion teams. The Kings will be trying to knock off their successors, a team that defeated them in five games not quite a year ago, needing double-overtime in Game 5 at Chicago.
Much has changed since then, starting with Kings defenseman Drew Doughty — whose mobility was hampered on an injured ankle last year. Doughty has been exceptional after recovering from an injured shoulder late in the regular season and has taken an increased leadership role, a necessity after the playoff injuries of veteran defensemen Willie Mitchell and Robyn Regehr.
Then there is the non-revenge-seeking Kopitar. When the Kings sifted through the wreckage of their playoff loss to the Blackhawks last season, nearly everyone expected to hear that Kopitar had been playing through an injury, explaining why his scoring evaporated.
The various Kings' injuries emerged one by one. Surprisingly, Kopitar was not among the walking wounded, just his scoring touch had taken a hit, with 12 points in 18 playoff games.
Kopitar, if anything, is playing even better than when he led the league in playoff scoring when the Kings won the Stanley Cup in 2012. Two points in Game 7 against the Ducks gave him 19 in 14 postseason games, again, top in the NHL.
His linemate Marian Gaborik, acquired from the Columbus Blue Jackets at the trade deadline in March, has nine goals in the playoffs, which also leads the league.
"I think we're a better team this year than last year," Doughty said Saturday. "We've got D-men like Muzz [Jake Muzzin], who is playing a lot better than he was last year.
"Gabby [Gaborik] has been a huge fit to this team. He's produced a lot of points and helped us a lot offensively, and putting him with Kopi is great."
Gaborik's addition plus the emergence of youngsters Tyler Toffoli and Tanner Pearson give the Kings a fresh look in the 2014 postseason.
That said, the Kings' streakiness is a contrast to their Cup run in 2012. They lost three straight, won six, dropped three and then won the final two games of the series against the Ducks. They've won 33 playoff games in the last three years under Coach Darryl Sutter, also top in the NHL.
Their ability to win when it matters most will be tested against the rested Blackhawks, who have been off since the middle of last week after eliminating the Minnesota Wild in six games.
"They [the Kings] are definitely more dangerous offensively," said the Blackhawks' Marian Hossa, a friend and countryman of Gaborik, to reporters in Chicago. "They've proved they can score a bunch of goals and also they still allowed the fewest goals in the league this season."
Chicago's answer to Kings winger Justin Williams (known as Mr. Game 7) is Patrick Kane. Kane didn't wait until Game 7, taking out the Wild with his overtime goal in Game 6. Also, Kane scored the series-clinching goal against the Kings in 2013.
Unlike last year, the Kings' travel schedule is vastly better, after they played the San Jose Sharks in the first round and the nearby Ducks in Round 2. They also get two days off after Game 1 — Game 2 is Wednesday and Game 3 is not until Saturday at Staples Center.
"This time of year, we know it's hard," Kopitar said Friday. "We're going to approach it like any other series. I'm sure it's going to have a little bit of a kick to it — just because we did play them last year.
"I think you always get excited when you play the Stanley Cup champions. So … there's nothing more to say."
Kopitar has points in 13 of the Kings' 14 postseason games and leads the league in 2014 playoff scoring in both assists (14) and points (19).
He addressed the need to move on with uncommon speed.
"We just have to refocus," Kopitar said. "Everybody will tell you in the playoffs you can't get too high or too low. Obviously, we were pretty excited last night. But that's what happened last series."
Twitter: @reallisa
---
Get the latest on L.A.'s teams in the daily Sports Report newsletter.
You may occasionally receive promotional content from the Los Angeles Times.