Column: Rob Blake faces formidable task of reviving the Kings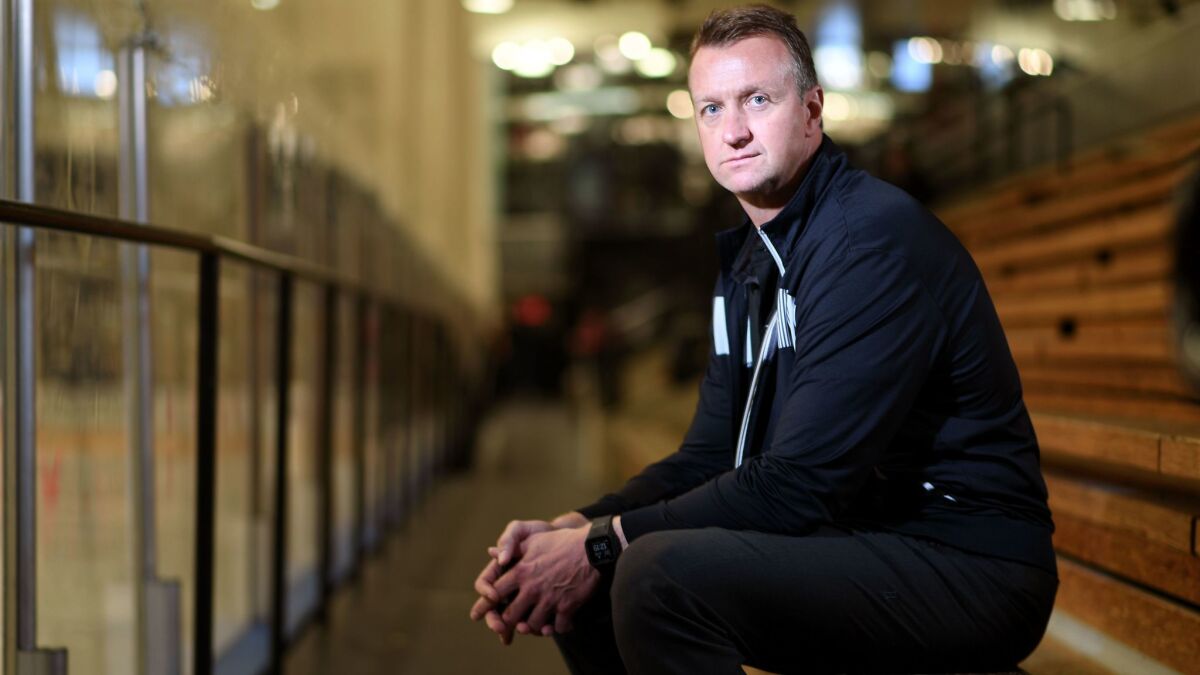 It was at the NHL draft last month that Mark Yannetti, the Kings' director of amateur scouting, noticed a distinct contrast between the demeanor of his former boss, Dean Lombardi, and that of Rob Blake, who succeeded Lombardi as the club's general manager.
After not reaching the playoffs for the second time in three seasons, the Kings had gotten the 11th pick, too late to grab a franchise player but early enough to find a building block. They had to get it right because they urgently needed to infuse skill into a team that had become stale and struggled to score.
As other clubs made their picks and noise swirled around the Kings' table at the United Center in Chicago, Yannetti saw Blake being composed and authoritative, trusting the scouting staff's work and comfortable making decisions that might greatly influence the team's future.
"Dean is abstract and progressively thinking and there's a James Joycean quality to the way Dean moves. It's almost stream of consciousness. And Rob is very patient and measured," Yannetti said after the Kings chose center Gabriel Vilardi with that pick. "They're both extremely intelligent and they get to similar places with different routes. … Rob was a very steadying and very calm influence at the table."
Blake downplayed Yannetti's praise.
"Maybe that's what it portrayed, being calm and quiet, but it was more observation," Blake said. "I wasn't trying to do anything in particular. I was actually trying to learn, is what I was trying to do."
He will have to be a fast learner to revive the Kings, who have earned one playoff victory since they raised the Stanley Cup in 2014 for the second time in three seasons. A Hall of Fame playing career that began with the Kings in the 1989-90 season, three years in the NHL's department of player safety and four years as Lombardi's top lieutenant have led Blake to this role at a pivotal moment in the team's history.
A lot has happened to the Kings since those relatively recent championship seasons. Under Lombardi and coach Darryl Sutter they clung to a "heavy" game that emphasized defense and suppressed scoring while the rest of the NHL leaned toward speed and skill. Some of the long, lucrative contracts players got as rewards for those Cup triumphs have become burdens. Also, Lombardi could have erased Mike Richards from the salary cap with a compliance buyout but did not, and Richards will dent their cap through 2031-32.
As a result, Blake has little cap space to use in a thin free-agent market that opened Saturday. After his long-shot pursuit of veteran center Joe Thornton fell short, he made one "big" move, signing former King Mike Cammalleri to a one-year deal worth $1 million plus bonuses after the forward had a 10-goal season with New Jersey. Blake can add scoring punch later through a trade but that lack of cap space limits what he can take on.
His first time directing the Kings' free-agency efforts produced no lifeline. It will take years to know if this draft class pans out, and it will take time to determine if Blake and club president Luc Robitaille made the right call in promoting John Stevens to coach after Sutter was fired. But Blake believes the elements are in place for the Kings to rebound after Stevens implements the offense-oriented tweaks they agreed are needed.
"I think the bottom line probably is culture and it has definitely been implanted, the winning part of it. Winning two Cups in five years and what they were able to accomplish, it's still there," Blake said. "So as far as the shape going forward, it has that in place. The core is in place, still not an older core."
Blake cited Anze Kopitar, Tyler Toffoli, Jeff Carter, Jonathan Quick, Drew Doughty, Jake Muzzin and Tanner Pearson as core members.
"It's still intact and it's a good one."
He recognizes that the Kings must react to current trends but he won't concede anything defensively.
"We have to change the structure, style, and at the end of the day, personnel too," he said. "It comes down to the competitive nature of it. That should never change. Whether it's a skilled guy or your typical big winger they've got to compete, so getting that mix is going to be the most important thing. We have a clear understanding that the offensive part of it, we have to find a solution to. It just wasn't there."
Blake's Kings will still be physical.
"You're going to need that in certain areas, for sure," he said. "But can we increase our skill levels? And I say that without attaching speed to it because I think you can play fast without having fast skaters, per se. But do we need to increase our skill level? Yes.
"We have speed. We need to play fast. I think where the speed of a player or the skating ability is how he hurries plays on the other team, how he creates turnovers. That's where you're going to see speed. Just flat-out skating. But playing fast we can accomplish with the style we play, also."
He quickly learned that his job is all-consuming. The days of taking a four-day trip to watch his 15-year-old son Jack play in hockey tournaments are over, though he hopes to steal a day here or there to watch Jack, a member of the Junior Kings under-16 team.
"You can't turn it off," Blake said. "I didn't have that problem before. I made suggestions and went home at 5 o'clock and I didn't have to make decisions."
Those decisions are his to make now. The Kings' future depends on them.
Follow Helene Elliott on Twitter @helenenothelen
Get the latest on L.A.'s teams in the daily Sports Report newsletter.
You may occasionally receive promotional content from the Los Angeles Times.