Column: Kings still stuck in their rut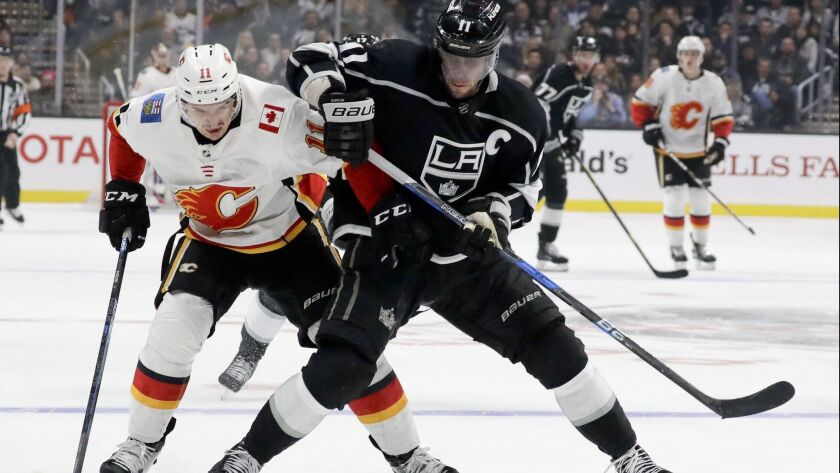 Maybe it wasn't all John Stevens' fault the Kings sat at the bottom of the NHL standings when he was fired last Sunday.
Maybe it wasn't Stevens' fault they lacked passion, a shortcoming that general manager Rob Blake cited as crucial when he let Stevens go and installed Willie Desjardins as the interim coach for the rest of the season.
Maybe the problem was — and still is — that the Kings are a rudderless team that can't finish and can't maintain the speedy tempo that's required to succeed in the NHL.
Winger Ilya Kovalchuk, 35, was their best player Saturday night in their 1-0 loss to the Calgary Flames at a sometimes silent and much-less-than-full Staples Center. That says a lot about Kovalchuk's desire to make an impact in the NHL after a five-year absence. It doesn't say much about his teammates' determination to turn around a dismal start. In being shut out for the first time this season the Desjardins-led Kings looked as uninspired and disjointed as the Stevens-led Kings, and that's not a good look.
"It's pretty much the same systems, but at the end of the day it's up to us," winger Alex Iafallo said. "We've got to be hungry for that puck and get to those soft areas and cycles that we were doing last year. Get back to that, and working for each other. That's the main aspect."
The Kings' second loss in Desjardins' three games behind the bench was sealed in the first period. Calgary defenseman Travis Hamonic, helped when his teammates kept the puck in the zone, took a shot from just above the right circle that eluded a screened Jack Campbell at 2:26. Dustin Brown forced Flames goaltender David Rittich to make a save with his left pad at 11:17 of the first period and Tanner Pearson got behind the defense during a third-period power play to force Rittich to make a point-blank save but they otherwise allowed Rittich, a 26-year-old Czech with 29 games' previous NHL experience, to earn his first career shutout while looking like a reincarnation of Georges Vezina, Jacques Plante, and Terry Sawchuk rolled into one.
Rittich, Calgary's backup goalie, made 21 saves as the Flames improved to 10-6-1 and the Kings fell to 5-10-1. Campbell, who inherited the starting job when Jonathan Quick suffered a knee injury that required surgery, was solid in making 35 saves. He deserved a better fate and a few goals' support. For the Kings, who were scoreless in three power plays, that was asking too much Saturday — and almost every day.
To get more scoring, Desjardins said he's prepared to make some defensive compromises, a dramatic shift for a team that established its defensive chops while winning the Stanley Cup in 2012 and 2014 and has maintained its strength defensively and in net. "We have to. We're not creating enough right now," Desjardins said. "It's funny. You score two on the power play and you've had a good night. Not bad, anyways. You don't and it's like, 'Wow, we've got to find other ways to do it.' Right now we do. We want to be more of an aggressive team. I think all our guys know we've had our opportunities and we haven't capitalized on them, so I guess that's part of the good thing that we're doing other things well but we have to find ways to create more offense."
Some of the Kings' top forwards, he said, "probably think a little bit more defensively. Saying that, I think we have to create some systems that are going to get guys more involved. We've got to force ourselves to get up ice and play more aggressive and probably more offensive."
Desjardins also said he's ready to make changes on the power play, which has converted 14.8% of its advantages, 26th in the 31-team league. "It all comes down to if we catch one on the power play then we're back in it," Desjardins said. "That's an area that we're going to have to look at making some adjustments on it. We haven't touched it yet. Now is the time to probably move it around a little bit."
Now is also the time for the Kings to find the passion that they've lacked and decide who and what they want to be. Iafallo, consistently one of their most effective players, said he has begun second-guessing himself. That's ominous. "We can't have hesitation. We've just got to trust each other that we're going to make that play and be able to make that play," he said. "We know we can make those plays. Just got to be mentally prepared every shift and gain momentum every shift and every period. ... We've got to pick it up."
The alternative is shaking up the roster and acknowledging the Kings' woes are due more to how they're constructed than who coached them.
Follow Helene Elliott on Twitter @helenenothelen
---
Get the latest on L.A.'s teams in the daily Sports Report newsletter.
You may occasionally receive promotional content from the Los Angeles Times.