To Kings' Mike Richards, it's a test of trust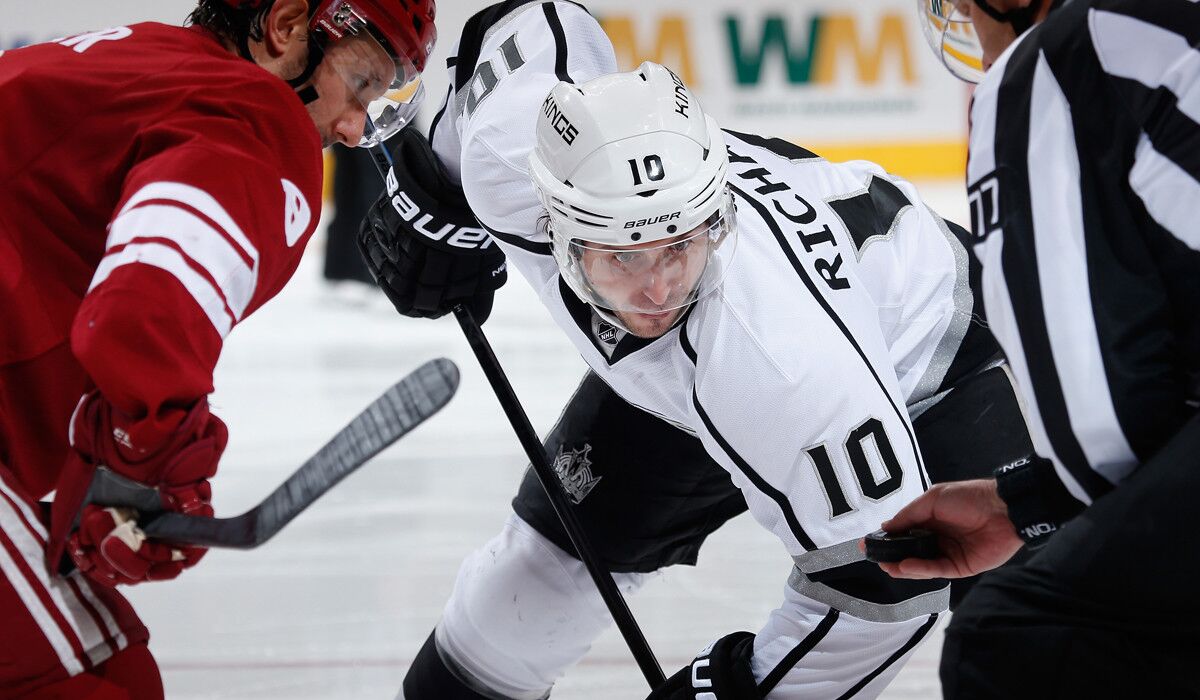 Kings center Mike Richards is feeling the trust.
The issue came up Friday when Richards was asked for a self-assessment. The Kings have played nearly one-third of the season. Saturday's home game against the Philadelphia Flyers, his former team, will be their 27th game.
Richards, with four goals and 10 points, is tied for eighth in team scoring — along with captain Dustin Brown — but when things are going well, his value is evident in less tangible terms.
He used the words "not bad" and "getting better."
Then Richards took the self-analysis to another level and talked about the sense he is getting from Kings Coach Darryl Sutter.
"More trust with Darryl. I'm playing better, but I think I can be more consistent on a nightly basis," Richards said. "Overall, you're always trying to get better through a season and I think I've been doing that and taking steps in the right direction.
"Like I said, trust is a big thing. To be put in different situations and obviously I'd like to pitch in a little bit more offensively. But I'm getting chances, which is a good thing."
One article of faith and loyalty came in June from Kings General Manager Dean Lombardi, who did not use a compliance buyout on Richards. After this season, Richards has five more years on his contract at an annual cap hit of $5.75 million.
Conviction, of course, can be measured in many ways.
"Trust, of being on the ice against people I've played my whole career against, but at the same time, it's taking those D-zone [defensive zone] faceoffs, being out there at the end of games and stuff like that," Richards said. "It [stinks] that I have to get it back. But at the same time, that's the way it goes."
Those who watch and listen closely to Sutter won't be surprised that the coach has a different view on the issue of trust.
"I totally trust Mike. He doesn't have to earn it," Sutter said. "Again, it's not about Mike, it's about the position, and I think he totally understands that. He's about the end result, the win part. That's what he's about.
"It's not about anything other than that. His minutes will go from somewhere in the low-teens to the high-teens."
His ice time has been in the 13-minute range in three of the last four games and, before that, he logged 15:07 in the shootout loss to Nashville.
Said Sutter: "If you look at last night [at Arizona] or the last three [games], you look at our center men. With Kopi [Anze Kopitar] being not as effective as we need him to be, where his minutes have come down a little, and everyone else's went up two or three.
"Mike totally understands that part. It's not gaining my trust or our trust. He's one of those guys that the team result is a reflection of the player."
TODAY
VS. PHILADELPHIA
When: 1 p.m.
On the air: TV: FS West; Radio: 790.
Etc.: On Friday, the Kings sent youngster Andy Andreoff to their American Hockey League affiliate in Manchester, N.H., for a conditioning assignment. The forward has zero points in eight games this season and hasn't appeared in a game since Oct. 31 at Detroit. Kings assistant general manager Rob Blake said the conditioning stint could last up to two weeks. "Just needs to play some games," Blake said. "Plus we are on the East Coast next week, if we need him."
Twitter: @reallisa
Get the latest on L.A.'s teams in the daily Sports Report newsletter.
You may occasionally receive promotional content from the Los Angeles Times.