Kings' defenseman Kevin Gravel is taking his latest challenge in stride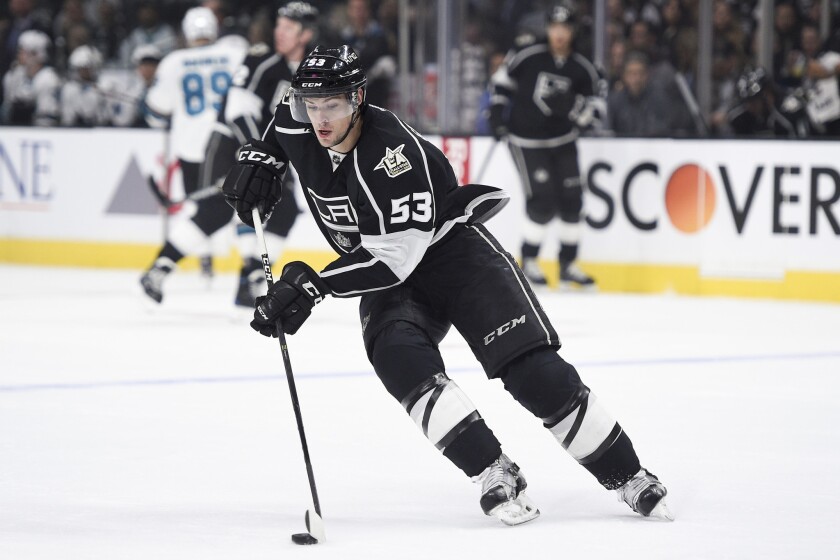 It has been nearly a year since Kevin Gravel made his NHL debut, which came in the middle of a season spent shuttling between the Kings and their American Hockey League farm team in Ontario, Calif.
Now the 24-year-old defenseman is firmly on the Kings' roster, but he has yet to secure an unquestioned spot in Coach Darryl Sutter's lineup. He has two assists in 26 games and is averaging 13 minutes and 48 seconds of ice time when he does play. He also made 11 appearances in December, has recently been paired with Brayden McNabb and even gotten time on the Kings' power play.
But Gravel was scratched in favor of Matt Greene in a win over the Wild on Saturday, and he stayed on the ice after Monday's morning skate to do extra work with Andy Andreoff, Tom Gilbert and Jeff Zatkoff (Gilbert and Andreoff have been regular scratches while Zatkoff has mostly backed up starting goalie Peter Budaj). The Kings (20-16-4) host the Dallas Stars (16-16-8) at Staples Center at 7:30 p.m. Monday.
"I'm still learning. Mistakes are going to happen, obviously as long as it's a hard-working thing you just try to keep rebounding," Gravel said Monday of how he is working back to the ice. "If you're not playing you treat practices like games, you treat pregame skates like games and afterwards get your work in like everyone else.
"So just keep working hard and if you get the opportunity try to make it count."
Gravel's latest miscue was a costly turnover in the Kings' 4-0 loss to the Red Wings on Thursday. Gravel tried to slide the puck to Nic Dowd, but Dowd was leaving the offensive zone and not looking in Gravel's direction. The puck caromed off Dowd and the Red Wings rushed the other way. Andreas Athanasiou cashed in by beating Zatkoff for the second of the Red Wings' three first-period goals.
That morning, Gravel discussed his up-and-down NHL transition. He pinpointed the league's size and speed as the biggest adjustments, and said he was growing more comfortable by playing opponents a second time.
He will likely be on the bench for the Kings' third crack at the Stars — the season series is tied 1-1 — but Gravel is treating this latest challenge as a way to step forward.
"When you first get here you don't really know what's going on or what to expect or what the game is really like," Gravel said. "And now like you said, coming up on a year ago here. So yeah, I just try to go out and play my game every day and keep my eyes and ears open and try to learn as much as I can every day here."
Odds and ends
The Kings shook up their lines and defense pairs in their 4-3 win over the Wild on Saturday, and they were mostly the same at Monday's morning skate:
Lines (left wing-center-right wing)
Marian Gaborik-Anze Kopitar-Trevor Lewis
Tanner Pearson-Jeff Carter-Dustin Brown
Kyle Clifford-Nic Dowd-Devin Setoguchi
Dwight King-Nick Shore-Jordan Nolan
Extra: Andy Andreoff
Defense pairs
Derek Forbort-Drew Doughty
Jake Muzzin-Alec Martinez
Brayden McNabb-Matt Greene
Kevin Gravel-Tom Gilbert
As stated above, Gravel, Gilbert and Andreoff did extra work and will likely be scratched against the Stars. Peter Budaj was also the first goalie to head to the locker room, which is a good indication that he could start in net.
The lines are nearly identical to how the Kings started against the Wild, with one small change. Sutter kept Setoguchi with Carter and Pearson at the beginning of that game, which slid Brown (who had been on a line with Kopitar and Gaborik) next to Dowd and Clifford. Sutter then started to mix Brown in with Pearson and Carter as the Wild game wore on, which is what he did during Monday's skate.
Twitter: @dougherty_jesse
---
Get the latest on L.A.'s teams in the daily Sports Report newsletter.
You may occasionally receive promotional content from the Los Angeles Times.