As more hockey teams give morning skates the cold shoulder, Kings and Ducks hang onto game-day practice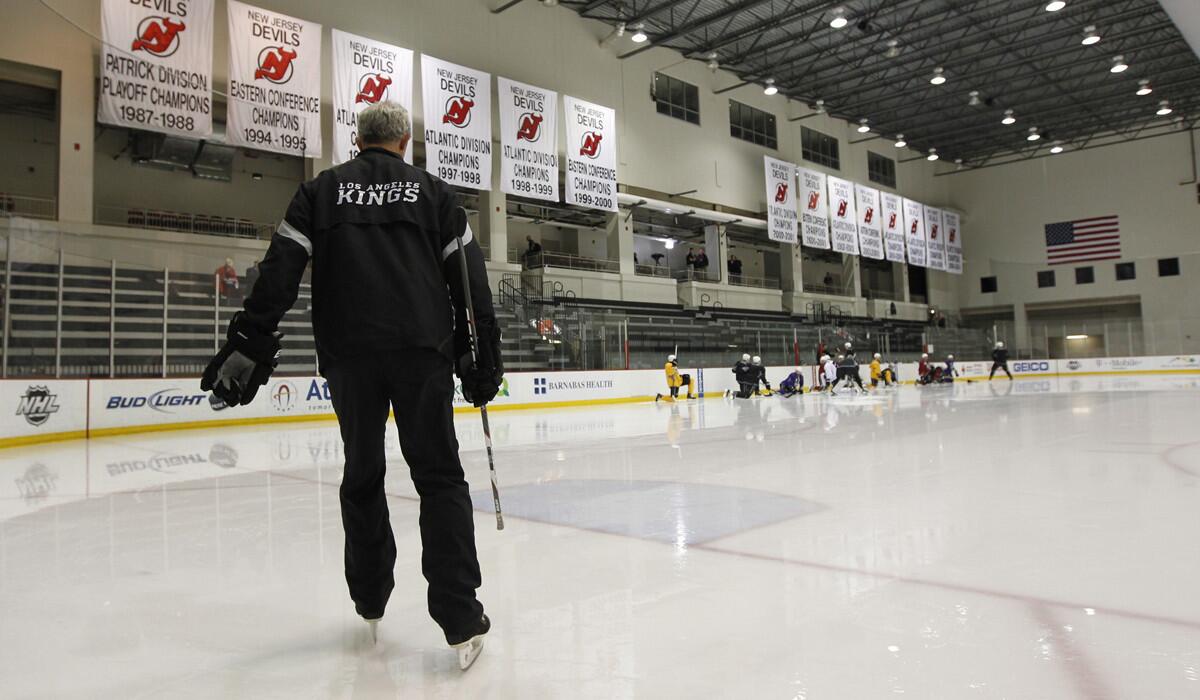 Vancouver's Rogers Arena was quiet and empty on a recent Wednesday morning when the Kings, in groups of twos and threes, skated onto the freshly shaved ice.
In less than eight hours, they would meet the Canucks in the eighth game of a season-long nine-game road trip. First, however, they had to push through a brisk 30-minute practice that seemed to accomplish little more than getting the players out of the hotel for a couple of hours.
Game-day morning skates were once as big a part of hockey as wooden sticks and playoff beards. But now, a growing number of teams are questioning their purpose and letting their players rest before games.
"Providing an opportunity for the players to sleep in is becoming more mainstream in sports," said Jeff Zeilstra, a former baseball player and coach who works for Fatigue Science, a Vancouver-based company that measures the effect of fatigue on performance for a diverse group of clients, ranging from sports teams to the U.S. military and NASA.
"Sleep," Zeilstra said, "is seen as being able to provide that extra 3[%] to 5% boost to help players."
The Kings will test that theory on an East Coast road trip in which they'll play four games in six days while dealing with a three-hour time change. The trip begins Saturday in Brooklyn against the New York Islanders.
The Kings, like the Ducks, are among the majority of NHL teams who still hold regular morning skates on game days. But support for the practice is waning.
John Tortorella, the second-year coach of the Columbus Blue Jackets, eliminated game-day skates this season, and his team responded with a 16-game winning streak. Now, as many as a third of the league's 30 teams have followed his lead, either canceling morning skates or making them optional on game days.
"Word travels fast. It's a copycat league," forward Chris Kelly of the Ottawa Senators told the Associated Press.
There are multiple stories as to how game-day skates came into being. And none appears particularly relevant today.
One credits former Philadelphia Flyers Coach Fred Shero with pioneering the idea in the 1970s after he learned the Soviet Red Army team was doing it. When Shero's Flyers won back-to-back Stanley Cups in 1974-75, the practice caught on league-wide.
Another says legendary coach Scotty Bowman introduced early skates as a way to make sure his Montreal Canadiens players didn't stay out all night drinking.
Jim Fox, who played nine seasons for the Kings in the 1980s, says curfews haven't been necessary in the NHL for a decade or more.
"The ability to make life-changing money was not there then. It is now," said Fox, a hockey analyst for Fox Sports West. "So you take care of yourself.
"Rest is a weapon," he added. "A lot more coaches are starting to look at it that way. I felt I was storing energy by not doing anything the day of the game."
The science says Fox is right. A landmark 2011 Stanford study on the effects of rest for college basketball players found that increased sleep led to faster sprint times, a nearly 10% improvement in shooting accuracy and quicker reactions. Other researchers reported similar findings and, as a result, hockey isn't the only sport in which old assumptions are being questioned.
The NBA's Toronto Raptors and San Antonio Spurs have eliminated some morning "shoot-arounds" on game days in favor of extra sleep, for example, while the Seattle Seahawks — one of 50 professional teams who work with Fatigue Science — asked the company to help plan team schedules on long road trips. And the Chicago Cubs frequently canceled batting practice in favor of rest last season, a practice they had adopted even before becoming a Fatigue Science client.
With the intention of being refreshed, the Cubs went on to win their first World Series in 108 years.
"These teams are thinking a little more progressively, a little differently," said Brandon Marcello, a high-performance strategist who works with professional athletes and the U.S. military. He also was one of the researchers who produced the 2011 Stanford study.
"Twenty years ago it was, 'Let's see who's the best team with everyone sleeping like crap and eating like crap.' But now, certain teams and certain athletes are starting to pay attention to nutrition and pay attention to sleep. So now, it's not a level playing field."
Apparently some people didn't get the memo. While Kings Coach Darryl Sutter called the team's morning practice in Vancouver optional, the entire team filed onto the bus at the hotel just after 10 a.m. anyway. Sutter said morning skates weren't common when he played and he doesn't favor them personally, but the team holds them anyway because, for many players, game-day skates have become part of their routine.
"I like them. It kind of engages your body," Kings captain Anze Kopitar said. "It's sort of like a wake-up call. I haven't had any different schedule than that."
Ducks Coach Randy Carlyle believes mandatory morning skates eventually will be phased out, which could make old-school players such as Kopitar and Ducks forward Andrew Cogliano NHL dinosaurs. Carlyle said Cogliano often arrives two hours before a morning practice, then follows the workout with a nap and some time on a stationary bike.
For Cogliano, rest is something best enjoyed in the off-season.
"Morning skates … a personal thing," Ducks teammate Kevin Bieksa said. "Everybody's entitled to do what they think makes them feel best for the game."
KINGS NEXT UP
AT N.Y. ISLANDERS
When: 4 p.m. PT Saturday
Where: Barclays Center, Brooklyn
On the air: TV: KCOP 13; Radio: 790
Update: After a losing homestand, the Kings (22-19-4) hit the road, where they've won just one of their last four games. The Islanders (18-17-8) are having a worse time of it, however, sitting next to last in the Eastern Conference despite a two-game win streak. They're especially weak on the power play, where they've converted less than 13% of their chances, second-lowest in the league.
Correspondent Curtis Zupke contributed to this report.
Twitter: kbaxter11
Get the latest on L.A.'s teams in the daily Sports Report newsletter.
You may occasionally receive promotional content from the Los Angeles Times.