Kings pay the price for taking penalties in 3-0 loss to the Penguins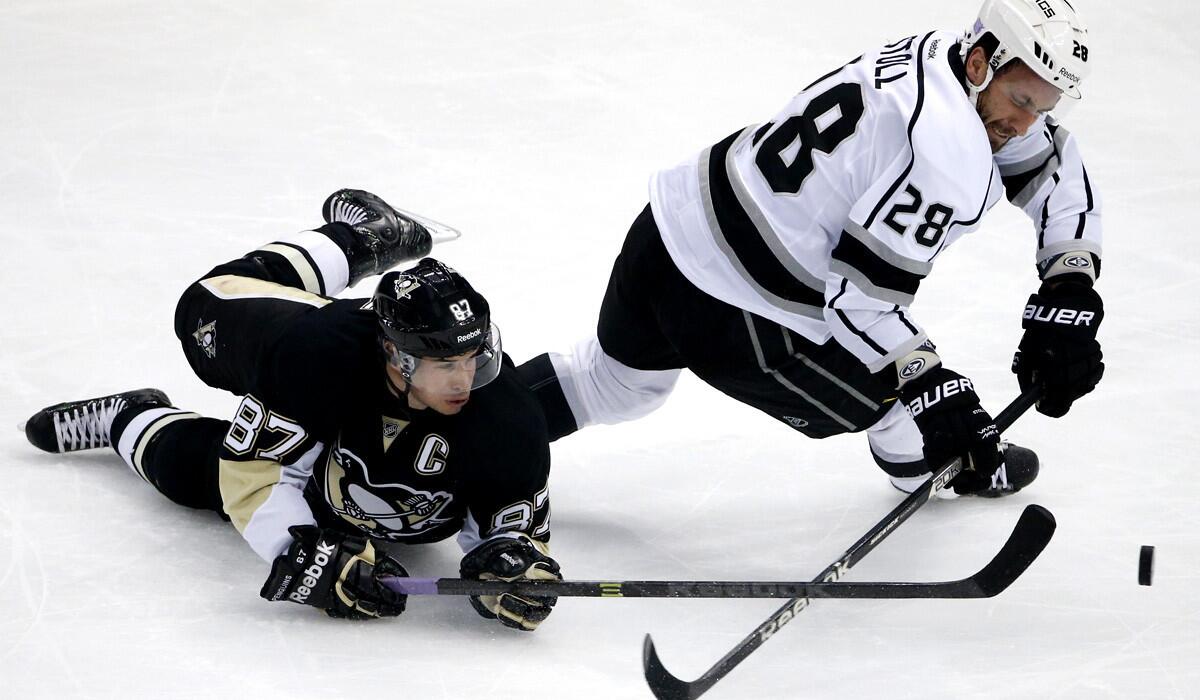 PITTSBURGH — They talked about keeping disciplined, staying out of the penalty box against the high-octane team possessing the league's best power play.
You can guess what happened next.
The Kings took three minor penalties in the first nine minutes of the game and another before the 15-minute mark. Pittsburgh scored two power-play goals in the opening period, the first one coming on a five-on-three situation, on its way to a 3-0 victory on Thursday night at Consol Energy Center.
It was the first loss for the Kings in regulation since the season-opening, banner-raising night against the San Jose Sharks on Oct. 8. For the Penguins, winger Chris Kunitz scored twice and added an assist and goalie Marc-Andre Fleury made 36 saves, recording his second shutout of the season and 30th of his career.
"Best power play in the league, so that's probably the story of the game," Kings captain Dustin Brown said. "We were too slow so we had to take penalties.
"The first five minutes we were going well. We take a penalty. We take another penalty and then another penalty and another penalty. We have a good PK [penalty kill] but it's hard. Especially with just the rhythm of the bench."
The Kings' No. 2 goalie, Martin Jones, made his second start of the season, and it is expected Jonathan Quick will start when the Kings play Friday night at Detroit. The Kings have lost seven of their last nine games against the Penguins.
Much has been made, and rightly so, about the missing offensive talents of injured Kings forwards and linemates Marian Gaborik and Anze Kopitar. Trevor Lewis has been out since the second game of the season, and Lewis and Kopitar are among the Kings' better penalty-killers.
There is no update as to when they might return and the Kings were forced to use an emergency recall to bring up winger David Van der Gulik from their minor league affiliate Manchester, N.H., just so they didn't have to play short-handed again like they did against the Philadelphia Flyers on Tuesday.
"We're not a team that relies on one guy, or a few guys," Brown said. "We rely on all of us. When you have guys out, it's a matter of the other guys trying to pick up the slack. Everyone is dealing with injuries. It's part of the season: Just deal with it."
The game had its curious and amusing moments. Kings center Jarret Stoll talked his way out of a penalty early in the second period, pointing out an incorrect call. Kings Coach Darryl Sutter said he had never seen a penalty taken away from a player.
Stoll looked amused afterward.
"I've never seen that one before," he said. "They were honest. They messed up. There was no penalty. I knew that. I didn't want to be yelling and screaming at them, but we had enough penalties to that point."
Then there was the scrap between two highly unlikely combatants, Pittsburgh star Evgeni Malkin and the Kings' Justin Williams. They traded words, tussled and Malkin slammed Williams to the ice.
Williams was not available, postgame, but Malkin talked about the battle and test of playing the reigning Stanley Cup champion Kings.
"Just tough game. I like playing against Los Angeles. It's champ team," Malkin said. "It's unbelievable team, play tough every shift. It's all emotion. I don't like fights. Sometimes lots of emotion.
"A couple of times he [Williams] asked me, 'Let's go. Let's go.' It's not fight. It's just tough battle."
XX
Kings tonight
at Detroit
When: 4:30 p.m. PDT.
On the air: TV: Prime; Radio: 790.
Etc.: Detroit's Johan Franzen is out because of an injured groin, not expected to return until Sunday when the Red Wings play at Buffalo.
Twitter: @reallisa
Get the latest on L.A.'s teams in the daily Sports Report newsletter.
You may occasionally receive promotional content from the Los Angeles Times.