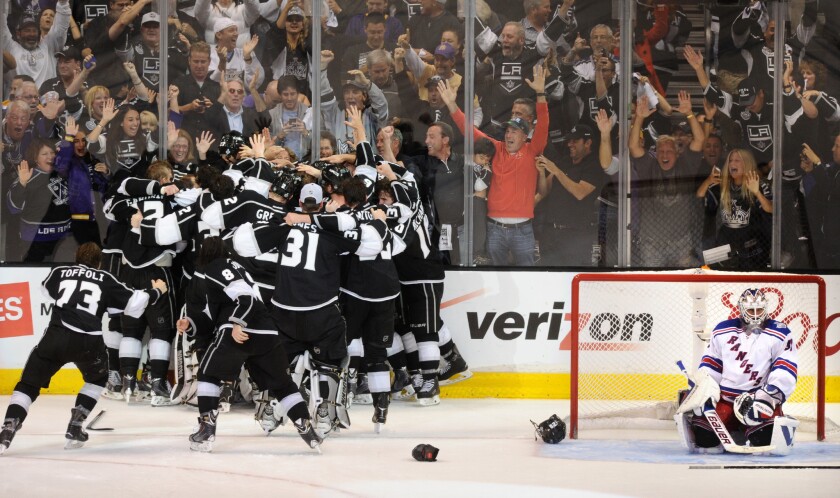 It took the Kings 45 years to win their first Stanley Cup.
Then how come it felt like 45 years to win No. 2?
Maybe this was simply cosmic and blood pressure-soaring payback for their Cup run of 2012 being far too smooth and so relatively unruffled.
With one final flourish, they needed only to play their longest game in franchise history to win their second Stanley Cup in three seasons. Their postseason of looking as if they were skating uphill finally ended when defenseman Alec Martinez scored from the base of the left circle at 14:43 of double overtime, giving the Kings a 3-2 win over the New York Rangers in Game 5 of the Stanley Cup Final on Friday night at Staples Center.
They clinched the best-of-seven-game series, four games to one, after having needed to go to a seventh game in the first three rounds of the playoffs. The hardest playoff run stayed on script with an enthralling finish.
"It suits us, don't it? This is the way it's been the entire playoffs," said Kings center Anze Kopitar.
Said Kings left wing Kyle Clifford, who had the second assist on the game-winning goal and played one of his strongest playoff games: "The difference is that we had to struggle this year. It gives you that great feeling that you've gone out and earned it."
Kings captain Dustin Brown accepted the Stanley Cup from NHL Commissioner Gary Bettman. Brown had his turn with the Cup, and in a classy move, he then handed it to defenseman Robyn Regehr, who had been out, injured, since the first game of the second round against the Ducks. Regehr came close to winning the Cup when he played for Kings Coach Darryl Sutter in Calgary, but the Flames lost to Tampa Bay in seven games in 2004.
In 2012, Kings goalie Jonathan Quick won the Conn Smythe Trophy as the playoff most valuable player, and this time it was winger Justin Williams winning it. Williams had nine goals, including the Kings' first goal in Game 5 to make it 1-0, and had 25 points in 26 playoff games. His nickname of Mr. Game 7 turned out to be a flexible one.
Their Cup-winning goal against the Rangers came off a three-on-two rush, which Martinez started in his own zone. He led the rush and finished it off, beating Rangers goalie Henrik Lundqvist inside the left post, converting a rebound of a Tyler Toffoli shot.
Martinez, who started the season mired in the doghouse, had a look of joy and disbelief after he scored and Clifford was the first teammate he hugged. Talk about fitting: Martinez was the one responsible for the goal putting the Kings in the Stanley Cup Final, scoring the winner in overtime of Game 7 at Chicago.
"Toffoli had a great shot, far pad, and fortunately the rebound came to me and I was able to put it in," said Martinez, who was a healthy scratch for 10 of the first 15 games of the regular season. "It was a great play by them. I'm just the benefactor."
The NHL's postseason that absolutely refused to end almost willed itself to live for a few more days. Game 5 may have gotten off to a tepid start, but it picked up momentum late in the second period after former Kings forward Brian Boyle's short-handed goal gave the Rangers a 2-1 lead with 30 seconds left in the second.
Kings winger Marian Gaborik, a former Ranger, tied it, 2-2, at 7:56 of the third on the power play. Overtime between the teams featured nonstop, end-to-end action, an array of shots going off posts and crossbars at both ends.
Rangers defenseman Ryan McDonagh thought for a split second that he had the game won early in the first overtime. But his blast from above the left circle hit the right post square on Quick's glove side.
"We knew it was going be a tough series," Martinez said. "There were a lot of guys who have been around from a couple of years ago. We know the fourth one is definitely the hardest one to get. That's what we were talking about in the locker room. We just had to dig deep and just keep grinding away.
"We believed that we were going to win this game."
Not that there weren't a few questions along the way. The Kings trailed the San Jose Sharks, 3-0, in the first round of the playoffs and became only the fourth NHL team in history to rally from that deficit.
"There's no words that can describe what you're feeling right now," said Williams. "What we went through this year makes it so much more special. Each Cup is unique, but, God, we earned this one."
The second Stanley Cup was especially sweet for Kings defenseman Willie Mitchell, the oldest player on their roster. Mitchell was a big part of the 2012 run but didn't play last season because of knee surgeries.
"Of course there's always doubt," Mitchell said. "We've been through so many Game 7s and so many overtimes, that you have doubt.
"But it's also a galvanizing thing where you've done it before and you know you can do it again.
"To always win this way is nuts. But we'll take it."
---