Kings lose a heart breaker, 2-1, as the Senators strike twice in the third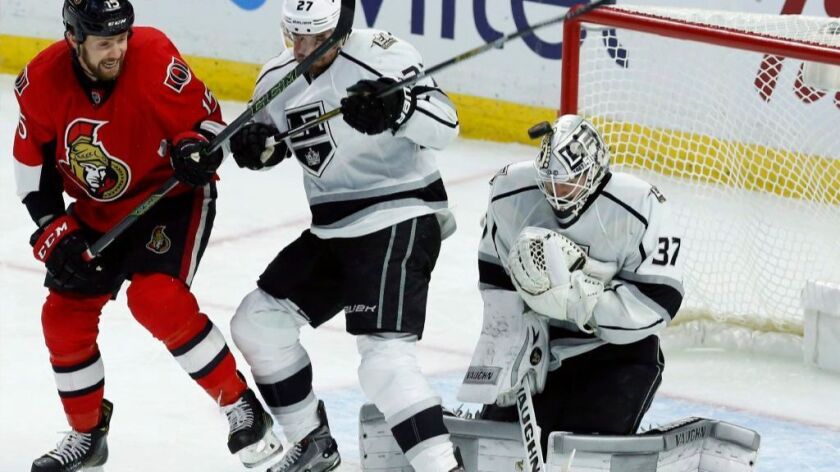 Reporting from OTTAWA, Canada —
It was a night of multiple losses for the Kings.
First, of course, the one on the scoreboard, in which they let two points slip away and didn't even skate away with one. Ottawa forward Zack Smith tied the game with 3:54 remaining in regulation, and the Senators won with Mark Stone's goal with 6.5 seconds left, beating the flustered Kings, 2-1, at Canadian Tire Centre on Friday night.
Moving on to the injury list …
The Kings lost their captain Anze Kopitar to injury for most of the third period. He took a hit along the boards from Senators defenseman Marc Methot early in the third and left the game. Judging from one replay, by the way Kopitar reacted, it appeared as though the left arm-wrist area was affected.
Kopitar later came back for a shift, and then shut it down.
There was more in what has been an injury-plagued first quarter of the season. Goalie Jeff Zatkoff, who had been out because of an injured groin, had his first start since Oct. 18 at Minnesota. He had a shutout going for two periods but did not play the third period, giving way to Peter Budaj.
"Injuries are a part of it, like you said," said Kings winger Dwight King, who had their only goal as Jeff Carter's backhander went in off King's leg at 56 seconds in the second period.
"It's early. We've got to work through it."
Kings Coach Darryl Sutter said that Zatkoff, "pulled himself after the second period. I don't know what it is."
The Kings PR staff said it was a lower-body injury. Zatkoff said he would wait until Saturday to talk about what happened. He made a sprawling save in the second period but played the rest of the period.
Sutter said that Kopitar would be traveling with the team to Winnipeg. The Kings are due to practice in Winnipeg on Saturday and face the Jets on Sunday, the fourth game of a five-game trip.
Sutter noted that Kopitar attempted to come back after his injury. "He's the kind of guy who is going to try to play," he said.
After outscoring the opposition, 15-2, in winning three straight games, the Kings have gone back to their low-scoring ways. They've been outscored, 6-2, in their last two games. They went 0 for 2 on the power play, but their penalty kill was solid. In fact, the Senators had 22 seconds of a five-on-three advantage in the second period and couldn't convert.
Kings defenseman Drew Doughty wasn't buying the excuse of playing on back-to-back nights.
"We just didn't execute our game plan, we went in there trying to get another goal in the third period," Doughty said. "They pushed back. And it's not what our team does. We don't give up leads in the last five minutes of the game. That's been our thing for a long time. It's pretty frustrating right now."
Sutter used the phrase "a little understaffed" to describe their third period.
Again, Doughty said that should not be an excuse. Still, a healthy Kopitar would have helped calm a chaotic situation with the Senators pressing late in the game. Smith batted the puck out of the air past Budaj to tie it, 1-1, and Stone jumped on a loose puck and reached in behind Budaj.
"We have so many players that have been in the league for a long time in situations like those," Doughty said. "We've got to make the plays and not allow those goals to go in. That's on us. Nothing to do with Kopi being out.
"Yeah he would have helped, no doubt about it," he said. "But that's on the players in here. It's our job to step up when he's out."
According to Sutter: "We played last night. We played as good as we could … can't expect Budaj to play every game. Tough situation for him to come in."
Follow Lisa Dillman on Twitter @reallisa
---
Get the latest on L.A.'s teams in the daily Sports Report newsletter.
You may occasionally receive promotional content from the Los Angeles Times.