Column: Ilya Kovalchuk, Kings find the formula for success, beat Sharks in overtime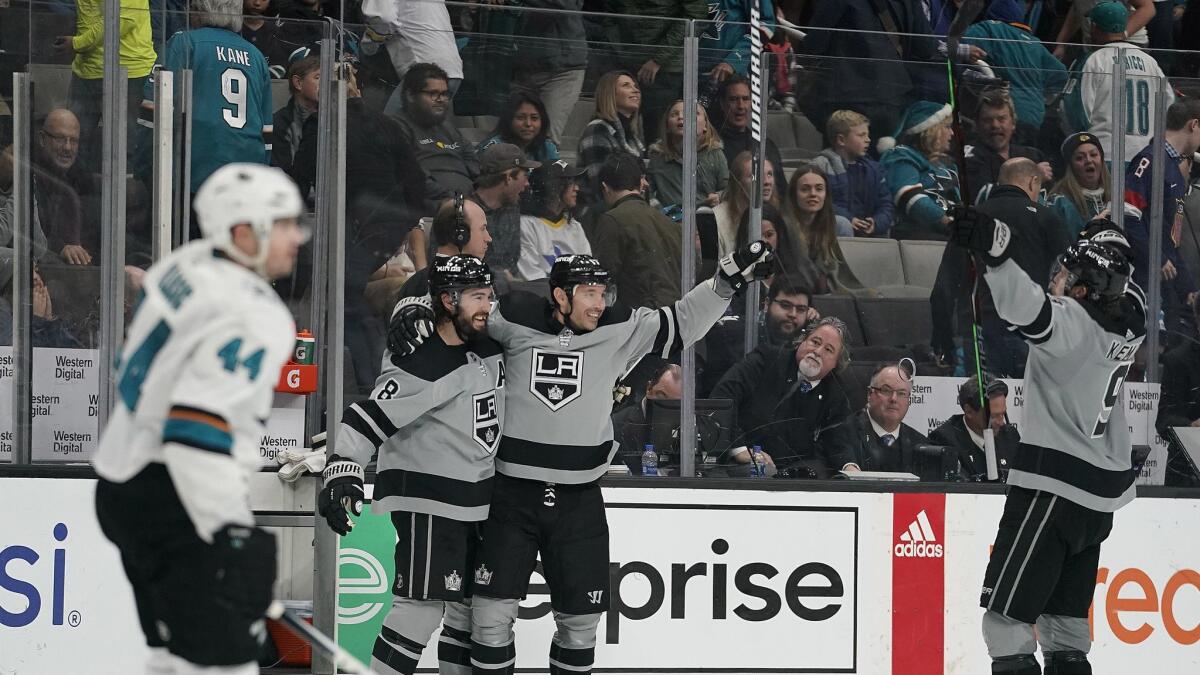 Reporting from San Jose —
Ilya Kovalchuk, playing his first game since an infected ankle forced him out of the Kings' lineup in late November, was nearing the end of a long shift during overtime. But when San Jose forward Evander Kane took a shot that caromed over the net and Kovalchuk suddenly had a breakaway, heading back to the bench wasn't an option. "I was not going to change," Kovalchuk said. "That might be my last chance. I was staying there."
Kovalchuk had opened the scoring on Saturday with a trademark one-timer for a power-play goal four minutes and 28 seconds into the game, ending a 21-game goal drought. He closed the scoring with a wicked shot 2:29 into overtime that couldn't have been more than a blur to Sharks goaltender Martin Jones, giving the Kings a 3-2 victory and a taste of what they might have accomplished if every part of their game had consistently meshed as well as it did on Saturday at SAP Center.
Coupled with their strong performance in beating the Jets last Tuesday, the Kings have beaten two quality opponents in a row. They haven't won three straight games this season. "I think the guys started last game, against Winnipeg, [that] was a solid game against a really good team," Kovalchuk said. "We know what we can do. We just have to do it."
To the credit of interim coach Willie Desjardins — or to make his previous decisions to limit Kovalchuk's ice time look even worse now — Desjardins sent Kovalchuk out there regularly on Saturday, including during the madness that is three-on-three overtime. Kovalchuk, thanking the team's doctors and trainers, said he felt better than before he had gotten hurt. It showed throughout the game. "I felt going in I had to give him a chance to show he was ready to play. I felt I had to give him an opportunity," said Desjardins, who gave Kovalchuk 13 minutes and 42 seconds' ice time over 21 shifts, including 56 seconds on the team's only power play of the game. "In some of those games he didn't have quite as much. But tonight, overtime, I went with him because he deserved a chance."
And Kovalchuk made the most of it. "Yeah, he's a little bit of instant offense out there," defenseman Derek Forbort said. "It's pretty cool to watch him when he shoots that puck. He's awesome."
In keeping with the mess this season has been, the victory was marred by the loss of forward Austin Wagner, who looked dazed after he took a hit to the head from Sharks defenseman Erik Karlsson early in the second period and did not return. A team spokesman said Wagner accompanied the team to Las Vegas for Sunday's game against the Golden Knights but Desjardins said he had no information on Wagner's injury. Karlsson wasn't penalized, but he will have a hearing on Sunday with the NHL Department of Safety for an illegal check to the head. Karlsson struck Wagner's shoulder and head, and if the NHL determines the head was the principal point of contact it can fine or suspend Karlsson.
The Kings also lost an apparent goal by Oscar Fantenberg in the second period, when the Sharks won a challenge for goaltender interference. According to NHL director of hockey operations Mike Murphy, Kings forward Dustin Brown "had significant presence in the crease, he went to the crease on his own and he eliminated the goaltender's stick," while trying to screen Jones.
The Kings haven't always been resilient lately, but they regrouped well after they lost Wagner and lost what they believed was a good goal. The cohesion and sharpness of their performance on Saturday is what Kovalchuk had envisioned when he signed his three-year, $18.75-million contract last summer. Thanks to his lethal shot, set up by a nifty faked shot and pass by defenseman Jake Muzzin, they got the early power-play goal. Left wing Alex Iafallo scored the second goal, at 5:15 of the third period, on a slick one-timer of his own. And although the Sharks scored twice in the third to pull even, on a redirect by Lukas Radil at 10:18 and a tip by Joe Pavelski with 31 seconds left and Jones replaced by an extra skater, the Kings got 29 saves from Jonathan Quick and found a way to win.
"You definitely get a vibe in the room when everybody's going at the same time," Iafallo said after extending his personal scoring streak to a career-best six games, "so if we just keep doing that and keep getting momentum every game it's going to be huge for us."
What if this had happened on a regular basis in October and November? It didn't, and the Kings are so far behind the playoff pack that their chances of cracking the top eight are dim, at best. Besides, making the playoffs would delay their rebuilding process by keeping them out of the draft lottery, the best avenue for them to remedy their talent drain and continue to get younger and faster. But for a few days, at least, they've rediscovered a perseverance and a level of play they've displayed too rarely this season, and it's a welcome sight.
UP NEXT
At Vegas
When: 5 p.m.
On the air: TV: FS West; Radio: iHeart Radio (L.A. Kings Audio Network)
Update: This will be the teams' first meeting in Las Vegas since their playoff series last spring, when the Kings scored one goal in two games at T-Mobile Arena on the way to being swept in four straight. The Kings won the teams' previous meeting this season, a 5-1 decision at Staples Center on Dec. 8. The Golden Knights will be without forward Max Pacioretty (lower-body injury).
Follow Helene Elliott on Twitter @helenenothelen
Get the latest on L.A.'s teams in the daily Sports Report newsletter.
You may occasionally receive promotional content from the Los Angeles Times.