What we learned from the Kings' 1-0 loss to the Calgary Flames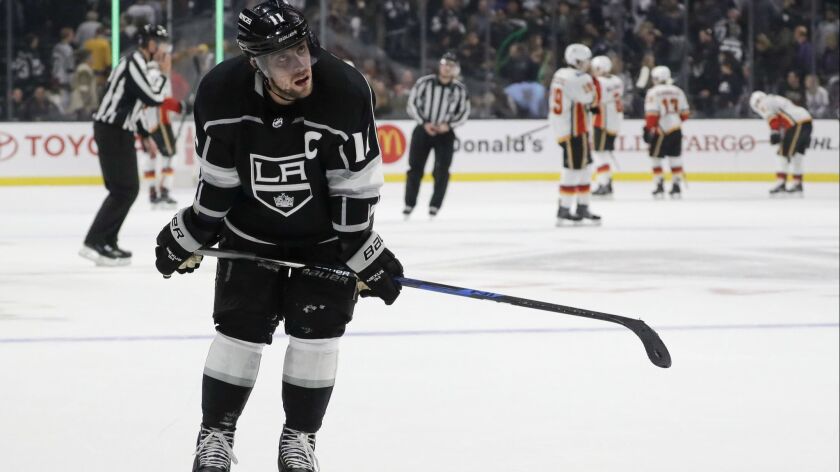 What we learned from the Kings' 1-0 loss to the Calgary Flames on Saturday:
New coach, same old struggles
Firing John Stevens and replacing him with Willie Desjardins was supposed to rekindle the passion that was missing from the Kings' game this season. Guess what: Maybe it wasn't Stevens' fault he couldn't inspire a team that seems beyond being motivated by a new face and voice behind their bench. They were averaging a league-low 2.15 goals per game when Stevens was fired. They were down to 2.06 goals per game after their 4-1 win in Desjardins' debut, scoring once in a loss to Minnesota and being shut out for the first time this season. "After a loss like that you feel like you've just got to work harder. We're not working hard enough," winger Alex Iafallo said. "We've got to play as a team, too. We haven't been creating a lot of offense. We're getting some shots but not the shots that we want. We need to get that passion back, that hunger, to get to the soft areas and keep making plays. We kind of got away from making those cycle plays to pick up momentum every shift and rolling it to every shift."
Desjardins is ready to compromise defense for more offense
That's radical thinking, given that defense has been the Kings' foundation for so long. But desperate times…"We have to. We're not creating enough right now," Desjardins said. "It's funny. You score two on the power play and you've had a good night. Not bad, anyways. You don't and it's like, 'Wow, we've got to find other ways to do it.' Right now we do. We want to be more of an aggressive team. I think all our guys know we've had our opportunities and we haven't capitalized on them, so I guess that's part of the good thing that we're doing other things well but we have to find ways to create more offense."
Shortening some players' shifts will be difficult
Desjardins has said he wants to keep players' shifts short, to help them preserve energy late in games, and he listed defenseman Drew Doughty and center Anze Kopitar among those he'd like to see play shorter shifts and finish with less ice time. That didn't happen on Saturday. Doughty averaged 57 seconds per shift, about five seconds more than in his first two games for Desjardins, and played 27 minutes and 44 seconds, raising his league-leading time on ice average to 27:01. Kopitar had been averaging 22:36 and was clocked at 22:37 Saturday night. It's tempting to rely on Kopitar—who won 12 of 20 faceoffs on Saturday—and on Doughty because of their versatility and durability. Besides, the Kings have to win now in order to rebuild their confidence and avoid falling too far behind the playoff pack.
This feels like it's going to be a long season
In a game they urgently needed to win, against a team coming off a loss to the flailing Ducks, the Kings mustered only 21 shots on goal. The team leaders were Kyle Clifford and Dustin Brown, with three each. Winger Ilya Kovalchuk made some fine passes that his linemates couldn't convert and was not credited with a shot on goal, though he took one shot that was blocked and one that missed the net. Tanner Pearson had a point-blank chance and couldn't score. Calgary was credited with 15 blocked shots — seven by Mark Giordano — but the Kings didn't impose their will and spend much time around the net.
---
Get the latest on L.A.'s teams in the daily Sports Report newsletter.
You may occasionally receive promotional content from the Los Angeles Times.