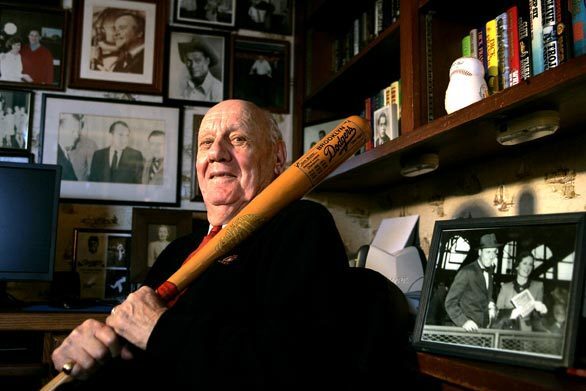 8 Images
Buzzie Bavasi | 1915-2008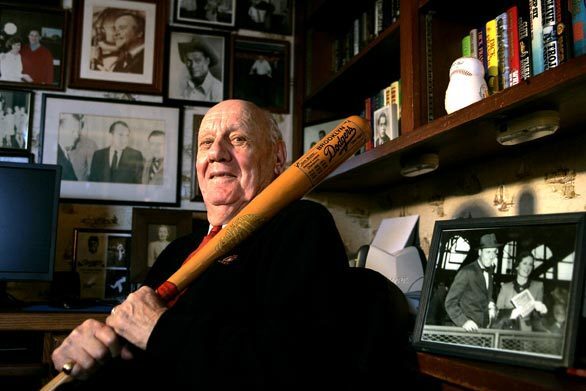 Emil J. "Buzzie" Bavasi, former general manager of the Dodgers, holds his 1955 Brooklyn Dodgers World Series bat at his La Jolla. Caif., home. On the desk is a photo of Bavasi and his wife, Evit, at Ebbets Field during the 1955 series. Bavasi, who shepherded the Dodgers through their World Series-studded transition from Brooklyn to Los Angeles, has died. He was 92.
(Allen J. Schaben / Los Angeles Times)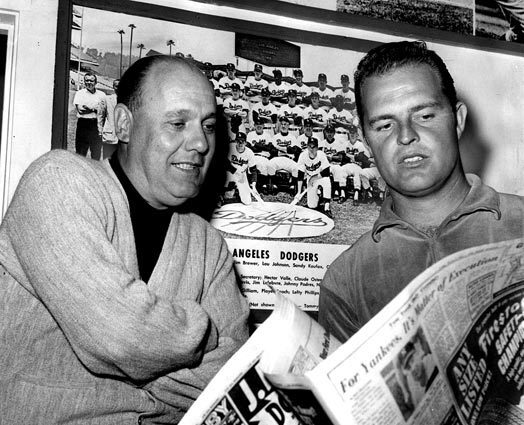 Los Angeles Dodgers General Manager Buzzie Bavasi spends some off time with pitcher Don Drysdale during spring training in 1967.
(Los Angeles Times)
In 1966, Dodgers General Manager Buzzie Bavasi faced Sandy Koufax and Don Drysdale, then the best pitching tandem in baseball, in negotiations. The two star pitchers joined forces to coax significant raises out of Bavasi. The players' holdout dragged on for more than a month before they signed, and although Koufax and Drysdale became the first players to break the $100,000 barrier, they didn't get multiyear contracts.
(Los Angeles Times)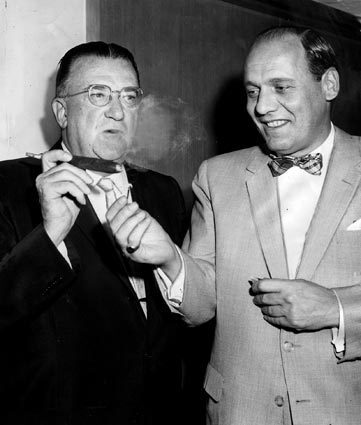 Dodgers owner Walter O'Malley, left, gets a light from Buzzie Bavasi in this 1958 photo. In later years, reflecting on his life in baseball, Bavasi said, "Who else played golf with Babe Ruth, had dinner with Sandy Koufax and Don Drysdale, and worked for people of the stature of Larry MacPhail, Walter O'Malley, Gene Autry and Ray Kroc? There are 20 guys on every team now who make more in a year than I did in 30 or 40, but no one had more fun."
(Los Angeles Times)
California Angels owner Gene Autry, top, Buzzie Bavasi, center, and Angels General Manager Fred Haney celebrate the Angels pending move to Anaheim in this 1965 photograph. After guiding the Dodgers for many years, Bavasi worked for the San Diego Padres before Autry hired him for the Angels in 1977, calling Bavasi his "right-hand man" and handing him the title of executive vice president.
(Los Angeles Times)
Buzzie Bavasi, right, poses with Los Angeles Dodgers pitcher Sandy Koufax in 1964 after the famed left-hander signed a contract.
(Los Angeles Times)
Buzzie Bavasi, Angels executive vice president and general manager, films a workout in Casa Grande, Ariz., during spring training in 1983.
(Robert Lachman / Los Angeles Times)