Column: Lydia Nieto is Azusa Pacific's bubble-gum chewing March Madness hero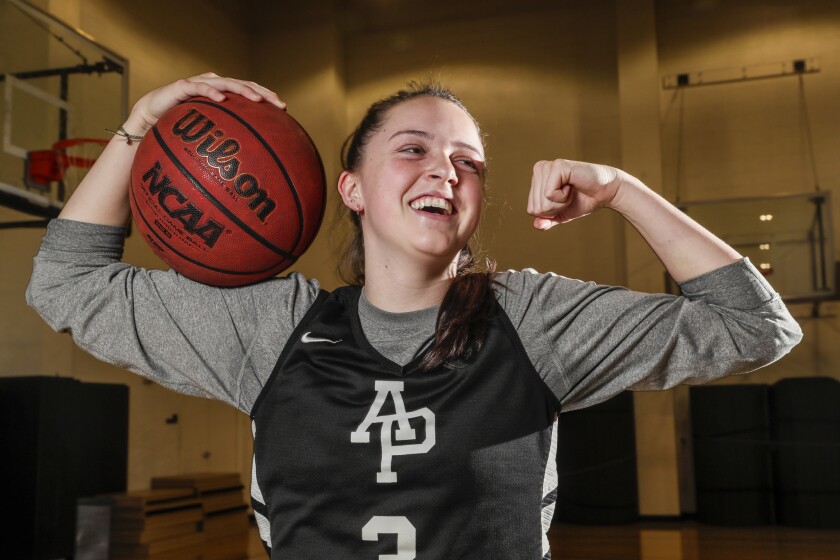 March Madness just doesn't happen under the brightest lights on the biggest stage.
Sometimes it happens in a nearly empty gym, in a game televised only on the internet, with a freshman nervously holding the ball far from the basket with her team's season taking its last breaths.
Occasionally it happens on a shot that was initially supposed to be a pass, taken only after her teammates were screaming at her to get rid of it, launched with two hands, on one leg, with zero balance, and a ton of prayers.
Rarely it happens so unexpectedly, so spectacularly, so incredibly, that almost a week later, the tears are still fresh and the shock is still real.
"I never even practiced that shot,'' said the 18-year-old, bubble-gum chewing hero of this story. "It was unreal.''
Her name is Lydia Nieto. She is the backup guard who suddenly found herself carrying the weight of the world for Azusa Pacific in the NCAA Division II West Regional Finals last Monday against Alaska Anchorage.
This is the tale of how March Madness happened to her.
It's happening right now on a video clip embedded in the web version of this story. If you want a brief glimpse into the authentic beating heart of college athletics, watch it now. Watch it more than once.
"I've watched it 5,000 times,'' said APU guard Savanna Hanson.
Now just listen.
With 3.2 seconds remaining on the clock, Alaska Anchorage guard Tara Thompson sank a long three-pointer to give the heavily favored Seawolves a 63-62 lead.
The Seawolves, ranked eighth nationally, celebrated like the game was over. The Cougars, ranked 24th and in just their fifth season in Division II, initially feared they were right.
The sparsely populated arena at UC San Diego in La Jolla had gone quiet, and APU coach T.J. Hardeman stood stunned.
"I thought all day that we were going to win this game,'' said Hardeman, who in 11 seasons has become the Cougars' winningest women's coach. "But when that Alaska shot went in, I thought, 'Oh, maybe I was wrong.''
Then, as his team gathered around him on the bench for the final timeout, Hardeman heard them all uttering a reassuringly familiar word.
"Peaches, peaches, peaches,'' they said.
Peaches is the name of the Cougars' final desperation play, one they run at the end of every practice. It has been rehearsed so many times, Hardeman didn't even need to draw it up. Everyone on the team knew they were going to run it, and how to run it, and it was simple.
A veteran guard would take the in-bounds pass from just in front of the Cougars bench and find either the cutting Daylee Hanson for a layup or throw to her sister Savanna for a jump shot.
It works every time in practice, but this time was different, and not only because the entire Cougars season was on the line.
For one, that was no veteran guard taking the in-bounds pass. It was freshman Nieto, a celebrated Boise, Idaho high school star who had endured a typically turbulent rookie year featuring bouts with homesickness, struggles with a concussion, and a midseason benching. Although she is a good shooter, she was in the game because of her ball-handling skills. She was there for one reason, and that was to pass it, and her palms grew sweaty.
Sign up for our daily sports newsletter »
"I was very nervous,'' Nieto said. "In the huddle there was silence.''
The second issue arose once the ball was passed to Nieto about 28 feet from the basket and the clock started ticking. Unlike in practice, there was nowhere for her to throw it.
Daylee Hanson had been knocked down. Savanna Hanson had been bottled up. The play had been killed, and there was no Plan B.
"A good coach would have practiced for that happening,'' said Hardeman with a smile. "We never practiced that."
Given two options, suddenly Nieto had no options, and so she did the only two things possible under the circumstances.
She listened, and she remembered.
As she stood holding the ball amid the chaos, it felt like the entire APU community was standing behind her screaming.
"They were shouting, 'three-two-one,''' Nieto recalled. "Then I heard, 'Shoot it! Shoot it! You've got to shoot it!''
She had heard these voices before, in her head, as a girl, when she would be practicing alone on her Boise high school court and pretending to be in these exact situations.
"When I was growing up, shooting alone, I would say, 'This is for the championship!' and I would count down 5-4-3-2-1 before taking the shot,'' she said. "But now, to actually have that chance?''
She took that chance. She took one dribble, fell away from Seahawks defender Thompson, and launched a ball that seemingly scraped the ceiling before dropping gracefully toward the hoop.
It was an ugly shot. It might have been the prettiest shot this spring in any tournament anywhere.
"I was leaning one way, my foot was the other way, my arms were the other way,'' she said. "At first I thought, oh, that didn't feel too bad. But then it started to fall and I was like, 'Oh my gosh, it's about to go in!''
What happened next is best described in the headline on the APU website: "Nothing But Nieto.''
The ball swished through, and all Azusa broke loose.
Lydia Nieto hit a three-pointer at the final buzzer to lift Azusa Pacific to a victory over Alaska Anchorage in the NCAA Division II Regional Finals.
Gary Pine, the school's athletic director, ran down from the stands to hug his coach and shout about history.
"I thought, this is the greatest shot in APU history, we've never had a moment like this,'' said Pine. "This was a desperation shot that had no chance of going in, and it did.''
Nieto, meanwhile, turned and ran away from the basket and into the arms of Savanna Hanson.
"I just lost it,'' said Nieto. "I was crying, I was laughing, every emotion there was.''
Together they were instantly knocked to the ground by teammates who turned the celebration into dogpile of emotion.
"We were like, oh my gosh, oh my gosh, oh my gosh,'' said Savanna Hanson. "Everyone was screaming, it was like a blur.''
It was the true definition of tournament chaos, and it only got crazier. After the team showered Hardeman with water in the locker room – ''Soak this in!'' he shouted to them -- they attended a postgame dinner at a local restaurant, after which the coach called one more play.
He ordered everyone back to the hotel to pack up and board the bus for a late-night drive home to Azusa. There was school the next day. Less than 12 hours after her shot, Nieto was sitting in an 8:15 a.m. biology class.
On Sunday morning they left school again on a commercial flight to Columbus, Ohio, where Tuesday morning they face Indiana University of Pennsylvania in the Division II Elite Eight tournament.
The feeling will end, but it will never end. Nieto has the scrap of the cut-down net in her locker. She has the memories of her family screaming through the phone from Boise. She will forever be one of the most unlikely, yet most appropriate, symbols of the madness of March.
"This shows it can happen anywhere, right?'' said Hardeman with a soak-it-in grin. "And it can happen to anybody.''
Get more of Bill Plaschke's work and follow him on Twitter @BillPlaschke
---
Get the latest on L.A.'s teams in the daily Sports Report newsletter.
You may occasionally receive promotional content from the Los Angeles Times.