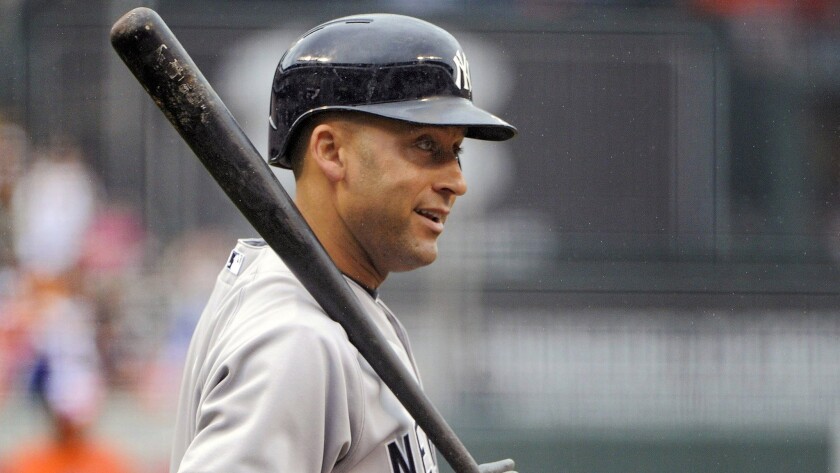 Shortstop Derek Jeter, in an 0-for-24 slump, was out of the New York Yankees' starting lineup at Tampa Bay on Monday night.
Manager Joe Girardi said over the weekend he was planning to give the Yankees captain a break during a three-game series with the Rays. Jeter's average is .250.
The Rays planned to honor Jeter, who is retiring at the end of the season after 20 years in the majors, with a pregame ceremony Tuesday before the middle game of his final series at Tampa Bay.
Jeter is hitting .167 (22 for 132) with no home runs and 10 runs batted in since former Yankees teammate Joba Chamberlain hit him near the left elbow with a 93-mph pitch during the 10th inning of a game against Detroit on Aug. 5. Before getting hit, Jeter was batting .277 with three home runs and 30 RBIs.
Jeter was hit on the elbow Thursday with a 94-mph pitch from Tampa Bay's Brad Boxberger.
Yankees' Masahiro Tanaka throws in a simulated game
Right-hander Masahiro Tanaka pitched five scoreless innings against minor league players in an instructional league simulated game, perhaps the final step before rejoining the Yankees.
Tanaka threw 65 pitches at Steinbrenner Field. He gave up six hits and struck out four batters. His fastball reached 92 mph.
Tanaka has been sidelined since July 9 because of a partial tear of an elbow ligament. He could start against Toronto at Yankee Stadium this weekend during the team's final homestand.
Mets' Matt Harvey completes elbow rehab program
New York Mets right-hander Matt Harvey threw off the main mound at Citi Field, the final step this season in his rehab program from elbow ligament reconstructive surgery in October.
Harvey, who won't pitch this year, will rest his right elbow before beginning his regular off-season work.
Harvey didn't face hitters Monday but simulated three innings and threw all his pitches besides his slider.
---