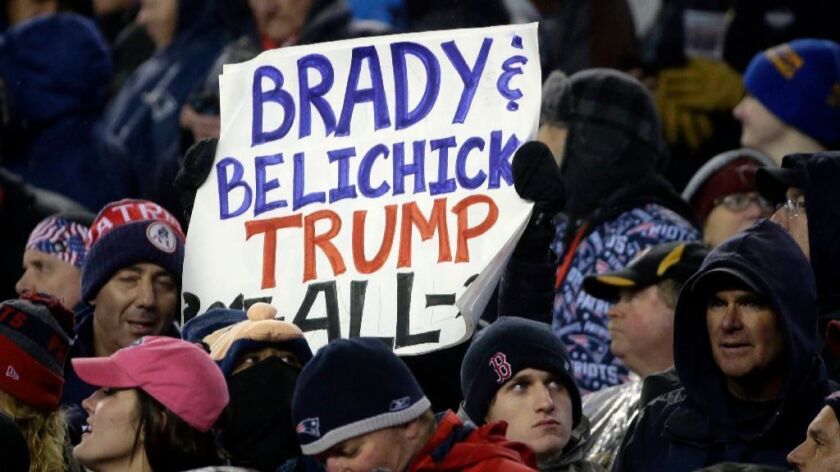 The week before the Super Bowl is historically filled with all sorts of sordid distractions, from cocaine to prostitutes to the infamously bared butt of a quarterback.
But there has never been anything like the divisive presence that will soon threaten to fracture the attention of the New England Patriots.
He is President Donald Trump, and beginning next week in Houston, he will be the Patriots' Disturber in Chief.
The Patriots' holy trinity has formed what some sports fans might consider an unholy alliance with Trump. Now that he's running the country, the three men are already running from the questions.
Give the Atlanta Falcons the early edge, because the Patriots will begin the week playing prevent defense.
Tom Brady, the Patriots' quarterback, doesn't want to talk about his openly displayed Trump cap, his campaign statements and his supportive phone calls.
"Why does everybody make such a big deal?'' Brady said on Boston's WEEI radio this week. "I don't want to get into it.''
Bill Belichick, the Patriots' coach, doesn't want to talk about an inspirational pep-talk letter he wrote to Trump before the election.
"It's not about politics, it's about football,'' he said the day after the letter was revealed.
Robert Kraft, the Patriots' owner who was publicly recognized by Trump at a pre-inauguration dinner, said he was just supporting a pal.
"Loyalty is important to me, and he has been a wonderful friend,'' Kraft told the New York Times. "I really think the policies he's going to bring to bear are going to be great for the economic side of America.''
At least Kraft touched on his reasoning, but that's not going to stop the buzz that will surround the Patriots' braintrust during a Super Bowl week that actually should begin with one basic question: Are these questions fair?
Should athletes, coaches and even owners of sports teams be held publicly accountable for their political views?
When they push an agenda by making those views public, the answer is yes.
When San Francisco 49ers quarterback Colin Kaepernick refused to stand for the national anthem this season, he gracefully yet powerfully faced the media and answered every question about his motivation. This form of social accountability among athletes dates back to the days of Muhammad Ali, who also answered every question about the religious views that directly impacted his career.
The three most important Patriots are no different. They are all public figures who have taken a clear stand on what has become one of the muddiest issues in this country's history. It is reasonable to seek explanations every bit as public as their endorsements.
What they say might inflame some of their fans. What they feel might enrage the Falcons. Their beliefs might even alienate members of their own team.
This is probably why they don't want to talk about it. But they are being tone deaf if they think the public doesn't have a right to wonder about it and the media doesn't have a duty to ask about it.
Brady actually cracked the door to distractions in the fall of 2015 by strategically placing a "Make America Great Again'' cap in his locker, then publicly endorsing Trump in a subsequent interview about the cap.
"I hope so,'' Brady said when asked if Trump could win. "It would be great.''
A year later, when asked about Trump's lewd behavior on the infamous video, Brady refused to denounce Trump in the manner of other sports figures such as Aaron Rodgers. Brady did not answer the question, ended the news conference on the spot, and the Brady-Trump public bond became stronger.
On the night before the election, the two men were downright chummy, with Trump acknowledging, "Tom Brady called today. He said, 'Donald, I support you, you're my friend, I voted for you.'''
Later, when asked during a news conference what Trump said, Brady again refused to answer, saying, "I don't have much to say. Did I call him? Let's talk about football.''
Later, Trump advisor Kellyanne Conway, appearing on the Fox News show "Fox & Friends,'' reaffirmed Brady's support.
"President Trump is just so grateful that friends like Tom Brady are loyal and can ignore the shrapnel, the verbal shrapnel,'' she said.
Brady might be the best quarterback in NFL history, and he is certainly one of the smartest and savviest athletes on the planet. It's hard to imagine that he could truly be bewildered by the curiosity this friendship has engendered.
"If you know someone it doesn't mean you agree with everything they say or they do,'' Brady told WEEI. "You have a lot of friends in your life.''
But when you support a friend whose ascent to power leads to damning criticisms and worldwide demonstrations, it bears asking why, and how. The same goes for Belichick, the grumpy coach who was suddenly thrust into the Trump limelight when the then-candidate used his devotion as a prop.
On election eve, Trump revealed a letter that had been sent to him by Belichick. Reading from the letter, Trump said, "You've proved to be the ultimate competitor and fighter. Your leadership is amazing … hopefully tomorrow's election results will give you the opportunity to make America great again. Best wishes for great results tomorrow.''
The letter caused such a stir, Belichick quickly addressed it in a news conference without being asked, saying, "My comments are not politically motivated — the friendship and loyalty to Donald. It's not about political or religious views.''
Belichick will be asked about that letter again in the coming week. He will be asked if he shares and supports a man whose philosophy probably is in stark opposition to many of his fans and players.
He will surely flee from the question, but neither he nor the Patriots will be able to escape the controversy that, if recent history is any indication, could very well be inflamed by Trump himself.
After all, at Trump's donor dinner on the night before the inauguration, he made certain everyone knew where his football loyalties lay.
"In the audience we have somebody that's under no pressure whatsoever because he's got a great quarterback named Tom Brady and a great coach named Belichick — Bob Kraft,'' Trump said. "So, good luck Bob. Your friend Tom just called, he feels good. He called to congratulate us, he feels good. Good luck. You're going to do great. Thanks.''
Yeah, Patriots. Good luck.
Get more of Bill Plaschke's work and follow him on Twitter @BillPlaschke
---