Louis Oosthuizen: just your unpretentious British Open ex-champion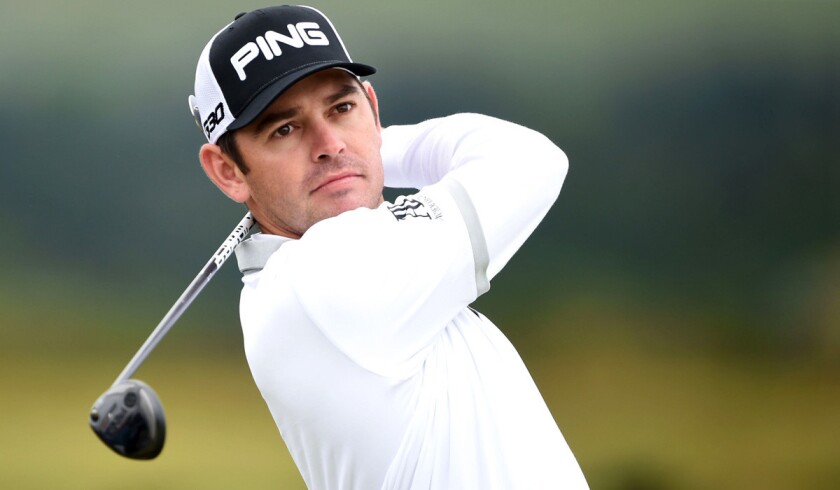 FROM ST. ANDREWS, Scotland —
He didn't like his two given names and nobody could pronounce his last name. Louis Oosthuizen needed to do something spectacular to put himself on the map.
So he won the British Open.
That was in 2010, at the legendary Old Course here, where they do this every five years and will do it again starting Thursday.
In '10, when he opened with rounds of 65 and 67, there was a scramble to find out just who he was. He had been, after all, a 250-1 longshot to win in the British books. When he did not implode on the weekend, as expected, but finished with 69 and 71 and won by seven strokes, the pursuit of "who is this guy?" really heated up.
His story emerged easily. The most remarkable thing about Oosthuizen is how unremarkable he is. He quickly and easily filled in the gaps, the background. No evasions, no defensiveness or circuitous routes to the truth. Just straight answers.
What emerged was that he was born Lodewicus Theodorus Oosthuizen to a South African farming family. The name came from a grandfather and he hated it, but would also not dishonor his grandfather by changing it. When he was old enough to understand, he asked to be called Louie.
The last name is a bigger problem, because he spends an inordinate amount of time pronouncing it for people. It is Whust-hey-zen, which doesn't exactly roll off the tongue.
His family couldn't afford the life of a junior golfer, so his early athletic skills were used for tennis. Then, about age 10, he was found by the Ernie Els Foundation and his bills for his golf future were paid.
Louie became "Little Louie," who at 5 feet 9 and 165 pounds could somehow hit it as far as the big boys. And some of those big boys, taking a long look at the shape of his face and the gap between his two front teeth, nicknamed him Shrek, after the movie ogre.
Some people would have been insulted. Oosthuizen found a Shrek head cover, put it on his driver, carried it for years and said, "It's fine. You can't choose your friends."
He progressed well. He once shot a 57 on his home Mossel Bay course in South Africa, a course never considered a pitch-and-putt and one where you see the Indian Ocean from every hole.
But none of that made him a major championship contender. He was ranked No. 54 coming here in 2010. He had played in eight majors and made the cut once.
Then, as all anticipated a Sunday meltdown, Paul Casey cut the lead to three strokes and Oosthuizen answered by driving the 350-yard ninth hole and rolling in a 50-foot eagle putt. His former sport would have labeled that game, set, match.
He sank his short final putt on No. 18, gave about a one-third Tiger fist pump, kissed the Claret Jug for photographers and quietly faded into the pack of really good golfers who will stay in the 20s and 30s in the world rankings.
When he comes to the interview table these days, it is usually to elaborate on where he has been, and why. The unremarkable shows up again.
Years ago, he missed a couple of months with a neck whiplash he got while being towed on an inner tube behind a boat.
"We just went over a wake," he said Tuesday, "and I got a proper tug from the boat."
He also hurt himself hunting years ago. He told Gene Wojciechowski of ESPN.com he had wounded a kudu. "That's a big buck," he said.
In chasing it, he stepped in a hole and sustained torn ligaments in his ankle. Shades of Rory McIlroy.
Did they rush him to a hospital? Nope. He wrapped up the ankle and kept hunting, then missed a couple of months on the tour.
He is uncomplicated and unpretentious. He once got a new car, drove it home and realized it wouldn't fit in his garage. So he had new garage doors put on.
Despite a tendency toward inner-tube rides and antelope hunts, Oosthuizen has reemerged spectacularly. In the 2012 Masters, he made the only double eagle ever done on the par-five second hole, but ended up losing later the same day in a playoff to Bubba Watson.
Last month, in the U.S. Open at Chambers Bay, he was in the same group as Woods on opening day, played almost as poorly as Woods did with a 77, and started the second round with two bogeys. Then he went six under par over the next 16 holes and kept going, making a birdie on No. 18 on Sunday and being the leader in the clubhouse for about half an hour, until Jordan Spieth overtook him.
Oosthuizen shared second place with Dustin Johnson. Now he has won one major and been second in two others.
Little Louie is nobody to be ignored, even if it doesn't always go smoothly. Even off the course.
In his first news conference in 2010, the British golf official making the introductions called him "Peter Oosterhuis," confusing him with the former European golf star and longtime excellent television analyst. Oosthuizen smiled and carried on.
Tuesday, in his first media gathering of this tournament, another British golf official, sitting in the second row, vomited in the middle of an Oosthuizen sentence.
He asked whether she was OK, smiled, and carried on.
Do we have an omen?
Follow Bill Dwyre on Twitter @DwyreLATimes
---
Get our high school sports newsletter
Prep Rally is devoted to the SoCal high school sports experience, bringing you scores, stories and a behind-the-scenes look at what makes prep sports so popular.
You may occasionally receive promotional content from the Los Angeles Times.