Who will Cody Bellinger be in the playoffs? Here's what the data can tell us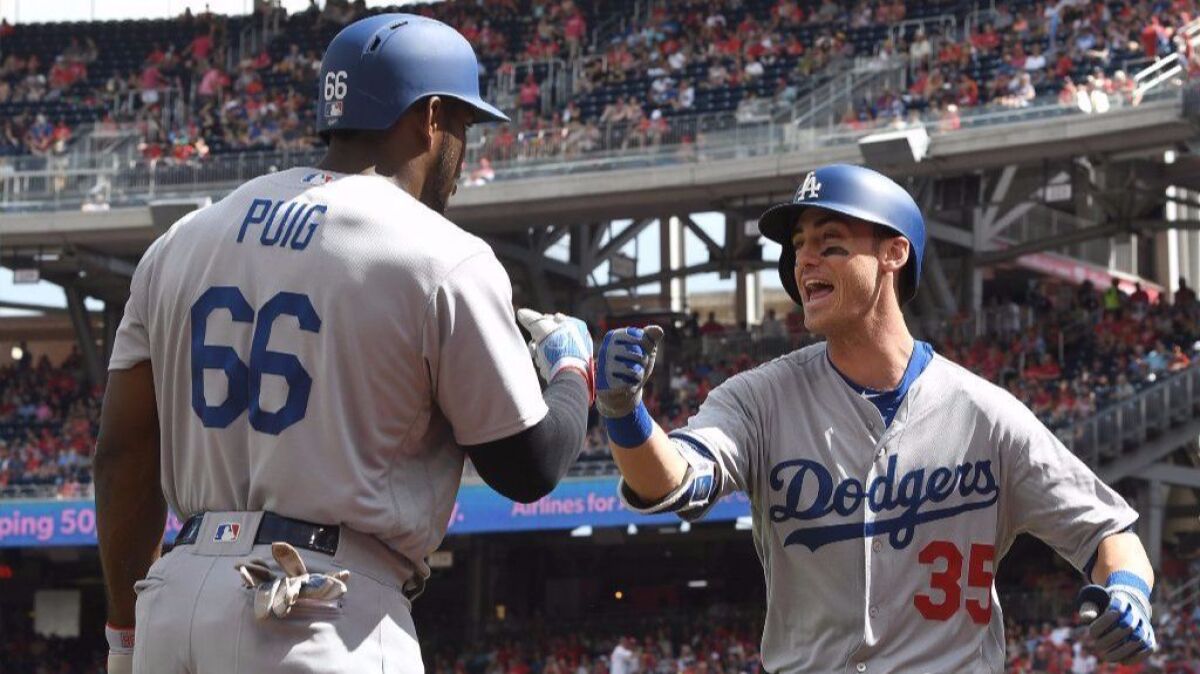 In the Major League Baseball playoffs, anybody can win. Regular-season stars can fail under pressure while rookies and unknowns can come through in the most important games of the year. Under the bright lights of the playoffs, all bets are off.
Dodgers rookie Cody Bellinger has had a fantastic first season — historically among the best, especially considering he was 21 when he was called up. But when it comes to the postseason, will he be like Derek Jeter, who led the 1996 Yankees to a championship in his rookie season? Or will he be like Kris Bryant, a Rookie of the Year Award winner who hit only .176 in his first trip to the playoffs?
It's too early to tell, but based on Bellinger's ability to thrive under pressure thus far, the Dodgers might be looking at a key piece to their playoff hopes.
How good was Bellinger during the regular season? He accrued 4.0 WAR, a measure of a baseball player's overall value calculated by Fangraphs, during his 132 games with the major-league squad — good enough for third best on the team. It's also the sixth-best rookie season in Dodgers history by a position player, just behind Yasiel Puig's explosive 2013 debut.
Best Dodgers rookie seasons
(Not including pitchers)
| Season | Name | WAR |
| --- | --- | --- |
| Season2016 | NameCorey Seager | WAR7.4 |
| Season1993 | NameMike Piazza | WAR7.4 |
| Season1970 | NameBilly Grabarkewitz | WAR6.1 |
| Season1973 | NameRon Cey | WAR4.4 |
| Season2013 | NameYasiel Puig | WAR4.1 |
| Season2017 | NameCody Bellinger | WAR4.0 |
Source: Fangraphs
When stacked up against all position players' debut seasons since 1871, Bellinger is in the 98th percentile. He also played fewer games than many rookies who accrued a higher WAR total.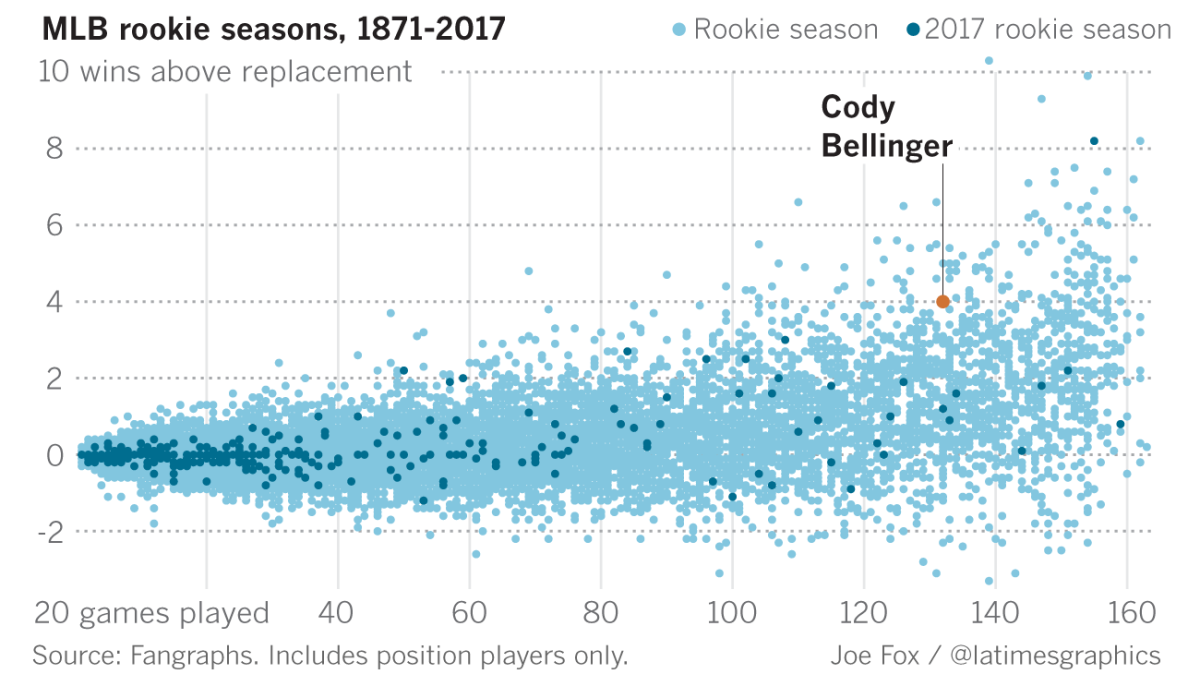 Bellinger also ranks near the top of the class among rookies who debuted at 21.
The Dodgers turned to Bellinger at a low point early in the season.
At two games under .500, the team trailed the division-leading Rockies by five games. Outfielder Joc Pederson had suffered an injury and went to the disabled list. The Dodgers needed help.
The team planned to send Bellinger back to Oklahoma City once the outfield corps returned to full strength. But after Bellinger spent his first week in the majors hitting .345, those plans changed. He had played a major role in the team's 6-2 record in his first eight games, enough for him to earn a spot on the roster.
Five months later, it's obvious that was the right decision.
His hefty home run total will get him into the record books — he hit 39, the most ever by a National League rookie. The only rookies in MLB who hit more in their first seasons were Mark McGwire in 1987 and Aaron Judge this year.
Most home runs by a rookie
| Season | Name | Team | HR |
| --- | --- | --- | --- |
| Season2017 | NameAaron Judge | TeamYankees | HR52 |
| Season1987 | NameMark McGwire | TeamAthletics | HR49 |
| Season2017 | NameCody Bellinger | TeamDodgers | HR39 |
| Season1956 | NameFrank Robinson | TeamRedlegs | HR38 |
| Season1930 | NameWally Berger | TeamBraves | HR38 |
| Season2001 | NameAlbert Pujols | TeamCardinals | HR37 |
| Season1950 | NameAl Rosen | TeamIndians | HR37 |
| Season2014 | NameJose Abreu | TeamWhite Sox | HR36 |
| Season1993 | NameMike Piazza | TeamDodgers | HR35 |
| Season1934 | NameHal Trosky | TeamIndians | HR35 |
| Season1937 | NameRudy York | TeamTigers | HR35 |
| Season1983 | NameRon Kittle | TeamWhite Sox | HR35 |
Source: Fangraphs
Part of Bellinger's success could be due to his ability to hit the ball to all parts of the field. He does have a left-handed bias toward pulling the ball, but he has also shown that he can drive it to the opposite field. He also managed to keep defenses on their toes by bunting for six hits against the shift this season.
The home runs are impressive, but Bellinger has really helped the Dodgers win with timely hitting. Since he joined the roster in April, he has produced the highest WPA total of any Dodger. WPA, or win probability added, is a measure of how much a player affects a team's chance of winning a single game.
For example, the Dodgers were losing 4-3 to the surprisingly competitive Minnesota Twins in the bottom of the eighth inning on July 24. Their chances of winning were not great — 39%, according to Fangraphs.
Bellinger stepped to the plate with two runners on base and one out and hit a home run to give the Dodgers the lead. That home run to deep center field pushed the Dodgers from a 39% chance of winning to a 94% chance of winning. That means Bellinger's contribution to the Dodgers' 69th win was 55 percentage points, from just one swing.
Every plate appearance produces WPA, either positive or negative. If you add all of those values together, you can calculate a cumulative measure of how much a player affected his team's chances of winning throughout a season.
Dodgers WPA leaders, 2017
| Name | Win Probability Added |
| --- | --- |
| NameKenley Jansen | Win Probability Added5.33 |
| NameCody Bellinger | Win Probability Added4.3 |
| NameClayton Kershaw | Win Probability Added3.88 |
| NameJustin Turner | Win Probability Added3.38 |
| NameChris Taylor | Win Probability Added2.8 |
Source: Fangraphs
Bellinger added more to his team's chance of winning than any other position player on the team — despite being ranked fifth overall in WAR. That correlates with his ability to hit in key situations, as Bellinger was even better under pressure than he was in low-leverage situations.
Cody Bellinger thrives under pressure
Bellinger's batting stats have increased along with leverage.
| Leverage | AVG | SLG | wRC+ |
| --- | --- | --- | --- |
| LeverageLow | AVG0.220 | SLG0.500 | wRC+105 |
| LeverageMedium | AVG0.309 | SLG0.660 | wRC+170 |
| LeverageHigh | AVG0.357 | SLG0.714 | wRC+187 |
Source: Fangraphs
Leverage, as calculated by Fangraphs, is a measure of how "on the line" the game is. It takes into account the current state of the game — the score, inning, runners, outs, etc. The more you're biting your fingernails during a game, the higher the leverage in that situation.
Bellinger's batting average has actually increased along with the leverage, a measure of how important an at-bat is to a team's chance of winning. If he can keep it up, the Dodgers will appreciate the help, as they hit 7 for 31 with 6 RBI and 11 strikeouts in high-leverage situations during last year's playoffs.
And with Adrian Gonzalez out with a lingering back injury, the Dodgers will be counting on Bellinger to take over first base as he has for much of the season.
The Dodgers are looking to make up for four consecutive ungracious exits from the playoffs. They've been bounced from the NLDS twice and the NLCS twice — but maybe this time will be different. They face the Diamondbacks in the NLDS starting Friday.
Ryan Menezes contributed data analysis to this report.
---
Get our high school sports newsletter
Prep Rally is devoted to the SoCal high school sports experience, bringing you scores, stories and a behind-the-scenes look at what makes prep sports so popular.
You may occasionally receive promotional content from the Los Angeles Times.