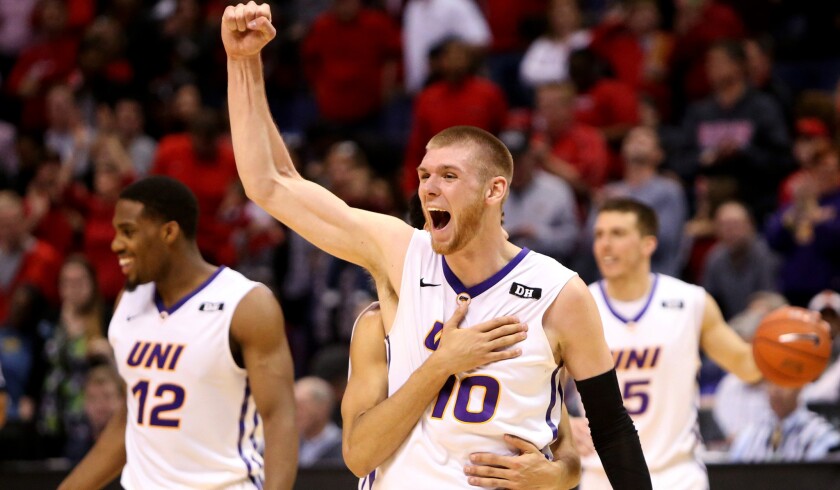 The Missouri Valley player of the year looked the part when it counted. His Northern Iowa teammates stepped up, too, when the game looked hopeless.
Seth Tuttle had 15 points, nine rebounds and three assists, leading the 11th-ranked Panthers back from an 18-point first-half deficit to beat Illinois State, 69-60, in the Missouri Valley Conference tournament championship game on Sunday in St. Louis.
"I knew we weren't out of it," said forward Nate Buss, who had 15 points with two blocks. "We're not ranked 11th in the country for nothing. We're not just going to lay down and die.
"We knew we were going to come back."
The Panthers (30-3) took control with a 25-4 run that erased a 36-22 halftime deficit. Jeremy Morgan had three three-pointers in the run, and Tuttle, the Valley player of the year and tournament MVP, added eight points, often getting loose from constant double-teaming.
"He really exerted his will," Illinois State Coach Dan Muller said. "When we're in zone, they got it in to Tuttle, when we went man, they got it in to Tuttle."
Daishon Knight had 16 points for fourth-seeded Illinois State (21-12), which needed a win to make the NCAA tournament for the first time since 1998. Knight had 25 points in the Redbirds' semifinal upset of top seed Wichita State.
Northern Iowa won the title for the third time in seven years and has won 19 of 20 games.
"That was different than just about every game I've been a part of," Coach Ben Jacobson said. "We had more than our hands full at halftime."
Elsewhere
Coastal Carolina Coach Cliff Ellis stood atop the ladder after slipping the Big South Conference championship net around his neck. The fit was just as sweet as ever. "This is a euphoric moment," Ellis said, celebrating his team's second consecutive conference title, an 81-70 victory over Winthrop. Coastal Carolina (24-9) displayed grit to pull away from a game tied 38-all at halftime with a 15-4 run to start the second half and wrest control from the Eagles (19-13). Warren Gillis scored 22 points and Elijah Wilson had 14 of his 19 in the second half for the Chanticleers. Wilson was named tournament MVP. Both were part of last year's NCAA run and are eager to take things further this season.
Demarcus Daniels scored 22 points off the bench, and North Florida beat South Carolina Upstate, 63-57, in the Atlantic Sun Conference final to earn its first NCAA tournament berth. Jalen Nesbitt added 16 points for the Ospreys (23-11), who snapped a five-game losing streak against the Spartans (23-11).
Women's hoops
Dawn Staley knew when she took over as the South Carolina coach that Tennessee was the team to beat in the Southeastern Conference. It took seven seasons for the former All-American, but Staley and the No. 3 Gamecocks have finally toppled the mighty Lady Vols. Led by 17 points from Tiffany Mitchell, South Carolina (29-2) earned its first women's SEC tournament championship with a 62-46 win over No. 5 Tennessee.
Jewell Loyd led the second-ranked Notre Dame to its second straight Atlantic Coast Conference championship, beating No. 7 Florida State, 71-58, in the title game. The ACC player of the year scored 18 points and was selected as tournament MVP for the second straight year. Taya Reimer added 16 points for the top-seeded Irish (31-2), who shot 52% and led by 22 points while claiming their 17th straight win and third consecutive conference tournament title.
Ashley Rininger scored 12 of her 16 points in the second half to lead Liberty to its 16th Big South Conference tournament crown in 19 years in a 73-64 victory over High Point. The top-seeded Lady Flames (26-6) won their 14th straight game and are back in the NCAAs after a rare miss last season.
Chelsey Shumpert said she and her Chattanooga teammates never panicked even as their 24-point second half lead began to disappear. "We stayed calm," Shumpert said. "If you get a little nervous you start doing things you aren't supposed to." The sophomore guard scored a career-high 26 points, and 17th-ranked Chattanooga survived a furious second half comeback by East Tennessee State for a 61-56 overtime victory and its third straight Southern Conference championship.
Foul trouble left Jonquel Jones with 20 minutes to make an impact on the Atlantic 10 championship game. The conference player of the year and defensive player of the year made the most of it, scoring 16 of her 21 points in the second half and leading No. 21 George Washington (29-3) to a 75-62 victory against Dayton and its first title since 2003.
Lexie Brown scored 19 points, and No. 4 Maryland beat Ohio State, 77-74, to capture the Big Ten tournament title and cap a perfect run through the conference. The Terrapins (30-2) will enter the NCAA tournament with 24 straight wins and their eyes locked on another big run after reaching the Final Four last season.
---