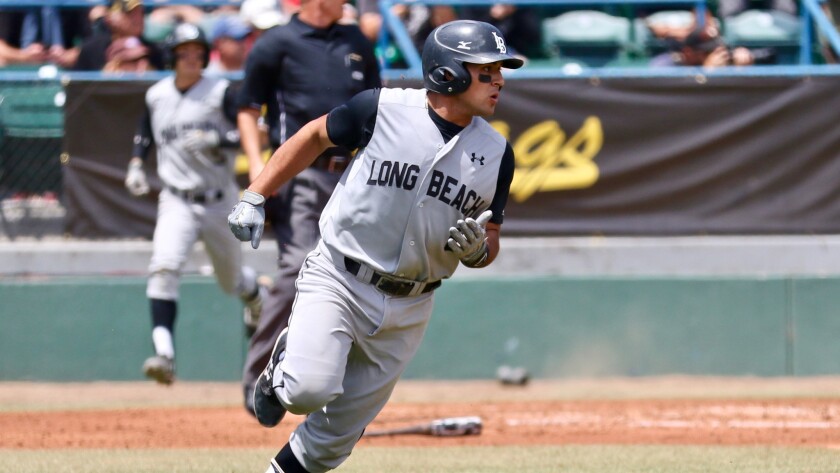 Long Beach State's first Dirtbags held workouts on all-dirt fields, leaving them covered in grime even before they began their regular practice. Their gritty approach led to the birth of one of the most iconic nicknames in college baseball.
David Banuelos would have been welcome on that team.
The junior catcher sacrificed his knee, his foot and every other bodily appendage while playing five games in four days during the last week to help his team advance to its first NCAA baseball super regional since 2004.
Banuelos' knee banged into a cement wall in the fifth inning Monday against Texas while chasing a ball that drifted into foul territory. He couldn't make the catch but served notice that he might need a comprehensive healthcare plan.
"I'm not going to stop," Banuelos said afterward, "until I'm broken."
His foot was at the center of the most significant play during the previous day. At first glance, Texas' Michael Cantu appeared to have beaten a relay throw and scored the go-ahead run in a game the Dirtbags needed to win to force a deciding game against the Longhorns. But a photo clearly showed that Cantu had touched only Banuelos' foot, and not the plate, supporting the umpire's call that Cantu was out.
Banuelos' arm is what opponents fear most. It allowed him to throw out speedy Texas pinch runner Tyler Rand trying to steal second base for the final out of the eighth inning Monday, helping to secure a 2-1 victory that sent Long Beach State into a best-of-three super regional that starts at 3 p.m. Friday at Blair Field against Big West Conference rival Cal State Fullerton.
"It is immeasurable, what he does," Dirtbags coach Troy Buckley said of Banuelos, one of three finalists for the Johnny Bench Award that goes to the top catcher in college baseball.
Banuelos doesn't just throw out runners; he stops them from even trying to advance. Only 12 of 31 potential base stealers have been successful against him this season, a paltry 38.7% success rate. Long Beach State has stolen 73 bases, while its opponents have stolen just 16.
"It's awesome because a lot of times you get a speedy runner on, and I don't even really have to worry about being quicker to the plate," Dirtbags starting pitcher Dave Smith said. "I just know if I give [Banuelos] a pitch he can handle, he's going to throw them out."
That was certainly the case in Long Beach State's five regional games. Opponents tried to steal only three bases. They failed twice.
Banuelos models his approach after Yadier Molina, the All-Star catcher from the St. Louis Cardinals who likes to wrap his hands on his helmet after throwing out would-be base stealers. Banuelos does the same thing. A lot.
His success is largely a function of improved mechanics. Long Beach State volunteer assistant coach Zach Miller, a former Dirtbags catcher, has worked with Banuelos on glove positioning and simplifying his approach receiving pitches to make sure he's in the best possible spot to curtail an opponents' running game. The most important thing, both agree, is consistency.
"Anybody can have a good arm and not put it on the bag all the time," Banuelos said. "Being consistent is what I think shuts down the running game because if you're not consistent all the time, guys are going to take that gamble and take that risk on you. But when you're consistent, it shuts it down."
It's not as if Banuelos is merely some defensive savant. He's hitting .297 with seven home runs, 29 runs batted in and a .376 on-base percentage, putting him among the team leaders in each category.
His most impressive statistic might be his durability. He's played in 56 of his team's 60 games and caught all 48 innings in the regional, including a 12-inning game against Texas. Longhorns coach David Pierce said Banuelos reminded him of Jake Rogers, the Tulane catcher he once coached who was drafted in the third round last year by the Houston Astros.
"He's going to be a great pro one day," Pierce said.
Banuelos intends to be a legendary collegian first. The inaugural Dirtbags advanced to the College World Series in 1989. Banuelos seems like just the kind of player suited to lead them back there.
"He's the ultimate grinder. He's a Dirtbag," Miller said. "He wants to be in there every second, every game. It doesn't matter if we're playing another game today or the next day, he does not want to come out."
Twitter: @latbbolch
---