Column: Dodgers President Stan Kasten rejects premises about offseason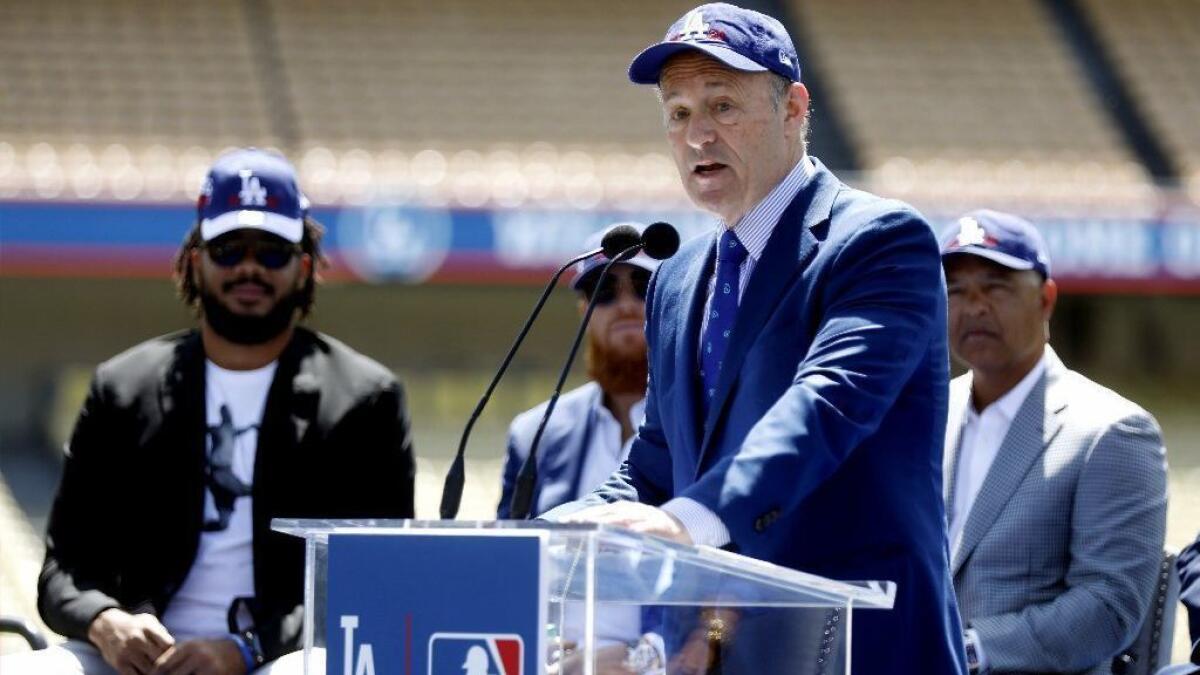 As Andrew Friedman walked to the crowd stationed outside of the home team's bullpen at Dodger Stadium, Spencer Allen reached over the railing clutching a baseball in one hand and a pen in the other.
Allen, a 13-year-old from Calabasas, requested more than an autograph from the team's president of baseball operations.
"Can you sign Bryce for us?" Allen said.
Bryce Harper is still a free agent.
Friedman smiled.
"Who's that?" he said, jokingly.
Earlier Saturday at the team's annual FanFest, nearby fans chanted the name of trade target J.T. Realmuto as Friedman climbed on the elevated set of the team-owned television station.
After watching the Dodgers reach the World Series in each of the last two seasons, fans aren't about to abandon their team over an uninspiring offseason. But they do want the team to do more and some of them made their voices heard Saturday.
Such concerns are likely to be downplayed by team President Stan Kasten, who dismissed concerns over the team as "anecdotal," even fictional.
"You keep making this stuff up," Kasten said.
That was how Kasten started deflecting questions about the team's alarming lack of spending this offseason.
"I'm dealing with facts," Kasten said.
The facts, Kasten said, are that season-ticket sales point to the Dodgers leading baseball in attendance again. And if season tickets are selling, everything must be A-OK.
Of course, it's not that simple.
At best, Kasten and Dodgers ownership are mistaking loyalty for satisfaction. At worst, they are taking advantage of their customers' intense devotion.
The Dodgers kept their payroll under the luxury-tax threshold of $197 million last year, which would prevent them from being taxed at a higher rate for repeat offenders if they spent more than the limit of $206 million this year. So if they would be penalized as a first-time offender this year and have plenty of money coming off the books next year, why haven't they spent more this offseason? Is this a warning of what is to come in future seasons?
"That's also such a weird narrative," Kasten said. "If we can do whatever we do and stay under [the luxury-tax threshold], there are a lot of advantages to being under — by the way, a lot more advantages than you all write about."
Such as?
"I'm not going to go into that because that's real inside baseball economic stuff," Kasten said.
Told fans would be interested in the details, Kasten replied, "Hold on. Let me finish the answer. Some of the things are elsewhere in the collective bargaining agreement that no one's bothered to look at. Some of the things are inside baseball. So there are more advantages than just a little tax."
Still, no details.
Asked again if he didn't want to offer fans an explanation for the team's relative inactivity on the free-agent market, Kasten said, "You're inventing a narrative that I don't agree with because, like I said, I can almost tell you for sure, we're going to lead the National League in attendance again. You're inventing a different universe that is not borne out by reality, by facts."
Right, because the fan base is limited to the people who can afford their tickets.
What Kasten did say was that ownership hasn't issued a directive to remain under the luxury-tax threshold.
In fact, after signing center fielder A.J. Pollock to a four-year, $55-million contract, Kasten said, "We may be over already."
As well they should. The Dodgers have an $8-billion television contract that has blacked out their games in the majority of the market. Their ticket prices continue to escalate.
Kasten explained how teams often spend more than the payroll figures used for luxury-tax purposes, which take the average annual values of contracts.
"You folks, what you see, we're paying a lot more than that," Kasten said. "We've just done it in a way that I have to say is smart. I hate to use that word, but I think that's what it is when we can accomplish our goals and stay under."
Kasten also mentioned how the Dodgers rank in the top two in spending in the NL for every line item, including scouting and player development.
He said he understood why fans demanded stars.
"Fans want stars they can identify with," he said. "I'll tell you what they like better than free-agent stars and I absolutely will show you proof of this. They like homegrown kids that develop into stars. They like that better. And there's no team that has focused more on that aspect of our program than us."
Specifically, he named the since-departed Yasiel Puig, as well as Joc Pederson, Corey Seager, Cody Bellinger and Walker Buehler.
"By the way, did we not say then that this is how we were going to do it?" Kasten said. "We were so transparent about what our plan is. Here we are, we're still at the top in the payroll."
Guggenheim Baseball Management always made clear the long-term plan was to develop stars. Except of the players Kasten mentioned, only Seager and maybe Buehler count as stars. The others are contributing players.
"They contribute to a team that goes to the World Series," Kasten said. "I mean, come on, don't minimize that. It's an important thing. It's a hard thing."
Friedman was less defensive when asked similar questions. He said the front office believed the Dodgers were considerably better than a 92-win team last year and pointed to how the foundation of the team remained intact. He said the team's increased financial flexibility alone isn't a reason to spend and how the Dodgers would be smart to spend on the right players at the right time.
As for trading Puig and replacing him with Pollock, Friedman warned against viewing that as a one-for-one swap. The Dodgers had a surplus of corner outfielders and traded two of them in Puig and Matt Kemp to the Cincinnati Reds. Pollock is a center fielder.
"We feel like it's really well-balanced and feel like we have a team that has every bit as good a chance to win a World Series as any other," Friedman said.
How this offseason is viewed will be determined by how the Dodgers perform over the next couple of seasons. Was this the best team Friedman could build? Or was this the best team he was allowed to build? In a city in which perception is everything, the ramifications will be significant.
Sign up for our daily sports newsletter »
Follow Dylan Hernandez on Twitter @dylanohernandez
Get our high school sports newsletter
Prep Rally is devoted to the SoCal high school sports experience, bringing you scores, stories and a behind-the-scenes look at what makes prep sports so popular.
You may occasionally receive promotional content from the Los Angeles Times.