Column: Dodgers' Adrian Gonzalez chose not to stay in a Trump hotel, but he didn't want it to be news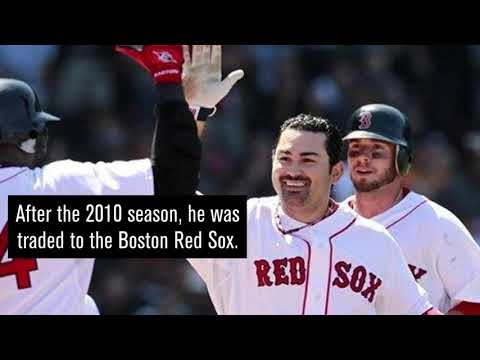 Adrian Gonzalez played for mutiple teams before he became the starting first baseman for the Los Angeles Dodgers.
From behind the Dodgers bench, Adrian Gonzalez glanced at his teammates who were taking their first rounds of batting practice during an afternoon workout. He looked down and sighed.
Gonzalez was suddenly part of the national conversation about the upcoming presidential election, courtesy of actions he had quietly taken five months earlier.
The Mexican American first baseman had refused to stay with his team at a Chicago property owned by Republican nominee Donald Trump.
The story became known Sunday night, and some people on social media were celebrating him as a hero as he and the other Dodgers were preparing for their Tuesday showdown against the Chicago Cubs in Game 3 of the National League Championship Series.
Except …
"I don't want this to be a story," the first baseman said. "I did it for myself," he explained.
Gonzalez doesn't want to be another Colin Kaepernick, who is kneeling during the national anthem to protest police brutality and racial inequality.
Gonzalez said that his views on social issues were a private matter. He might do something in protest, as he did when he asked the Dodgers to not provide Trump with business on his behalf, but he thinks that isn't for anyone else to know.
"I wasn't doing it for publicity, I wasn't doing it for people to look at me or talk about me," he said. "That's not who I am. I just have my own values and morals that I want to live by."
And there's nothing wrong with that.
Social advocacy, in particular social advocacy by athletes, isn't one-size-fits-all. If some athletes are comfortable pushing for change in the spotlight, others such as Gonzalez prefer doing so more in relative silence.
Gonzalez didn't want to speak in detail of Trump, but said, "You can draw your own conclusions. They're probably right."
Born in San Diego, Gonzalez was raised on both sides of the U.S.-Mexico border. He speaks English and Spanish.
Trump has said he will build a wall across the U.S.-Mexico border if elected. He has also disparaged Mexican immigrants, implying some are rapists and drug traffickers.
Gonzalez previously voiced his displeasure over Arizona Senate Bill 1070, a controversial anti-immigration law passed in 2010.
Gonzalez acknowledged that when the Dodgers visited Chicago in May, he asked the team to lodge him in a hotel other than the Trump International Hotel & Tower.
He explained how the story about his hotel request became public only because one the team's broadcasters relayed it to a newspaper reporter over the weekend. (Logistics forced the entire team to stay at another hotel for Games 1 and 2 of the NLCS.)
"I'm not ashamed by it," he said. "I'm OK with it."
But he said that if he wanted the incident to be made public, he would have talked about it shortly after it happened.
"I'm not an in-your-face guy," he said.
That's true. How he has spoken about religion is one example. While he is a devout Christian, the only times he has talked about his faith are when he's been asked about it directly.
He has promoted his Mexican heritage, but in subtle ways, like by pushing for players of Latin American descent to place accent marks on the names across the backs of their uniforms, or by selecting a mariachi song as his walk-up music.
He is also involved in numerous charities in both the United States and Mexico, doing everything from buying back-to-school supplies for children in Los Angeles to refurbishing youth baseball fields in Tijuana.
Gonzalez has undergone a significant public metamorphosis in his 4 1/2 seasons with the Dodgers. The player who was once known for his considerable restraint has allowed his personality to emerge, enough to where he now snaps imaginary selfies with teammates to celebrate home runs.
Could he evolve next into a champion of social causes? He certainly has the makings to lead these discussions. The combination of his thoughtfulness and bi-cultural background would allow him to provide important perspectives. He has the platform.
Only Gonzalez isn't interested.
"I'm not a politician," he said. "I'm not ever going to get into politics. I don't intend to create a political debate."
As to why, the answer is personal preference.
"I like to be an inward-type person, not outward," he said. "Again, I have different ideas and things that I live by that I want to continue to live by. It's not for people to know about."
This being the United States, that's his right.
Follow Dylan Hernandez on Twitter @dylanohernandez
ALSO
Critics say Big 12 should have pushed ahead with expansion
'As it stands right now' Clayton Kershaw won't pitch for Dodgers until NLCS Game 6
Get our high school sports newsletter
Prep Rally is devoted to the SoCal high school sports experience, bringing you scores, stories and a behind-the-scenes look at what makes prep sports so popular.
You may occasionally receive promotional content from the Los Angeles Times.