A horse is a horse, of course, but what do they think on Kentucky Derby day?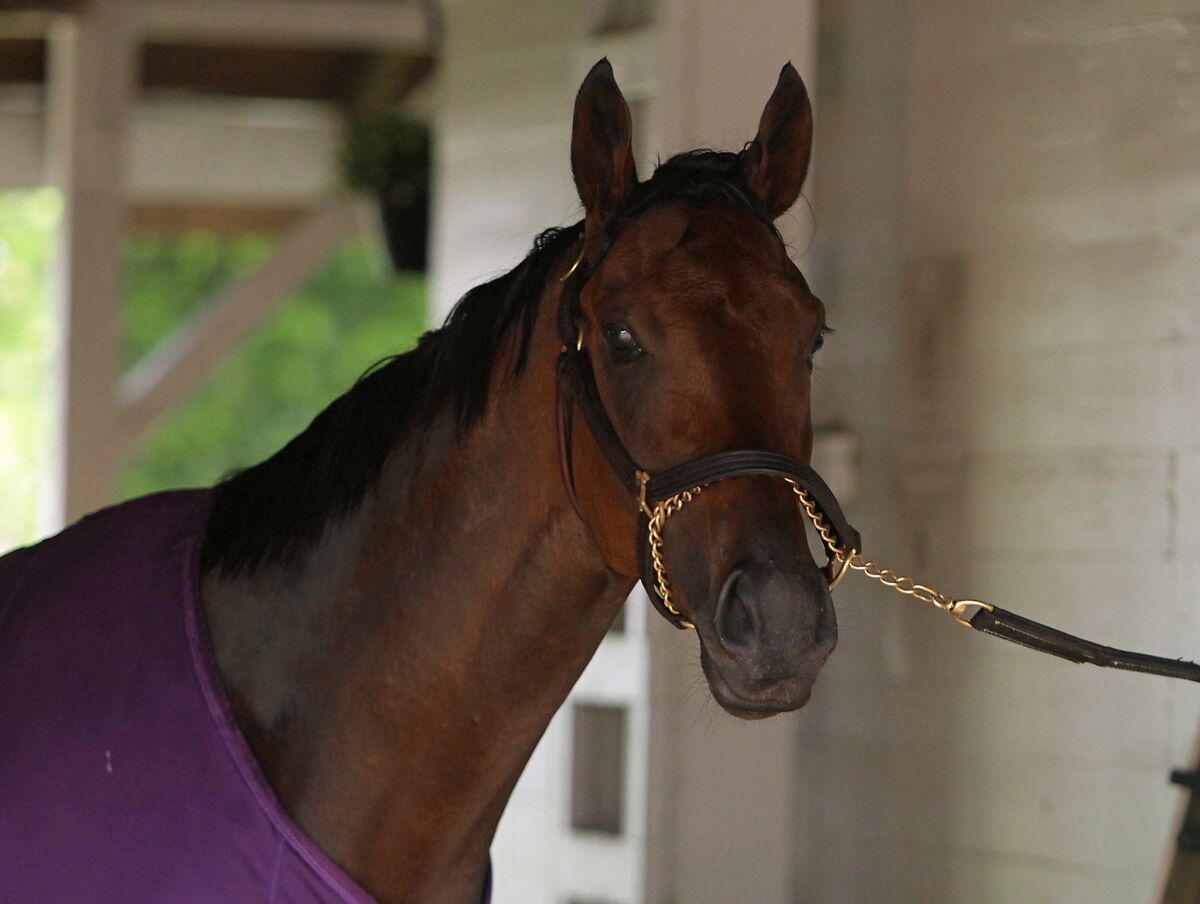 It was the biggest race before the Kentucky Derby, and undefeated colt Nyquist was leading as he headed into the homestretch at the Florida Derby.
Jockey Mario Gutierrez decided to employ a different tactic. He asked the horse to run wide, losing ground, so his chief rival, undefeated Mohaymen, would stay within Nyquist's sight lines. The confrontation never developed as Mohaymen just couldn't keep up with the presumptive favorite for Saturday's Kentucky Derby.
The strategy was based on how they believed Nyquist was thinking rather than the quickest path to the finish line. The colt has not only never lost a race, he has never even allowed another horse to pass him.
"If he engages you, he's going to be tough to beat," said trainer Doug O'Neill. "The one thing I think could beat Nyquist is if he's on a lead and someone [he can't see] is flying five wide outside."
The anthropomorphism of animals is ingrained in our culture, but it doesn't answer the question if horses actually know when they win or even why they are running a race.
"The research, and how true it is we don't know, is that they want to win," said Melissa Bain, who heads the Clinical Animal Behavior Service at UC Davis' renowned veterinary school.
"I don't know if it's inherent or they just like to race and run fast," Bain said. "It probably depends on how they were trained or if they don't run fast they get hit with a crop."
Aaron Sones, who along with wife Julie Gilbert owns Kentucky Derby entrant Trojan Nation, believes in the intellect of horses. His colt lost the Wood Memorial almost three weeks ago in a tight-as-it-can-be photo finish.
"He thinks he won the Wood. If you saw him you could see how confident and happy he was with himself. He thinks he did something special in the Wood," Sones said.
Trojan Nation has never won a race, so he was unaware of the ritual where the first-place horse is escorted to the winner's circle for pictures.
"I think when they go back to the winner's circle they feel all the love and excitement," said Hall of Fame jockey Mike Smith. "If you walk into your house and you're sad, your dog knows it."
Smith was aboard Zenyatta for the last 16 of the 19 consecutive wins she posted before losing for the first time in the 2010 Breeders' Cup Classic at Churchill Downs.
"She acted a whole lot different after that race," Smith said. "She always came back dancing but on that day she was acting tired. Was she tired or was she that way because everybody's [body] language was down?"
Animals do things not only because it's good for them but because it's fun. Maybe for these horses, we've bred them to think this is fun.
— Melissa Bain, head of Clinical Animal Behavior Service at UC Davis
Kerry Thomas, who advises owners on motivating and understanding horses, can best be described as part psychologist and part kinesiologist. He spends countless hours studying video of horses both on and off the track and his analysis of equine traits is sought out by handicappers.
"Elite horses like to control their environment," Thomas said. "Every colt has their own individual herd dynamic. Some . . . like to stalk and pounce on a horse. Some want to be in the front and manage the herd from that aspect."
Thomas views the Kentucky Derby, with more than 160,000 people in attendance, as a real test of a horse's mental ability.
"For me the sensory system is the fabric to a horse's success," Thomas said. "Some horses handle it with ease and are better prepared because they don't waste energy. Some horses absorb stress, just like people, and that is a defining personality trait."
Thomas believes humans can help a horse adapt to its environment. He's a fan of some trainers, such as O'Neill and Bob Baffert, who are based in Southern California.
"I think when it comes to developing a horse, I give Doug O'Neill a lot of credit because he has a good feel for a horse and nurtures it along properly," Thomas said. "I've seen him give horses the room to grow on their own. Horses are emotional athletes and a reflection of their environment."
O'Neill, who won the Kentucky Derby and Preakness with I'll Have Another in 2012, buys into the theory of horses reacting to their environment. He says Nyquist reacts to the change in his routine on race days, such as when his water bucket is taken away before the race.
"Some horses start fretting at that point," O'Neill said. "Not him, he puts his game face on. He's just that kind of horse. He's just a warrior."
Animal behavior expert Bain says it's possible that horses enjoy the race day experience.
"If you look at border collies, they enjoy what they do, they love the job they have," Bain said. "Animals do things not only because it's good for them but because it's fun. Maybe for these horses, we've bred them to think this is fun. We just haven't figured out a way to measure it."
Bain went on to explain a basic commonality between animals and people.
"Everything has a cost benefit," Bain said. "How much do you want this versus that? There has to be a reward. You might push a button 10,000 times for a piece of chocolate but only 10 times for a Brussels sprout."
Bain thinks the mythology surrounding Nyquist might be as simple as this: he's the fastest horse out there.
But Smith, who will ride Danzing Candy on Saturday, believes there could be more to it. "Some horses just don't like to get passed," he said. "A horse like Nyquist, you never seem to be able to get past them. If you run fast, he runs faster."
It's clear where O'Neill falls on the mental sharpness of his colt, comparing him to a certain recently retired Lakers legend.
"What makes Kobe Bryant so much better than everyone else is he brings it to every practice, every workout," O'Neill said. "He would persevere throughout. Nyquist has days when he doesn't feel like training, but he brings it. He's got a great work ethic. He's competitive to the highest quality."
If Nyquist can successfully navigate the 20-horse Kentucky Derby field on Saturday, followed by the Preakness two weeks later and the Belmont Stakes three weeks after that, he would go down as one of the greatest thoroughbreds of all time.
And possibly one of the smartest.
john.cherwa@latimes.com
Twitter: @jcherwa
---
Get our high school sports newsletter
Prep Rally is devoted to the SoCal high school sports experience, bringing you scores, stories and a behind-the-scenes look at what makes prep sports so popular.
You may occasionally receive promotional content from the Los Angeles Times.